Pakistan hunts another Hindu: Why the global community must speak up for Pakistani doctor Ramesh Kumar Malhi
Charged under the country's blasphemy laws, Ramesh Kumar is in prison, his property destroyed and his rights uncertain. His is no isolated story. This is normal in Naya Pakistan.

DailyBite
Despite making token gestures to present to the world a reformed image, Pakistan is a more dangerous country than ever for its religious and ethnic minorities.
In the face of protests and global pressure, many countries have actually reformed or at least, refrained from repressing their religious minorities. The same does not hold true for Pakistan.
She got away. But after years of hell: Asia Bibi had to leave Pakistan because of the Muslim fanatics raging against her. (Photo: Twitter)
Just weeks after Pakistani Christian Asia Naureen (often referred to as Asia Bibi) left the country, Pakistan found itself harassing another member of a minority community — this time, a Hindu. The country put veterinary doctor Ramesh Kumar Malhi behind bars in Sindh province, after a local cleric filed a police complaint, accusing Malhi of committing blasphemy.
The cleric reportedly complained that Malhi had delivered medicine allegedly wrapped in verses from the Quran.
Any member of the majority Muslim community implicating a member of the minority community in a blasphemy case is enough for the latter to be put behind bars in Pakistan without even a proper investigation. A mere accusation is enough for brutal punishment.
Malhi's establishment was burnt down in the riots that broke out once the case was filed. Such vandalism and attacks on property owned by members of the minority community charged with blasphemy are quite regular in Pakistan. Malhi's establishment was burnt down by the majority mob that has made it a rule to scare Pakistan's minorities into total submission.
According to Zahid Hussain Leghari, the station house officer of the local police station, Malhi was moved to a safe location following the unrest.
The fact that despite being cleared of blasphemy charges by the court, Asia Bibi had to relocate to Canada just to live tells us the sordid story of how terribly unsafe Pakistan is for its minorities.
More than 1,500 people, most of them Christian or members of the Ahmadi Muslim minority, were charged under Pakistan's blasphemy law from 1987 to 2017, according to the Center for Social Justice, a Lahore-based religious-minority rights group.
At least 75 people were killed over that period in cases involving accusations of blasphemy, the group said.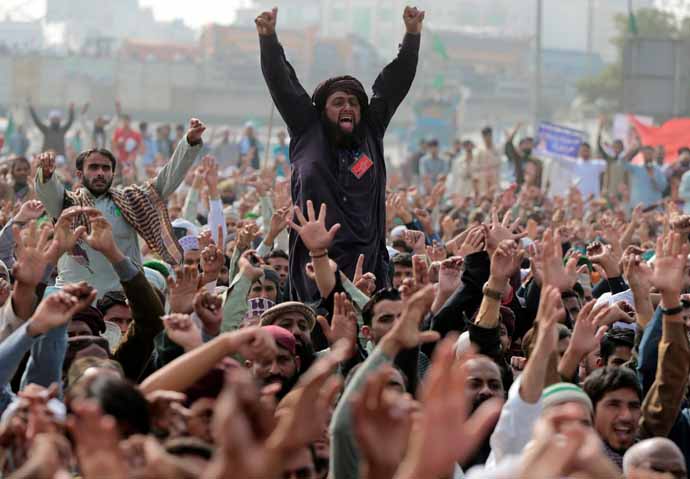 Before the mob: Hindus and other minority communities have become hapless victims of Pakistan's blasphemy laws. (Photo: Reuters)
Hindus form the biggest minority community in Pakistan.
According to The New York Times, a fact-finding committee made up of regional rights activists said it suspected foul play in Malhi's case — "The veterinary doctor might have been trapped under a false allegation because he refused to treat cattle belonging to an influential Muslim family late night earlier this week," said Kashif Bajeer, a member of a rights group.
According to official estimates, 75 lakh Hindus live in Pakistan. However, according to the community, over 90 lakh Hindus are living in the country.
Malhi's life continues to be in grave danger. But many more people belonging to minority communities in Pakistan could be implicated any moment for blasphemy. They can be put behind bars, their property destroyed, their families targetted. Their release may depend on how much the global community speaks up for them. But Pakistan may still go ahead and hang some of them in the name of 'justice', just to please the religious bigots it nurtures.
This is a scary spectre.
Also read: Pakistan burns over Asia Bibi: High time liberal Muslims spoke up for their minorities