India from the face of it is pretty much over its colonial hangover.
Prince William, Duke of Cambridge, and Catherine, Duchess of Cambridge, are in the midst of their visit to the jewel in the erstwhile crown, India, and we've been fairly well behaved about it so far. There's been neither any boisterous fanfare with trumpeting and marching bands, nor any nationalistic slogan-shouting to proclaim India's greatness.
The only ones erupting with joy are the fashion blogs and news handles on Instagram, and a senior author who proclaimed herself to be a "fangirl" while the royal couple walked through the corridors of the Taj Mahal Palace in Mumbai.
On Sunday, the couple was invited to an evening charity ball at the hotel where the who's who of Bollywood was in attendance. You name the star and s/he was there. Certainly, it was a special occasion, given the important role Bollywood serves in our country.
Bollywood stars with Prince William and Kate Middleton. 
While I don't doubt Kate and William have surely seen a Bollywood movie or two – our cinema is a major industry in the UK, and the Punjabi diaspora proudly wears DDLJ and K3G dialogues on their Debenhams sleeve - it appears that our desi stars took their cinematic avatars a bit too literally when it came to dressing up.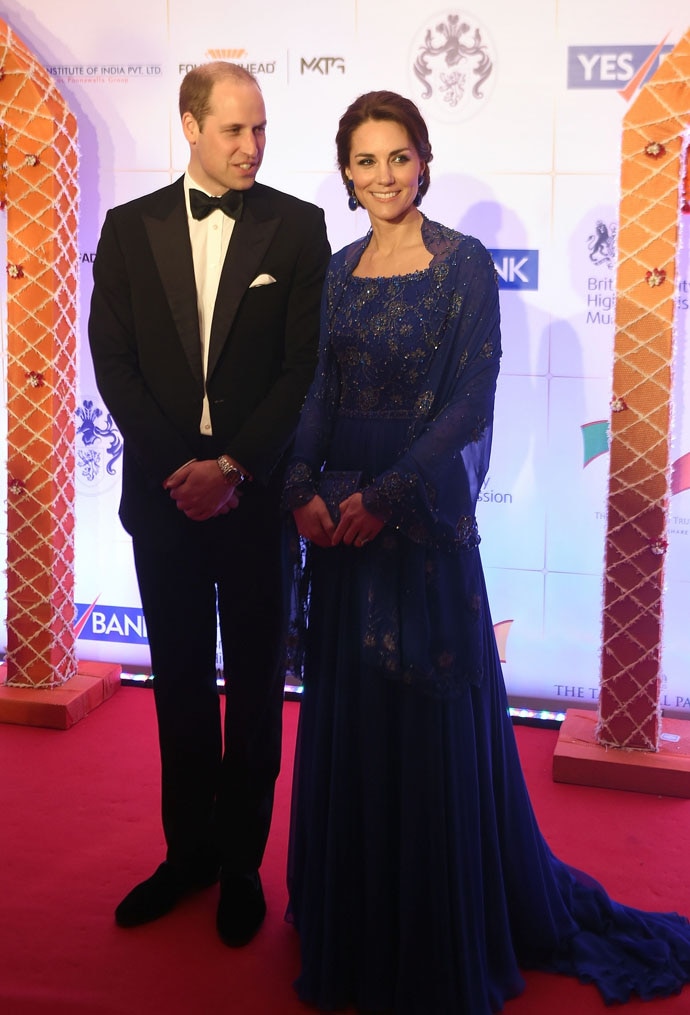 The royal couple, Duke and Duchess of Cambridge, William and Kate. 
In the images currently being circulated on the front pages of newspapers and websites the world over, it appears as if Will-Kate, too, are on a different planet. Planet Bollywood. In fact, they are surrounded by our B'town beauties, who seemed to have stepped into a time machine set to at least three decades ago, and specially brought clothes back for the event.
Let's take it from the top.
Kate Middleton was on point from the get go, and was impressive in her chic Alexander McQueen dress from the time she landed in Mumbai, all fresh faced and smiling. She then wowed us with her cricket skills in the afternoon, but it was the Anita Dongre dress she wore with its Mughal motifs that truly won us over.
Later in the evening, it was a custom-made, sari-inspired Jenny Packham gown for her that showcased all the delicacy of beadwork and embroidery that traditional dressing brings to mind. Certainly, a sweet gesture and goodwill on her part, as the gown looked stunning (though also slightly Bollywood-esque). 
However, Kate had nothing to worry about. Our very own desi divas ensured that they brought out the glitter in the glitterati, as they each sported ensembles that one might have encountered at Mehboob Studios.
Aishwarya Rai Bachchan.
In all her efforts to look elegant, Aishwarya Rai Bachchan, who wore a pale coloured chikankari sari by the king of couture, Sabyasachi – certainly a top choice – brought down the overall energy with passé styling. With the middle-parted, straight mane and heavy drape, the actress looked more like she had stopped by for the reception party of a family relative, instead of specially attending the reception party of the future king and queen of England.
Sonam Kapoor, flanked by Arjun and Anil Kapoor. 
Meanwhile, Sonam Kapoor went the opposite way. Wearing an Elie Saab couture gown with a maang tikka, the look was at its blingy best that left her just short of bursting into a song and dance sequence, or reciting a poem to impress the adults.
Aditi Rao Hydari gave her company with her own shimmery ensemble by Manish Malhotra, which no amount of stylishly pulled back hair and red lipper could salvage.
As for young gun Parineeti Chopra, who has been getting pleasantly more experimental with her looks of late, the actress surprisingly decided to underplay her presence with a crop top and loose pants.
Jacqueline Fernandez. 
The colours were pale across the board, almost like a dress code, which Jacqueline Fernandez broke with an off-shoulder red gown by Manish Malhotra that she possibly wore to channel her inner princess. However, the patterned ensemble only added to the dated look of the entire do.
Aishwarya Rai with Shah Rukh Khan meet Kate Middleton. Madhuri Dixit is on their right.
To be fair, one understands that its summer and no one wants to look like they're trying too hard. But in the sea of designs and designers, it would have been vastly more impressive had we seen our leading ladies represent traditional textiles in a more extensive and glamorous manner.
Where were the Sanjay Garg, Anamika Khanna and Rohit Bal's of Indian fashion? Designers who have been reviving traditional weaves from across the country in their collections? Surely, there's more to desi dressing than mirror work, beadwork and sequins. It would have been nice to see a wider spread of Indian textiles at the charity gala evening, yet, depressingly enough, Bollywood served up as inspiration once again.