The other day I received a WhatsApp image from a close friend. I was shocked to see that she was having her meals on the corner floor at her home, while the other family members were eating at the table. The family had labelled her as "impure" as she was menstruating at the time.
For them, it was a concrete reason to keep her at bay till the period got over. This is not an isolated case, but a traditional practice still observed in many Indian families.
It was in November that an official of Kerala's Sabarimala temple made a controversial statement that discriminated women on the basis of sex. The statement can be put like this, "Women will be allowed to enter Sabarimala temple only after inventing a machine to check their purity.''
The word "purity" itself necessitates reinterpretation in this context, as the so-called protectors of religion are recurrently making similar comments.
Disgusted with the sexist comments from the temple official, a Punjabi student named Nikita Azad went on an aggressive campaign on Facebook, giving a befitting reply to the patriarchs. The campaign, rightly titled #HappytoBleed, garnered massive support from women across the country.
"This is a campaign against menstrual taboos that still prevail in our modern society. Women are considered 'impure' during menstruation, barred from entering the kitchen, isolated within their homes. 'Happy To Bleed' is a counter-campaign launched against menstrual taboos, and sexism that women are subject to through it. It acknowledges menstruation as a natural activity which doesn't need curtains to hide behind," the Facebook page of #HappyToBleed states.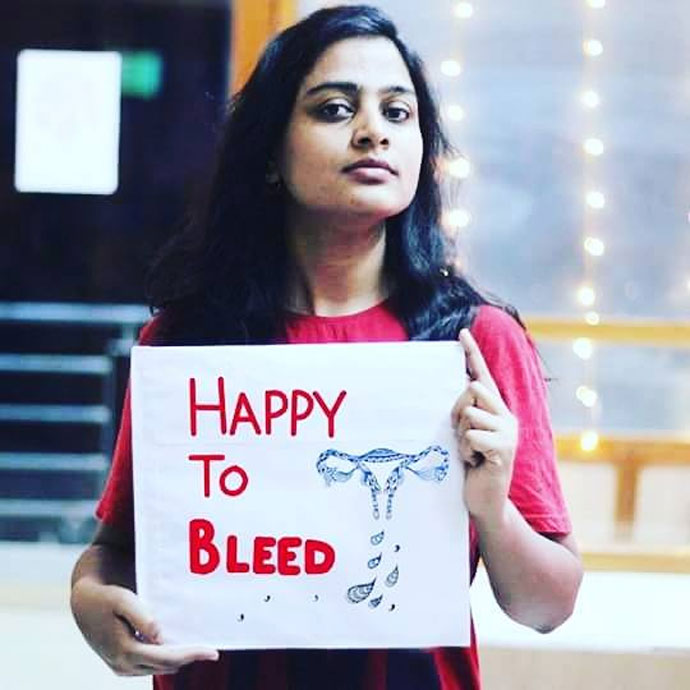 Aditi Gupta: Co-founder of www.menstrupedia.com.
It is intriguing to note that such misogynist and retrogressive statements have come from Kerala, the most "literate" among the Indian states, and a hotbed of progressive thinking. I don't know how were they able to label this kind of uncivilised custom under the ideology of Sanatan Dharma, which has nothing to do with gender domination, and has the most ideal concept of an egalitarian society.
In the Vedic period, women were "happy to bleed" as the society had a liberal line of thought and considered menstruation a natural process. They were free to do poojas daily despite this so-called impurity.
Most Vedic experts have aired objection to this "impure" treatment.
According to Acharya MR Rajesh, the founder of Kerala-based Kashyapa Veda Research Foundation, the Vedas never portrayed a menstruating woman as impure.
The new-age propagator of ancient Indian wisdom, thinking on the lines of 19th-century social reformer Swami Dayananda Saraswati, has also opined that Sabarimala should be opened to women devotees. It is really commendable that thousands of women have learned Vedic way of living from MR Rajesh, which makes them capable even to do poojas.
Today, many mothers advise their daughters not to go to temples during their menstrual days. The irony is that these mothers have little knowledge to justify this "custom" with a convincing reason. They owe it to the religion, without going deep into the Vedas, which are regarded as the root of Indian thought, to get an idea as to what Hindusim is all about.
Egalitarian culture is the most evident sign of a developed society. It is simple logic to think that no God has come up with unequal laws for men and women.
Quoting new-wave novelist Amish Tripathi seems sensible here: "The most powerful force in a woman's life is the need to be appreciated, loved, and cherished for what she is."