'Tiger, tiger' may not be burning as bright. But the lighter-coloured, furrier cousins of the big cats seem to be having it even worse. There are only 13 white lions left in the wild, according to the Global White Lion Protection Trust — ironically, they aren't even on the endangered list.
So, when Hungary's Szeged Zoo showcased their rare female white lion, born on May 15, the Internet took a big gasp of wonder.
The cub has been named Sonja to rhyme with her mother Nadja and also as an ode to Hungarian actress Szonja Oroszlán.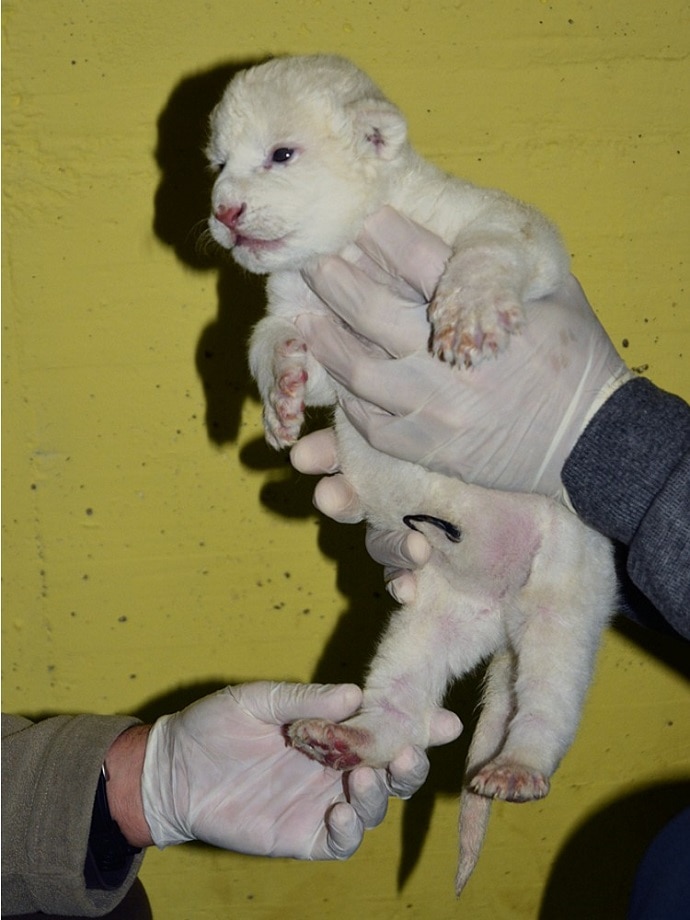 A (tiny) White Lion: Hungarian Szeged Zoo welcomed white lion cub Sonja on May 15. (Photo: Szeged Zoo website)
Sonja is one of the 300 white lions left in captivity, which is why she has round-the-clock camera surveillance and is monitored on a giant screen. These lions are no albinos but their lack of colour stems from a genetic rarity, specific to South African lions.
But while the world was chuffed, this went truly viral when the largest media house of China, People's Daily, took to Twitter to announce the news. No, the shocking thing is not the use of Twitter, which is banned in the land of the dragon, but that China has a continuing history of animal abuse. That's what made China's sudden enthusiasm for Sonja appear so unreal.
Crouching tiger, dying lions
Last month, a Daily Mail investigation brought to light the fact that 54 lions were slaughtered in two days — mostly to fuel the Chinese medicine industry, known as 'TCM' or Traditional Chinese Medicine. A South African slaughterhouse was allegedly breeding thousands of lions, who would be killed in the coming days just to supply bones for TCM 'aphrodisiacs' and — wait for it —jewellery, while others would get shot in fenced enclosures by wealthy trophy hunters for kicks.
The news created a huge public outcry, even as this 'traditional healing' practice was given a formal acceptance by no less than the World Health Organization, much to the great annoyance of animal rights activists.
Ironically, in the Year of the Tiger (2010), 11 tigers starved to death in the Shenyang Forest Zoo in China. More recently, a Chinese zoo visitor took to social media site Weibo to share a video of an emaciated white tiger eating soil in Wuhan Zoo in central China. When the video went viral, the zoo officials clarified that they had apparently fed the endangered white tiger a whole chicken before the video was shot and that the tiger was seven years old, weighing approximately 260 pounds.
However, the World Wide Fund for Nature states that the average weight for an adult Bengal tiger is 550 pounds.
The Indian Tiger Welfare Society reports that the white Bengal Tiger is extinct and only 200 are estimated to be alive in captivity; clearly keeping them alive should be a priority unless you are biding time till you can put its skeleton to use.
While we may all laugh at incidents from Chinese zoos when a dog is paraded as a wolf or inflated toy penguins or plastic butterflies are passed off as the real deal in Chinese nature parks, the intentional killing of endangered and un-listed-but-still-endangered animals such as white lions is no joke.
So, China, your excitement over the Hungarian lion cub is not sweet.
It's actually creepy because it would be nicer if you could show the same tenderness for the animals in your own captive settlements and/or zoos, mostly waiting to die and become aphrodisiacs for you.