Dutch painter Vincent Van Gogh is one artist whose life story has drawn as much curiosity as have his artworks, whether it is him cutting his ear off or his death by a self-inflicted gunshot. So, when an immersive exhibition of his artworks was announced across the country, many of us were more than excited. 
The show called Van Gogh 360 combines art with technology and is put together by director Massimiliano Siccardi, composer Luca Longobardi and art director Vittorio Guidotti. Under his expertise in digital art, Siccardi has 'brought to life' the artist's best known artworks; the first show being held in Toronto in May 2022.
In India, the show came to Delhi NCR on April 10, after a successful stint in Mumbai that lasted two and a half months. The chosen venue in Delhi was DLF Surface Parking 5 in Gurugram. 
I am an artist, and for me, Van Gogh has been a saviour ever since I read his biography Lust for Life, written beautifully by Irving Stone. More than a mentor, he has been an imaginary friend, having helped me battle my feelings of inadequacy as an artist ever since my days of pursuing a Fine Arts degree; and in general, he being a ray of hope in the worst of my days.
So, we booked our tickets a day before and reserved ourselves a spot just in time because the tickets ran out not long after. We were travelling all the way from Noida on a lazy Sunday, so we hoped the show would be worth all the hype. 
Upon entering the exhibit, we were met with a soothing darkness that led us to a room arranged with large LED panels of Van Gogh's paintings with text discussing his life. We took a round of the room reading all the panels one by one, and even though I'm familiar with his life story, I could feel a lump in my throat as I finished reading the last panel that talked about his final moments of suffering, leading to his suicide.
I remembered a quote from one of his letters to his brother Theo, "I paint so as to make my life bearable."
To think that a man tortured by poverty and mental illness fought for his life by painting and even in his bleakest of moments, painted hope. His brother Theo was the only one who stood by him emotionally and financially and died only six months after Vincent's death. 
For what was to come next, nothing could have prepared us.
We entered a large hall that had almost two-storey high screens on all four sides and the ground, projecting moving animations of Van Gogh's paintings. The whole scene, with the invigorating images, resonant music, and the audience lounging on the floor in small groups, became part of the artwork. Perhaps that is what it means to be in an immersive show, I guess.
We found ourselves a spot somewhere in the middle and sat there for over an hour as the show played out, showcasing almost 300 of Van Gogh's artworks, dissolving and intersecting into one another. Those fleeting, morphing images against the mood-setting music and even the breeze from some well-concealed fan somewhere made me feel as though I was in outer space. I cannot express how freeing it was to be sitting on the floor with dozens of others lost in a trance, as though the exhibition hall was our very own living room.
It is said that the artist's paintings with vibrant yellows and vibrating orbs for stars were a result of his hallucinations caused by bipolar disorder, along with the 'digitalis' treatment that he received for it. These animated paintings is how I imagine Van Gogh must have seen the world; through the lens of his mental illness.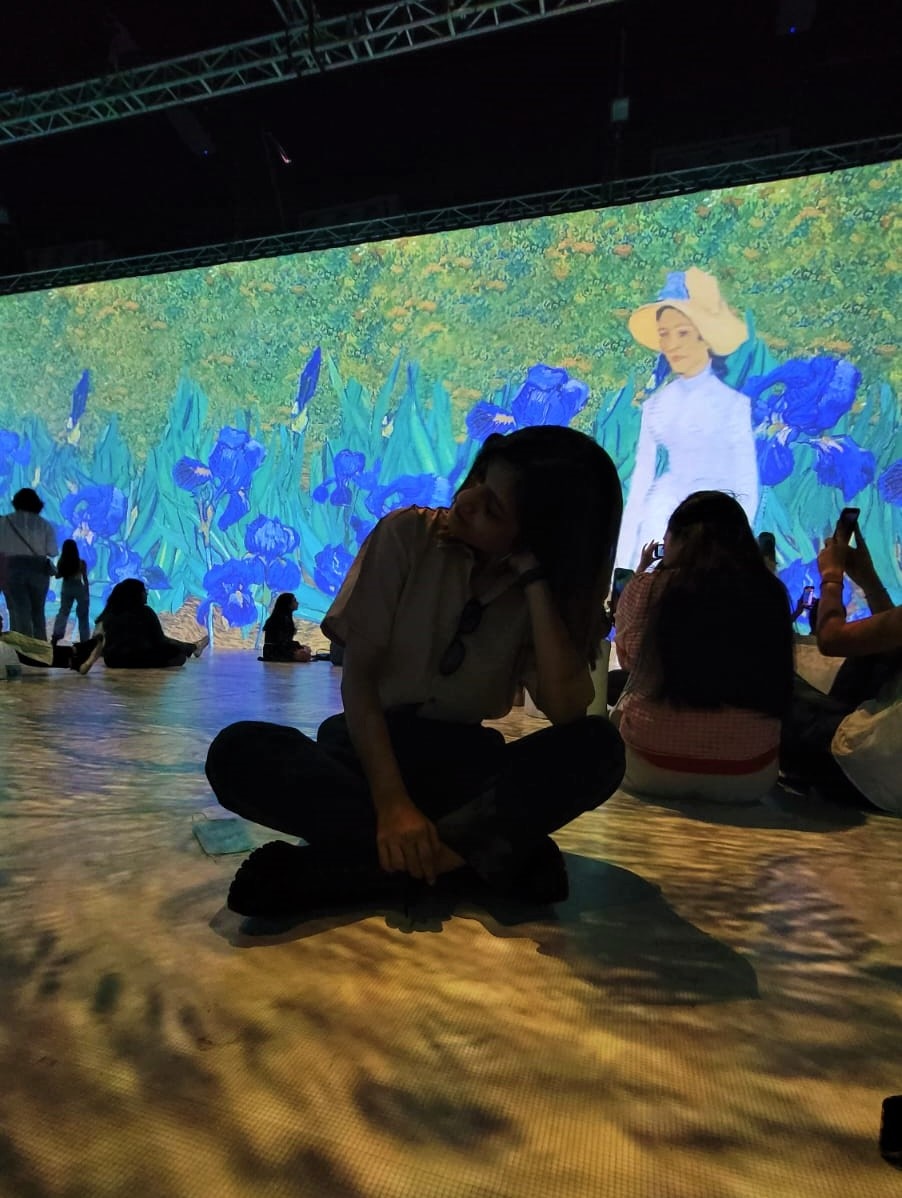 As I sat there enjoying the show in the comfort of my city (without having to fly to Amsterdam), I wondered whether Van Gogh himself would have been thrilled about this whole idea.
A constant cause of quarrel between him and his dear friend and mentor Paul Gauguin was because the latter disagreed with his method of painting outdoors, whether in the scorching sun or the roaring wind. He had the need to feel the intensity of his subject while painting and I think that is what makes his paintings raw and authentic.
The show definitely did justice in conveying the artist's frame of mind; but nothing can replace the experience of seeing his paintings live. 
What makes Van Gogh the most loved artist of all time is the way in which he persevered against all odds and continued to do what he loved the most. In a short decade-long career, he created 2,100 artworks, out of which he could only sell one in his lifetime. What an irony, considering he lived and died in poverty, only for him to be recognised as one the greatest painters of all time decades later!
Van Gogh had said, "If I'm worth something later, I'm worth something today."
With the number of retrospective shows, films and music inspired from his life, he is definitely worth so much today.