Theirs are images etched in my memory like some erogenous zones of deep pleasure which is a mix of aesthetic exhilaration and inward bliss. Each time they flash in the mind they trigger a release of some inspirational hormone.
Harry Calahan.
This Harry Callahan image is one of the classics of modern photography. Seemingly a picture of a weed against a white background, it is a remarkable study in minimalism and use of negative space. Look at the white space carefully and see the weed transform into a nude woman.
William Albert Allard.
William Albert Allard's photograph of an Italian actress is one of the strongest influences on me. This image was used as a National Geographic Magazine cover story on Venice.
It still astounds me how a close-up portrait is used to represent the character of a city. But then I see Venice just as that - a personality expressed by wistfulness, beauty, classical grace and desire.
Ashvin Mehta.
This image is one of Ashvin Mehta's nature studies from the book Gifts Of Solitude. It is one of my first deep influences on my photography. How Ashvin animates landforms with life and an inner spirit is deeply resonant of the Indian idea of prakriti as a dynamic living energy.
Steve McCurry.
Steve McCurry's image of the flower seller of Dal Lake, Kashmir, is a picture of joy tinged with pain. At once simplistic in its pictorial beauty and complex in its layered comment on Kashmir, the paradise lost and bereft of flowers.
Raghu Rai.
I saw this image of anthropomorphic tree trunks in an erotic embrace and had tears in my eyes. I immediately called Raghu Rai and thanked him for this image and said: "However much skepticism hardens us from inside, an image like this comes and dissolves and breaks everything down."
5+1) Grace, or something like it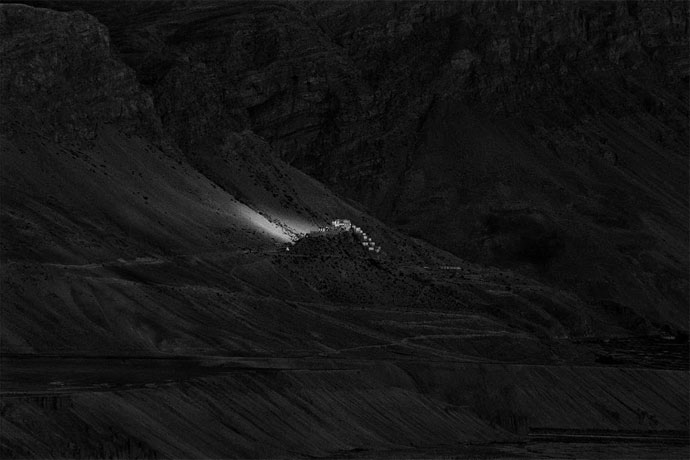 Bandeep Singh.
The last one is one of my photographs. I see this image of Kye Monastery in Spiti Valley - kissed by a beam of light - as a visual depiction of the grace I have received. I was leaving Spiti after days of not having made a good image. As soon as I reached the bend in the road from where the view would change, the sky just opened to cast a single beam of light only on the monastery.
I stopped the car, leapt out with the camera and could take only one single photograph and it disappeared. This image always makes me mindful that true creativity is possible only through grace.