"I have a madness for distributing helmets, just like an alcoholic has addiction for alcohol," 36-year-old Raghvendra Kumar, popularly known as the Helmet Man of India, said when I asked him how he has been managing do it day in and day out for the past 9 years.
In a conversation with dailyO, Raghvendra said that he has been distributing helmets since 2014 because of an incident that changed his life. Since then, he left his job and devoted himself to only distributing helmets so that he can save someone's life.
The turning point in his life: In 2014, Raghvendra lost his close friend and roommate Krishna Kumar Thakur, a native of Bihar's Madhubani, in a road accident.
Raghvendra who comes from Bihar's Kaimur district shared his hostel room with Krishna Kumar in Greater Noida, UP. While Raghvendra was studying Law at Lloyd Law college, his friend and Krishna Kumar was studying engineering at IILM College of Engineering.
"He had an accident on March 28, 2014, while he was coming to Greater Noida from Noida," Raghvendra recalled the incident.
"Krishna wasn't wearing a helmet. He suffered a head injury, but there were no other injuries on any other part of his body. After the accident on the Yamuna Expressway, which was newly built then, nobody came to his help. It was only after an hour that one person spotted him and rushed him to a hospital," Raghvendra said.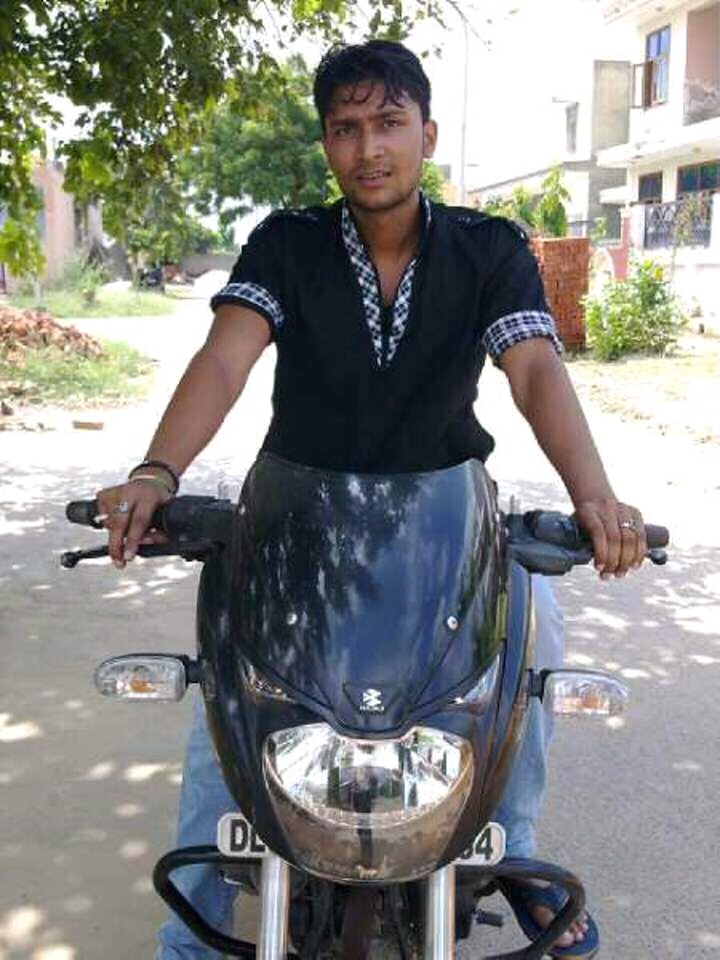 Raghvendra said that Krishna was able to speak in the hospital, but once he was put on the ventilator, he never came back. And after 8-9 days, he died.
"He was the only child of his parents. Bas ek helmet na hone ke wajah se ye haadsa ho gaya. Ye na huwa hota to aaj mai Helmet Man bhe nahi hota (It was only because of not wearing a helmet that Krishna lost his life. If this wouldn't have happened, I wouldn't have become the Helmet Man of India)," he said.
"I have a world record of distributing 56,000 helmets in the past nine years, and I have saved nearly 30 lives till now," Raghvendra said.
When I asked him how did he manage the expenses given 56,000 helmets would cost nearly Rs 2 crore, he said that he sold off everything he had. 
The untold story: Raghvendra said that he sold off his house in Greater Noida for Rs 52 lakh in 2018. He had purchased the house in 2013 at Rs 43 lakh. "I sold off my Greater Noida house in 2018 at 52 lakh, and my wife also contributed by selling off her jewellery worth Rs 15 lakh," Raghvendra said.
"I also sold the 14 Bitcoins I had. The valuation of those Bitcoins at that time was Rs 75 lakh. I also used up all of my savings I had accumulated when I had a job which I left in 2016," he said.
Raghvendra said that the people only know the story that he distributes helmets, but nobody knows the struggles he face every day to meet his goals. 
And now that he is finished with nearly everything he had, he wishes to go back to his home in Bihar's Khaimur district.
"My wife remains angry with me. Ladai hoti hai.. Ghar se baaten sun-ni padti hai (There are frequent quarrels, and I have to suffer a lot at home due to this). I couldn't provide good education to my child and now that I have nothing with me, I wish to go back home. The dreams which I had in 2009 when I came here remain. Fight toh duniya ko dikh raha hai lekin bohot si cheezon ko mai personally face karta hoon (The world only sees the fight I am having on the road, but there are many hassles I have to deal with on a personal level)."
The money problem: When I asked Raghvendra if he received help from any influential persons, he said that he had met Minister of Road and Transport Nitin Gadkari, and though Gadkari had tweeted about him, he didn't receive any financial help.
He also said that he even met actor and humanitarian Sonu Sood, but didn't receive any financial help from him.
"Shayad agar madad hoti to aaj parivaar suffer nahi karta aur mera hausla kuch aur hota. Meri family suffer nahi karti," (My family and I wouldn't have suffered these hardships if financial help was given to me)," Raghvendra said.
"Now my only wish is to meet President Droupadi Murmu, before I finally go back home. She herself has lost one of her children to a road accident. I want to meet her and tell her that I am going back after doing my work, and that I have saved 30 lives in 9 years," Raghvendra said.