Almost every child in Southeast Asia, especially in India and Pakistan, is aware of the region's earliest human settlements in Mohenjo Daro (also known as Mohenjodaro). There's even a Bollywood movie starring Hrithik Roshan called Mohenjo Daro. This ancient city is now under threat from floods in Pakistan. 
So much so, that the over 5,000-year-old site is facing the risk of losing its UNESCO World Heritage site status. And most importantly, the floods are threatening to close the lid forever on the many unknowns that we are yet to uncover about human evolution.
Where: The Mohenjo Daro site is located in the Sindh province of Pakistan.
Rainfall: 779.7 mm from August 16 to August 26.
Already, the floods have brought extensive damage to the site. Images show collapsed brick walls, mud covering the area, damage to the stupa dome's protection wall and more. Pakistan's Ministry of Culture, Tourism and Antiquities is working hard on damage control, but reports suggest it may not be enough.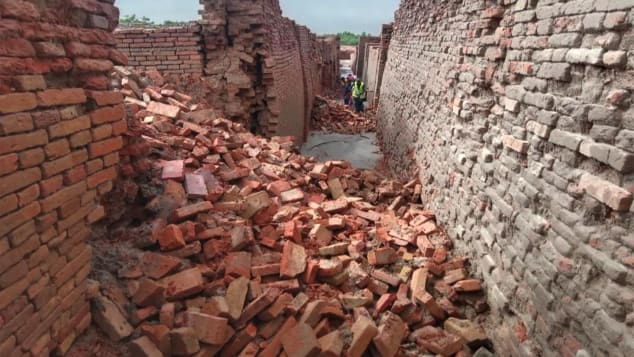 A letter from the ministry to UNESCO also seeks $45 million to fund the repairs. It also notes that a consistent rise in the Indus river water levels may pose an emergency situation. 
"We are facing another emergency in the form of a consistent rise in the Indus level," the letter reads. 
We are facing another emergency in the form of a consistent rise in the Indus level.
- Pakistan Government
UNESCO has mobilised $350,000 to help recover the flood-damaged cultural heritage sites in Pakistan.
Floods in Pakistan brought on by heavy rainfall have killed over 1,100 people already and have displaced hundreds and thousands of others. An estimated one-third of Pakistan was reported underwater due to the heavy rainfall and swelling rivers, combined with melting glaciers. 
History: Mohenjo Daro was discovered by archaeologist Rakhal Das Banerji in 1920. Only part of the civilisation has been excavated so far, with much of it yet to be discovered. Mohenjo Daro's discovery also came along with the discovery of the Harappan civilisation. Mohenjo Daro is considered the largest city of the Indus valley civilisation. 
How the civilisation came to an end is still unknown. But Mohenjo Daro's end coincided with that of Egypt's Mesopotamia. One theory says that changing climate, drought and floods must have eventually put an end to the bustling city. The irony is, that thousands of years later, the trace of this ancient city is being threatened by another climate change. 
For long, Mohenjo Daro has faced a threat from the changing climate. 
The civilisation is still very famous for its infrastructure which had toilets, public baths, drainage systems, sewer covers and more. It was said to be a highly evolved and bustling city. Even now, memes often compare the failure of modern infrastructure to that of the Mohenjo Daro and Harappan times.