All is not well between acclaimed writer Chetan Bhagat and social media celebrity Urfi Javed. The two have been at loggerheads ever since Bhagat mentioned the name of Urfi at the Sahitya Aaj Tak 2022 event. While Bhagat has clarified that what happened was a controversy driven out of context, Urfi Jawed went a step further and mentioned the #MeToo allegations against Chetan Bhagat which had haunted him in 2018.
November 19: The controversy started at the Sahitya Aaj Tak event on November 19, 2022, where Bhagat was called as a guest. Bhagat was speaking on how the youth today are distracted and instead of focussing on their careers they are busy on Instagram. During the course of his speech, he mentioned the name of Urfi Javed. 
Talking to the audience he said, "Everybody knows who is Urfi Javed. Everybody knows this. Why? Is it going to come in your exams who is Urfi Jawed or will you be telling to your employer in an interview that you know about the outfits of Urfi Jawed. It's not the fault of that girl, she is making her career. But, these things are distracting youth," Bhagat said.
Bhagat further said that like Uorfi Javed there are 50 more on social media websites like Instagram who only distract the youth. He added, " On one side, there is youth who is protecting our nation at Kargil and on another side, we have another youth who is seeing Uorfi Jawed's photos in their blankets," ANI reported Bhagat has saying.
Uorfi Javed responds: Uorfi reacted to Bhagat's comments and said: "Men like him will always blame the women than accept their own shortcomings. Stop promoting rape culture you sickos out there. Blaming women's clothes for the behaviour of men is so 80s Mr Chetan Bhagat. Who was distracting the youth when you messaged girls half your age?" Uorfi wrote on her Instagram story.
She further said, "People like you are misleading the youth, not me. Encouraging men to put the blame on women or their clothing when they are not at fault."
The MeToo allegations: Uorfi Javed also shared screenshots of Bhagat's alleged Whatsapp messages which were leaked during the 2018 #MeToo movement.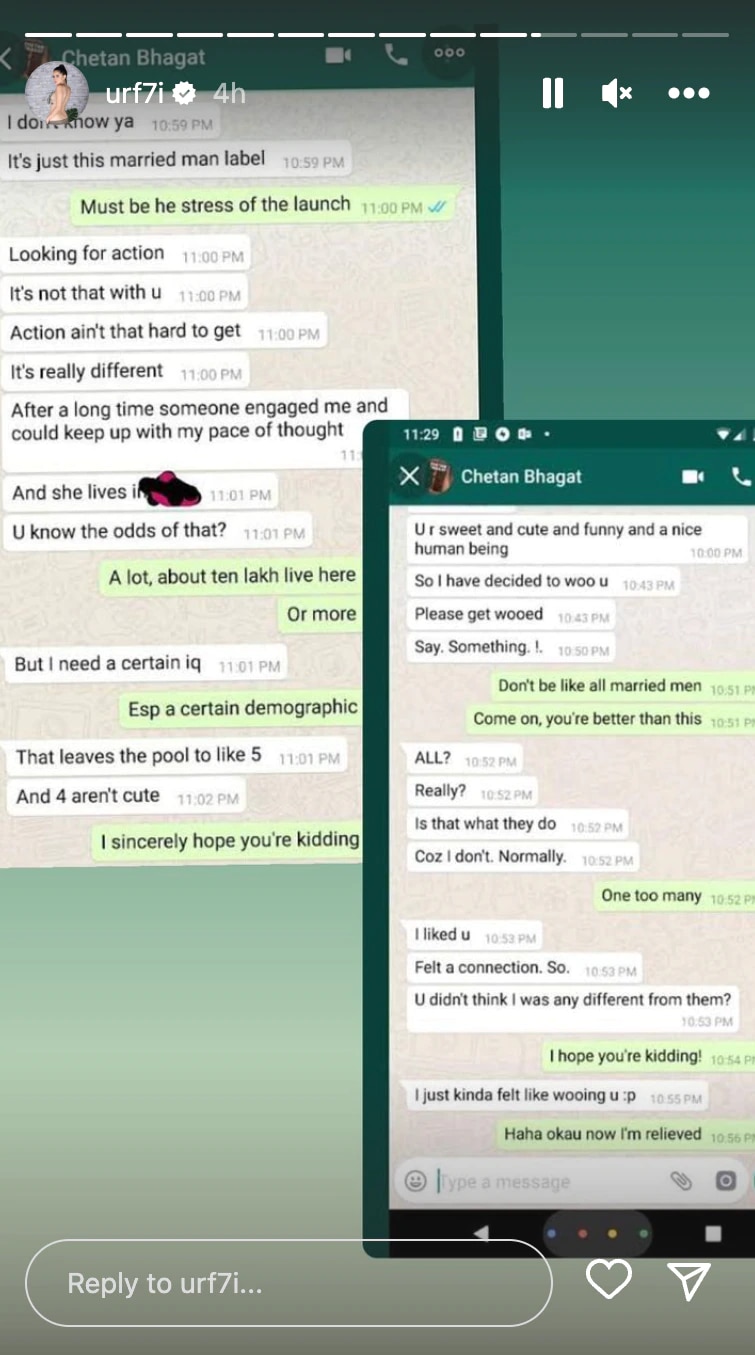 Chetan Bhagat reacts: After Urfi posted the screenshots, Bhagat replied saying: "Have never spoken to/chatted with/met/known somewhere where it's being spread that I have done so. It's fake. A lie. also a non-issue. Haven't criticized anyone. And I also think there's nothing wrong in telling people to stop wasting their time on Instagram and focus on fitness and career."
Two days prior on November 25, Bhagat had also tried to clarify on Twitter that he was quoted out of context. He wrote: "I told guys to focus on fitness and their career and not waste time on Instagram. Apparently, that's not ok. So, they cut my statement, say it out of the context, the headline with adding things I never said and do a click-bait piece with ageism thrown in too. Of Course."
Chetan Bhagat and #MeToo allegations: In 2018, Chetan Bhagat was accused of sexual harassment by author Ira Trivedi. She had accused Bhagat of forcefully trying to kiss her at a hotel room in 2010. While Bhagat had claimed it false accusation, Ira Trivedi stood her ground.
Urfi Javed brought up this issue to remind Chetan Bhagat of his own deed.