Former US President Donald Trump's first wife Ivana Trump died on Thursday (July 14). She was 73. Ivana was found unconscious near a staircase at her New York City home, sources told Associated Press.
 Trump described her as "a wonderful, beautiful and amazing woman, who led a great and inspirational life" in a post on his social media platform, Truth Social.
Who was Ivana Trump? Ivana Trump was born in the Czech Republic (formerly Czechoslovakia)  on Februray 20, 1949 and married Donald Trump in 1977.  Prior to marrying Donald, Ivana lived in Canada.
Ivana and Trump share three children together; Donald Jr Trump, Ivanka Trump and Eric Trump.
Most of Ivana's youth was spent in competitive skiing for the Czechoslovakian national system. She earned her Masters degree in physical education and languages from Charles University in Prague.
She then went on to marry Alfred Winklmayr, an Austrian ski instructor and friend and moved to Canada. Reportedly, she only married him to obtain an Austrian citizenship.
Marrying Winklmayr was crucial for Ivana as the marriage allowed her to leave her communist home country without defecting and gave her the permission to visit her parents with no fear.
Although Ivana learnt English in Toronto in Canada, it was in Montreal where she spent two years as a model.
Ivana and Donald Trump's divorce: In 1976, on a trip to a New York bar called Maxwell's Plum, Ivana met Donald Trump and they ended up being married in April 1977.
On more than one occasion, Ivana has been credited to helping Donald build his 'Trump Empire'. During their marriage, Ivana held multiple roles in the Trump Empire, most importantly the role of manager of the ultra-famous Plaza Hotel in Manhattan, New York. The pair was New York's tabloid favourites in the 1980s.
Based on a profile done by Hello magazine, Ivana and Trump's marriage started hitting the rocks when on a ski trip in Aspen, Colorado in the US, actress Marla Maples told Ivana that she was in love with her husband.
In February 1990, The Chicago Tribune reported that Trump had locked Ivana out of her office at the Plaza Hotel and compared Ivana to Leona Helmsley, a woman he called 'a truly evil human being' at the time.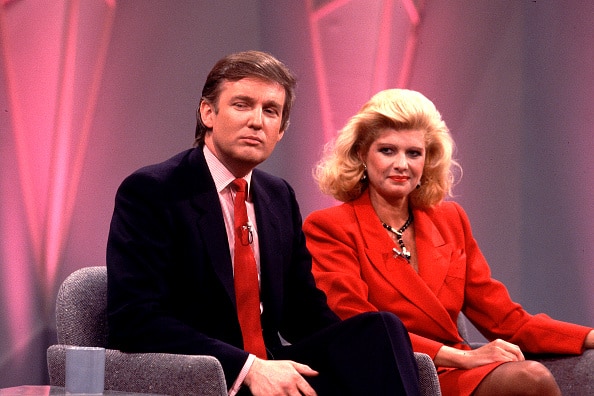 The pair divorced in 1992 and a divorce settlement granted Ivana:
A US $14 million payment.
A mansion in Connecticut, US.
An apartment in the Upper East Side of New York City.
A co-op known as Trump Plaza.
One month a year at Donald's Mar-a-Lago club in Palm Beach, Florida in the US.
Trump went on to then marry Marla Maples and Ivana married Riccardo Mazzucchelli. Both of them later divorced their respective partners.
After their divorce, Ivana launched her own lines of beauty products, clothing and jewellery. She also released 6 books, with the latest titled Raising Trump in 2017.