Having been made the talk of the town after his dejected appearance at the Grammys 2023, Ben Affleck is reclaiming his meme-ability status yet again.
Ben Affleck attended the 65th annual Grammy Awards alongside his wife Jennifer Lopez. The actor, however, didn't seem particularly enthusiastic about the event. 
At several points, Affleck's facial expressions were captured on camera and the Internet has been having a field day with his apparent boredom ever since. His drab look has fuelled a number of memes and trolls across social media, many hailing the return of the notorious 'Sadfleck'.
Sadfleck
For the uninitiated, 'Sadfleck' refers to a clip from an interview in which Affleck appears to be sad or defeated while discussing the negative reception of the film Batman v Superman: Dawn of Justice. The clip was taken out of context and has since become a popular meme format, with various captions added to highlight different sad or defeated moments.
However, this isn't a first for Affleck. The actor has been the subject of a number of viral memes catching him in compromising positions or despondent moments.
Sad Batfleck
On May 13, 2014, Zack Snyder, director of Dawn of Justice, tweeted the first picture from the set of the movie featuring Batman (played by Ben Affleck) standing next to the Batmobile. Within 48 hours, the photo gained over 44,000 retweets and over 24,000 likes, hailing the picture as the "saddest Batman of all time".
Ben Affleck Smoking
In August, 2016, The Cut published a photograph of Affleck smoking a cigarette with a distressed look on his face wearing a blue sweater. In late 2016, the image was published online and rapidly became a meme format around the world throughout the following years.
"Ben Affleck loves to smoke and hates the thought of existing in his own body for the rest of his time on earth. This was made apparent earlier this week when he was spotted taking a long, shaky drag on a Camel after spending his 44th birthday with his estranged wife Jennifer Garner and their three children in London."
- The Cut describing the infamous pap photo of Affleck
Ben Affleck Juggling Dunkin' 
In December 2020, a photograph of Affleck lifting his Dunkin' Donuts order at the front gate of his house was published by celebrity gossip publication, Page Six. The photograph of the actor struggling to lift the large order in his hands went viral soon after.
Creepy Gone Girl Smile
 
This meme references Affleck's role in the film Gone Girl, in which he played a man whose wife goes missing and features a still image of Affleck smiling awkwardly as he addresses the public about the disappearance of his wife, played by Rosamund Pike.
Director David Fincher told Playboy in an interview that when casting the actor's role, a Google Image search showed him that Affleck had the creepy smile he was looking for.
Ben Affleck Sleeping
In July, 2022, paparazzi photos of the actor vacationing in Paris with his new wife Jennifer Lopez and his daughter were posted by TMZ - most notably, several pictures of Affleck napping on the deck of a boat, lounging on a chair with his head thrown back and his mouth agape. The Internet got to work soon after.
Bennifer 2.0
This meme refers to the rekindled relationship between Affleck and Jennifer Lopez in 2021, which was once again a major media spectacle.
After photos of Jennifer Lopez and Ben Affleck's vacation photos went viral, one photo in particular, raised eyebrows for bearing a striking resemblance to Lopez's 2002 music video for Jenny from the Block.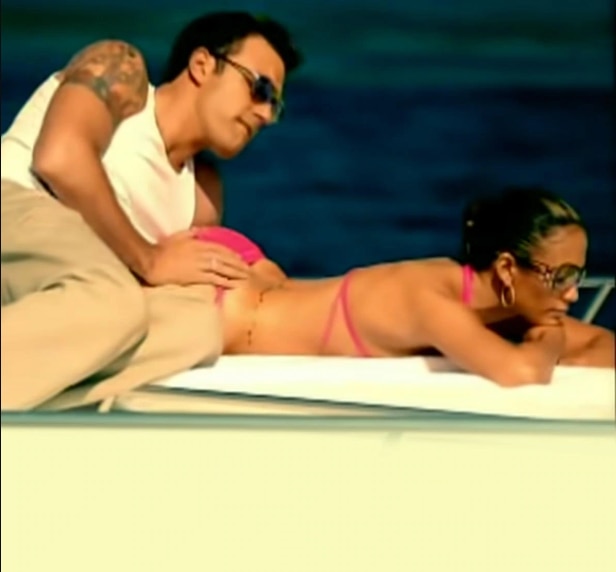 The couple appeared in nearly identical positions in the paparazzi-captured photo, with Affleck's hand lingering rather suggestively.
Affleck at the Grammys
Flash forward to February 2023, with Affleck being ripped apart over social yet again for his 'done-with-life' expressions at the Grammys ceremony. 
With #SaveBen now trending, it seems the Internet's relentless pursuits at trolling Affleck won't be slowing down any time soon.