Apple product launches have a vibe of its own and are much anticipated by curious fans all over the world. And why wouldn't they be? It is the brand that brings innovation and class to our daily lives and some chutzpah and efficiency in our increasingly technical lives. 
Apple's first product launch of 2022 was called 'Peak Performance' and saw the launch of some new exciting products. Here are all the updates on everything that happened during the launch event:
Watch the one hour stream here:
There were five product launches at the 2022 Apple event. Here's breaking down what you need to know about them.
Apple launched its third generation phone: the Apple iPhone SE, which is a refreshed version of the previous iPhone SE versions that were launched in 2016 (first version) and 2020 (second version). The iPhone SE was an unexpected lottery for Apple as it gained a market of users who wanted a small and affordable iPhone. 
Photo: Apple
This time, Apple has used the same A15 Bionic processor and the same glass protection (Ceramic shield) inside the iPhone SE, which is used in the iPhone 13 models. What does that mean?
Your budget iPhone will be as capable as the expensive iPhone 13 and your battery will last longer. Also, since you get 5G connectivity, one can access internet even faster.  
The SE has a 12 megapixel main camera and this allows for similar features of the main iPhones, like Photographic Styles and Deep Fusion to be used in the budget iPhone. The SE has a 7-megapixel selfie camera.
Apple had introduced MagSafe with the iPhone 12, which allowed you to magnetically attach accessories like wireless chargers, wallets, and battery packs to the back of the phone. Though the new iPhone SE does not have this feature, you can still wirelessly charge this iPhone.
SE is available in 3 colours: Midnight, Starlight and Red, for which the preorders open Friday, March 18. The price? Just $429 i.e Rs 76.58*$429 = Rs 32,852.
If face id-enabled iPhones are more of your thing, you might be tempted by a wider range of new colours that will now be available for the iPhone 13 (i.e green) and iPhone 13 Pro version (i.e alpine green). They can also be preordered March 18 onwards. This is what it looks like:
Photo: Apple
Apple adds another chipset naming convention to its existing processor M1 line up and is calling this version the 'M1 Ultra'. This joins an already large family of processors named the M1, the M1 Pro, and the M1 Max.
What is M1 Ultra made of? Its basically two M1 Max chips merged together. But what does this M1 Ultra chip do?
It's better because it offers 128 GB of graphics memory and is eight times more powerful than the base M1 chip. 
Boy, does Apple love throwing shocks in the name of surprises at its events! The biggest surprise (or rather, shocks) at Apple's event was when they announced a new desktop PC called the Mac Studio.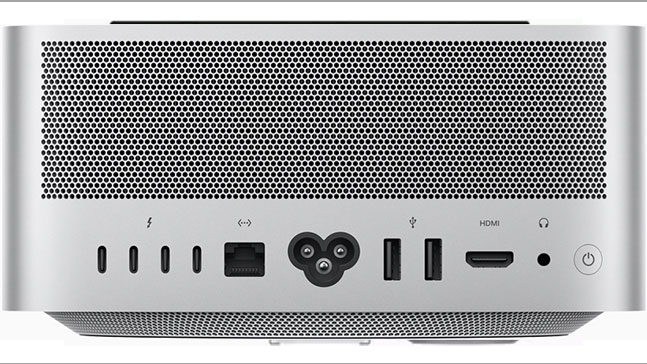 The processing machine with multitude of slots. Photo: Apple
It's like a big silver block that stands 4 inches tall, has built-in bluetooth and WiFi, and can work on both, the M1 Max Chip and the M1 Ultra Chip.
It has a multitude of ports everywhere - four Thunderbolt ports, two USB-A slots, an HDMI port, and a headphone jack on the back. It also has two USB-C ports and an SD card slot in the front.    
The Mac Studio is priced at $1,999 (i.e Rs 1,52,200) with the M1 Max Chip; and $3,999 (i.e Rs 3,04,450) with the M1 Ultra Chip.
The Mac Studio and the Studio Display together. Photo: Apple
There is also a new 27-inch monitor, which boasts of a 12-megapixel webcam and a fully adjustible tilt stand, that was specifically designed to be used with the Mac Studio, called the STUDIO DISPLAY. The 27-inch 5K Retina Display monitor produces over 14.7 million pixels and a maximum of 600 units of brightness and is priced at $1,599 (i.e Rs 1,21,740).
If you are wondering what kind of tablet you should be gifting yourself, the iPad Air might be another option to choose from.
The iPad Air is powered by the M1 chip, which is the same processor that Mac and iPad Pro have. This 5th iteration of Apple iPad Air costs about $600 (i.e Rs 45,680) and is available in five colours: Gray, Pink, Blue, Starlight and Purple.
Photo: Apple
The 5G-enabled iPad Air screen has a 10.9-inch Liquid Retina display and has a 12 MP front-facing camera. It has a feature called 'Center Stage' so that friends and family are always in the frame as you video chat. 
Which ones are you excited to grab?