The world of gaming stands splintered between many platforms, with multiple consoles fighting it out for the attention of an ever-growing base of gamers. But even as the likes of Microsoft, Sony and Nintendo try to woo users into buying into their respective platform, many remain loyal to the idea of gaming on PCs, because of the flexibility and promise of the unfiltered performance it offers. 
But the world of PC gaming is one of great confusion and contradictions.
The very flexibility that makes the idea of gaming on the platform attractive can also very easily turn into a headache. But if you've already embarked on the journey, it'll be important to get certain things right. For example, the GPU you use for your gaming rig. 
But this is easier said than done – especially if you're looking to build a PC for 1080p and possibly even 4k gaming needs, without breaching the Rs 1 lakh barrier.
The graphics cards that promise great performance cost a bomb, while the ones with attractive price tags offer mediocre performance at best.
But there still exist some GPUs that strike a fine balance in terms of price to performance ratio.
Today, we take a look at one such card. 
(Photo: Sanket Vija/ DailyO)
Yes, we're talking about the Pascal architecture-based GTX 1070 TI.
In the world of newer Ray-Tracing capable 2000 series GPUs, the 1070 TI stands out as a card that despite being a year old, still offers enough power for up to 4k gaming – and all without forcing you to break the bank. But what's most interesting about the GPU is that it can be bought for pretty much the same price as a GTX 1070, yet with a little overclocking, it can muster the power to give the high end, GTX 1080, a run for its money.
We recently put to test one of the better OEM implementations of the GPU – the Asus ROG Strix GTX 1070 TI – to figure out if this card really makes sense for gaming as we head into 2019.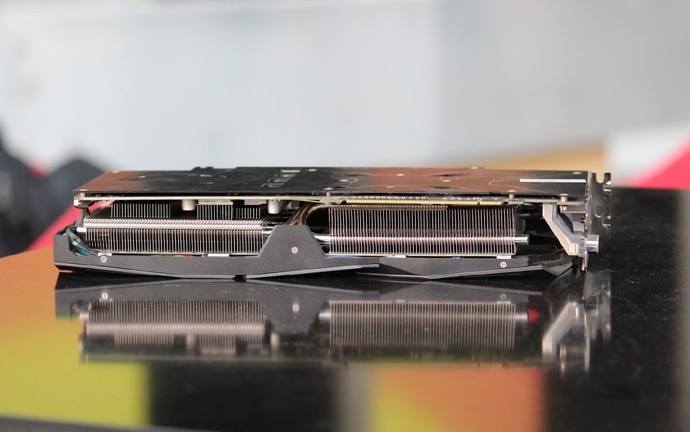 (Photo: Sanket Vijay/ DailyO)
But before we get into the specifications of the GPU, and how it performs, let's take a look at how it appears from the outside. After all, a modern-day graphics card is a lot more than just the GPU and the PCB it rests on.
It is the coming together of beautifully designed hardware that looks as great as it works. 
Asus' take on the GTX 1070 TI stays true to the design scheme of its ROG Strix lineup and in essence, is quite similar to the designs of other Strix GTX 10 series cards available in the market. The card is quite big in size with dimensions of 29.8cm x 13.4cm x5.25cm and took up the area of about two card slots in our Corsair Carbide 400R mid-tower cabinet. 
However, Asus justifies the need for the extra real-estate requirements of the card by equipping it with a cooling system that consists of three 90mm fans pushing out heat from a heatsink that Asus has equipped with as many as a six chrome polished nickel plated copper pipes. 
(Photo: DailyO)
At the back, the whole set-up is held together by a sturdy metal back-plate with an LED ROG logo that lights up once the card is switched on.
In terms of looks, the whole package is quite tastefully designed, with Asus' ROG and Strix branding finding place across the card. 
Asus has also generously used LED strips beneath the surface of the card to help give the card a really interesting look. 
In terms of connectivity options, this particular Asus card comes with one DVI slot as well as 2 output slots for HDMI connectivity. 
(Photo: Sanket Vijay/ DailyO)
Thermals, power draw, noise
So one of the main focuses of Asus' particular take on the Strix 1070 TI is significantly improving thermal performance from the reference design by Nvidia.
The answer is a resounding Yes!
For keeping the card running even under heavy load, Asus also uses what it calls the MaxContact Technology which it claims provides improved contact with GPU for better thermal performance. Now, we don't know if it's this MaxContact technology, or just the presence of three fans paired with six heat pipes, but our unit ran extremely cool while we reviewed it.  
During our time with the Asus ROG Strix 1070 TI, it usually idled around 30 degrees and only breached the 75-degree mark when put under load. 
Now, considering that the newer generation Nvidia GPUs have a temperature limit of between 90-100 degrees before they start throttling, the thermal performance of Asus' Strix 1070 TI not only ensured that we did not face any performance issues because of the card heating up, but also gave us enough thermal headroom to overclock the card and eke out considerable extra performance from the card, without adding aftermarket cooling solutions to the equation.
(Photo: DailyO)
The card's thermal performance is in part down to the GPU's low power draw – both while idling and under load. The card has a maximum draw of about 180 watts and goes down to 10 watts while the system is in idle. Considering the amount of raw processing power that the GPU is capable of, NVIDIA has done a really good job in keeping the GPUs TDPs down to such acceptable levels. 
As such, like us, if you're not looking to SLI the 1070 TI, you'll be fine with any 80+ rated PSU that can support a maximum draw between 450-550 watts. 
Another interesting thing about Asus' implementation of this card is how silent it is, despite the presence of three fans for ensuring the card runs cool. Under the custom fan speed profile, I put in place, the card remained quiet at idle, with the fans making no discernable noise.
The only times when I did hear the card purring a little was when the fans cranked up to full speed after the GPUs temperature breached the 50-degree mark.
Now, to be honest, spinning a three fan setup at full speed when your card is not even touching 60-degree is a bit of an overkill. For most users, leaving the fan speed on auto would be a better choice, as it would ensure they hardly ever get to hear the fans spinning for long durations. 
Moving on, the Asus' GTX 1070 TI – like other 1070 TIs – is based on a GP104 GPU which holds 7.2 Billion transistors. Now, the interesting bit is that this is that the GP104 is the same core chip powering the high-end and ultra expensive GTX 1080.
However, there are slight differences here that ensure the GTX 1070 TI punches slightly below the GTX 1080s weight. 
GP104-300 variant used on the GTX 1070 TI has 19 Shader clusters as opposed to 20 on the GTX 1080's GP104-400 GPU. Yet, even with the 19 clusters enabled, the GPU brings with it enough raw processing power as it comes with  2,432 Shader processors – a number that's only 128 shader processors shy of the GeForce GTX 1080.
In terms of memory, the card brings with it 8GB of DDR5 DRAM – as opposed to the HBM type faster memory on the 1080 – which should be enough for pretty much any game you throw at it – even on resolutions as high as 4K. The card has a base clock of 1.60 GHz while the memory default clocks at 2,000 MHz using a 256-bit wide memory bus. 
(Photo: DailyO)
Performance and overclocking
As we've explained already, this is, in essence, a stripped down GTX 1080 rather than an upgraded 1070, as such, there is a good amount of horsepower that NVIDIA has added to the GPU which shines through when you put it to test against heavy-duty games. 
And as such on paper, with its 8.0 TFLOPS of processing power, it is more than capable of handling 1080p gaming needs – and even higher resolutions.
But how did it perform for us?
In our test set-up, we paired the card with a generation old Ryzen 5 1600 and two 8GB DIMMS of ADATA DDR4 RAM running at 2933 MHz. During our review, I played a number of games, including Assassin's Creed Origins, Far Cry 5, Fifa 19, Batman Arkham Knight, Wolfenstein II: The New Colossus and GTA V using this setup and overall, the performance was in line with what was expected – pretty impressive. 
The card ran all these games without breaking a sweat and on 1080p resolutions, we easily got over 90-100 FPS on most games. It was only Assassin's Creed Origins and the wide expanse of Far Cry 5 that put the card to some test. At the particular resolution, Assassin's Creed Origins ran over a solid 70 FPS with Ultra-high preset. Cranking up the resolution, however, almost halved the FPS count, but the game was still playable at over 35 FPS at an average. 
Rockstar Canada's graphics intensive GTA V too proved to be a slice of cake for the Asus GTX Strix 1070 TI. With all graphics settings cranked up to the maximum possible, we still got over 85 FPS at most times. 4K performance too remained decent as the card churned out between 40-45 FPS at most times. 
We managed to eke out even more performance out of the card after overclocking it. To be precise, we managed to overclock the core clock by about 180Mhz and the memory clock by about 400 Mhz. Percentage-wise, this represented close to 15 per cent of extra performance over the default clocks of the card, which, to be honest, is quite good. 
Having said that, the card is quite powerful in itself for all modern-day games and as such, overclocking it for anything less than 4K gaming will be an excercise that will bear little fruit. 
(Photo: DailyO)
If you're in India, the double whammy of the depreciating rupee and rising taxes means that getting your hands on a GPU with a good amount of processing power and TDP rating with a budget is not an easy deal. And, Asus' ROG Strix GTX 1070 TI only reinforces this fact. 
For all the promise of performance and power it brings to the table, the card does not come cheap.
Priced at Rs 43,500 plus taxes, Asus' take on the GTX 1070 TI is sure to take a huge chunk of the budget you've set aside for building your gaming rig. But is it worth it?
The answer to that is – Yes. 
Compared to the newer – more expensive – 2000 series cards by NVIDIA, the 1070 TI performs almost on par in terms of DX11 and DX 12 gaming performance. The only major difference here is the lack of Ray Tracing on the older card. Yet, because of Ray Tracing being a technology that is currently in its nascent stage – at least for consumer grade graphic cards – and very few games are coded to take advantage of it, this isn't a feature that should currently be dictating your buying decision. 
Comparing it to its siblings – the GTX 1070, and 1080 cards – the 1070 TI again emerges as a very good buy. The reason for that is how close to the 1080 it is in terms of performance, even as it remains quite a lot cheaper than the high-end card. 
As such, for gaming on 1080p, and WQHD panels, this card is a no-brainer. 4k performance too is pretty decent. However, if that is the only resolution you plan on gaming two years from now, then the 1070 TI may not prove to be the best option. In that care, the 1080 or even its TI variant is recommended.