We may or may not have noticed, but this world has already turned into a dystopian drama controlled by a few tech giants. In the ongoing drama, these tech giants vying for more and more market influence (meaning the power to control us) have turned their guns on each other, trying to play the good cop, and accusing the other as the bad one. (By the way, this movie Don't Look Up on Netflix, a satire, might give you a better idea of what we mean by the earlier sentence.)
In the latest, Google has accused phone-maker Apple of trying to profiteer from bullying and peer pressure in the US.
WHAT ARE THE ACCUSATIONS?
Google accuses Apple of profiting from bullying using iMessage app. Illustration: Geetanjali/DailyO
So, the accusations are based on a Wall Street Journal report on how Apple created a 'locked-in' ecosystem using its iMessage app. iMessage is Apple's built-in messaging platform much like Meta's Facebook Messenger or WhatsApp, which enables interactive and playful text messaging along with end-to-end encryption. Except, iPhone users and others alike will know that iMessage is exclusively available on iOS devices.
Moreover, messages from iMessage to an Android user automatically turn into less interactive and non-encrypted SMS texts. This change is denoted by a change in colour of the text bubbles. iPhone to iPhone user iMessages have blue boxes.
The boxes turn green when the messages are being exchanged with an Android user. Now, this doesn't seem like much of an issue. Who cares about what kind of colour a text box turns, right?
In the US, where Apple has a saturated market, blue and green text boxes mean a lot; even social ostracisation.
It may not be true for the rest of the world including India, though it does read like a cautionary tale.
The Wall Street Journal reported how among young iPhone users with friends and the larger social circle using iPhones, switching to an Android phone meant being excluded or even looked down upon by iPhone users.
There was even a trend on TikTok that asked people not to date the 'green bubbles'.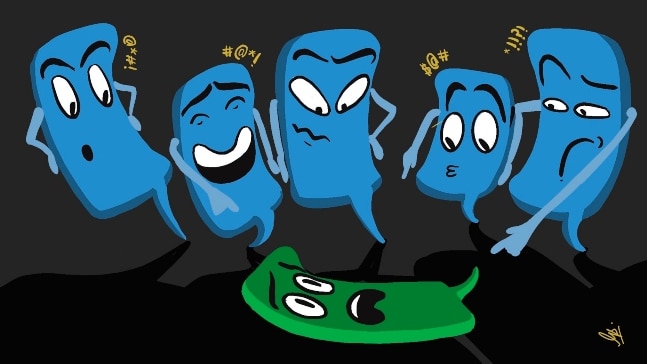 Report revealed that youngsters in the US felt pressured to use iPhones. Illustration: Geetanjali/DailyO
To understand the ecosystem better, here's an example.
When WhatsApp's privacy was brought into question in India during the infamous cases of chat 'leaks', many users decided to switch to other messaging platforms like Signal.
But many who wanted to do so couldn't because almost everyone they knew or worked with operated on WhatsApp, who weren't necessarily convinced to move to a different messaging platform. Switching would have meant losing communication with those who used WhatsApp.  
The case with iMessage and iPhones is similar in the US.
iMESSAGE ON ANDROID? NEVER!
Representational Image of iMessage app on an iPhone. Photo: GettyImages
With regards to iMessage, it was hotly debated at Apple and outside of Apple that the app needs to debut for Android users too. However, internal communications submitted during the Epic Games vs Apple Inc hearing, revealed that Apple shot down the idea of extending iMessage to Android for solely business purposes.
One company executive raised the issue that if iMessage is enabled on Android phones, then iPhone families may consider buying their children an Android phone instead of sticking to iPhones. This was the worth of the blue and green text boxes.
Apple is known for tightly weaving in its products into one ecosystem, and not being adaptable with devices and products not belonging to its own. We all know the reason the company gives – 'privacy' (you are welcome to let your eyes roll to the back of the universe). 
Earlier, there was a demand that iMessage be extended to Android users. Now, the demand has changed and Android's Vice-President Lockheimer says they just want Apple to integrate the basic RCS or Rich Communication Services protocol.
RCS is basically the next step in the evolution of SMS. RCS protocol will come with features enabled on messaging platforms like end-to-end encryption, group chats, stickers, etc. Already, RCS feature exists on Android phones, which make your Google SMS messaging app into a standardised messaging platform with features like encryption and more.
All you have to do is go to the app settings and turn the feature on. However, iPhone lacks this feature. If iPhone were to have RCS, then texts to Android phones using the default iMessage platform would not be SMS texts, it would have the basic features of any messaging platform like encryption.
Apple has so far not responded to the accusations.
In plain words, Google is publicly pressuring Apple to incorporate RCS in its products with the latest barrage of tweets. What do you think?