Pathankot mystery sky lights were Elon Musk's Starlink satellite train. Astronomers are angry
The mystery behind the mysterious lights seen up in the skies of Punjab and Jammu and Kashmir has been solved. And no, we haven't found any aliens yet.
People of Punjab's Pathankot, and Jammu and Kashmir were left in a state of confusion and awe after spotting mysterious lights in the night sky on December 3. Netizens who posted videos of a string of lights moving across the night sky wondered whether it was an UFO.
Jammu and Kashmir police even asked locals not to panic over the sighting.
@isro Explain this, last night seen over the sky in Pathankot Punjab region pic.twitter.com/YFceqcfEHo

— Sandeep Harchand (@SandeepHarcha10) December 4, 2021
Something seen in the sky at 18:47pm in #jalandhar #punjab #jaadu #Chain #flying #spot #spaceship pic.twitter.com/6Hpmcaf9lH

— Sumit kumar (@sumit25091993) December 3, 2021
MYSTERY SOLVED!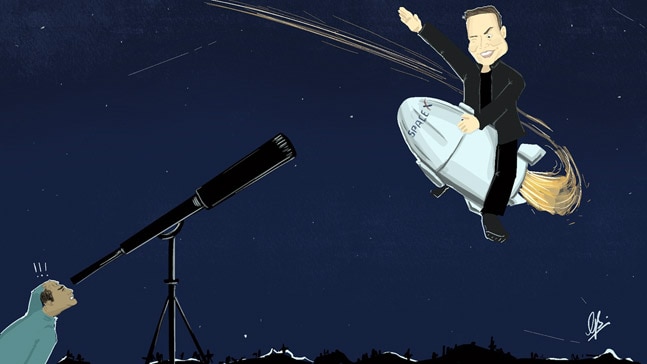 Mysterious lights spotted in North India turns out to be Elon Musk's satellite train. Illustration: Geetanjali, DailyO
Now, the mystery stands solved. Unfortunately, its not Jadoo from Koi Mil Gaya visiting. Turns out the lights were just from SpaceX's Starlink satellite.
SpaceX 48 starlink satellites spotted in the night sky on Friday 3 December, 2021 In India#SpaceX #NASA #Starlink pic.twitter.com/0CdTCxupny

— Kartigya Ion (@Ion_kartigya7) December 4, 2021
So, the alien was none other than Elon Musk's creation. UFO-obsessed people can thank Musk for their disappointment.
The 'mysterious' lights from Musk's Starlink were also sighted in the US around the same time.
SpaceX Starlink satellites spotted over the Empire State Building last night in New York City ? pic.twitter.com/zA22nXFdZv

— F9 Block 5 (@F9Block5) December 6, 2021
.@SpaceX's Starlink satellites moving through the sky pic.twitter.com/fdbbVsE1Xe

— Drew Pierson (@drewpiers0n) November 30, 2021
A batch of Starlink satellites were launched from Florida on December 2. That explains why the lights were seen so clearly around various parts of the world.
Deployment of 48 Starlink satellites confirmed

— SpaceX (@SpaceX) December 3, 2021
This is not the first time either that the Starlink satellite was mistaken for an unidentified flying object. It was confused for a fleet of UFOs in the US in May as well.
ASTRONOMERS NOT AMUSED
Well, the little night-sky entertainment may have left a few Pathankot residents bemused and excited, but not all are happy with the sighting.
Starlink continues to pollute the sky, creating a giant orbital debris hazard, and not actually providing a meaningfully accessible service all while capitalizing on techno-utopian's childish understandings of the word "access"good morning https://t.co/vgoHpTlriI

— Dr. Lucianne Walkowicz (@RocketToLulu) December 4, 2021
We all hate the photobombers who ruin our almost-good pictures. Now, imagine that the lights from the Andromeda Galaxy that travel for over 2 million years to reach our eyes being photobombed... by man-made satellites!
That's good. Because I'm an astronomer and last night I did three hours of imaging. Every single frame had Starlink satellite trails in them. One image had 5. How about if I corrupt every internet packet from Starlink for 3 hours?

— Richard Paul (@rickpaulphoto) December 3, 2021
Well, satellites are sort of these pesky photobombers for astronomers looking at and studying the cosmos.
Astronomers are worried that the bright light from satellites will disrupt the pristine night skies and make it difficult to stargaze.
A group of astronomers even urged the UN to protect the night skies from satellites such as the Starlink.
For the human eye, satellite lights may just be on the edge; however, when viewed through a telescope, the satellite lights can be blinding. The problem of 'satellite mega-constellations' was highlighted when an astronomer from Lowell Observatory posted a picture of how the bright lights from Starlink satellite was overpowering the view of space.
here's what satellites look like crossing through the field of view of a telescope taking a 25 s exposure pic.twitter.com/27YxYv1HdI

— Victoria Girgis (@GirgisVictoria) May 26, 2019
Samantha Lawler, Assistant professor of astronomy at the University of Regina wrote in the Conversation that soon 1 out of every 15 lights in the sky will be a satellite.
Companies such as SpaceX and Amazon have launched hundreds of satellites since 2019.
Not just optical astronomy; new reports say that increasing number of satellites in the space may also interfere with radio astronomy. Square Kilometre Array (SKA), an intergovernmental radio project, in 2020, said that they feared that radio signals being sent by Starlink and other satellites will interfere with one of the radio channels they plan to use.
This they fear would hamper search for organic molecules, as well as water molecules, in space.
For someone concerned about the future of planet Earth, colonising Mars as an alternative, it's a question how Elon Musk or the likes of him will respond to interfering with astronomy.
The views and opinions expressed in this article are those of the authors and do not necessarily reflect the official policy or position of DailyO.in or the India Today Group. The writers are solely responsible for any claims arising out of the contents of this article.