Reliance Jio, Airtel or Vodafone? Here are the fastest networks
When it comes to upload speeds, it's a much tighter race among the players.
The telecom sector has been on a whirlwind ride since the entry of Reliance Jio in 2016. The sector, which was facing the threat of stagnation, was jolted into life by the aggressive attempts of this new player. But by the time incumbents swung into action, Jio, backed by the deep pockets of India's richest man Mukesh Ambani, and its state-of-the-art pan-India 4G VoLTE network, had already eaten into much of the subscriber base of its competitors.
The telecom operator, within a matter of months, amassed more than 125 million subscribers. However, this rapid expansion came at a cost. During its initial months of service, Jio users complained of poor network connectivity and, worse, horrible speeds that would even make legacy 3G networks look better.
Case in point, this report by OpenSignal – a London-based firm that benchmarks the quality and coverage of mobile networks across the world – which argued that Jio's network was proving to be superior only on paper as it has clocked up the slowest 4G LTE speeds in India on average.
Fastest network for downloads
However, if the Telecom Regulatory Authority of India (TRAI) latest report is anything to go by, such troubles look to be a thing of the past, with Jio clocking the fastest average data speeds in February 2018. As per TRAI's findings, Jio posted average peak download speed of 21.3 Mbps, blowing away its competitors Airtel and Vodafone, which clocked average speeds of 8.8 and 7.2 Mbps during the same month.
Telecom operator Idea was last on the list with an average speed of 6.8 Mbps.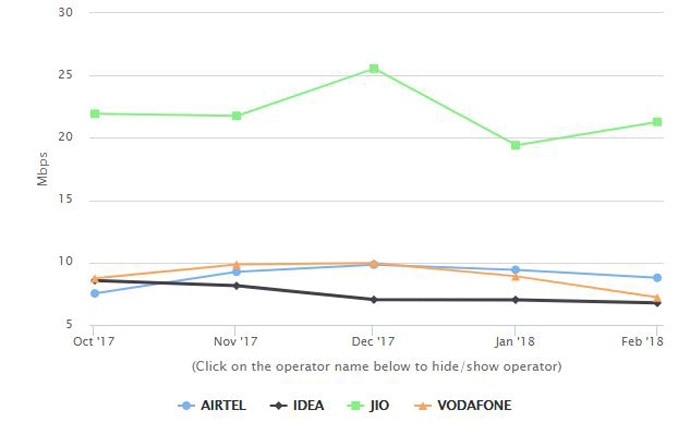 This result is a far cry from Jio's showing from just a few months back when its speeds were found to be on par and at times even worse than those of 3G networks in the country. About a year back, in April 2017, the situation had grown so problematic that Jio's state-of-the-art 4G network – built at a cost of Rs 1.9 lakh crore – could not even be called an upgrade of Airtel's outdated 3G network.
Despite enjoying a crucial technological advantage over its competitors, Jio's average download speed of 3.9 Mbps for the month of April 2017 fell shy of Airtel 3G's average speed of 4.4 Mbps.
Uploads
When it comes to upload speeds, it's a much tighter race among the players. Idea, which trailed in the list for downloads, leads the pack here with an average upload speed of 6.9 Mbps, while Vodafone comes in second at 5.5 Mbps.
Jio, the runaway leader in the download speed race, comes in third with 4.5 Mbps and Airtel finishes fourth with 3.9 Mbps.
Reason behind Jio's change in fortunes
Jio, which for much of its existence faced slow speeds because of capacity bottlenecks, has, of late, been slowly but steadily improving on its network. After making an initial 1.5 lakh crore investment in its network, Reliance Industries has, over the past year, poured another lakh crore into Jio to help build capacity.
Though competitors have also been investing heavily, the scale and pace at which Jio has been investing has helped it gain an upper hand on rivals like Airtel and Vodafone, which - after being dragged in the price war - have also had to deal with increased traffic on their networks.
Also read: Can an anti-Modi alliance defeat the BJP in 2019?