With Twitter boss Elon Musk reinstating Donald Trump's previously banned Twitter account, the former US President curves Musk and Twitter, showing little interest in rejoining the social media platform. Twitter's infamously prodigal son may have returned, but it's not who you think.
Following the January 6 US Capitol attacks, Trump's Twitter account was banned from the platform for his role in instigating the mob to storm the Capitol Building in Washington DC, which stemmed from his supporters' inability to accept his loss at the 2020 US Presidential elections. 
Enter Musk: Twitter CEO Musk organised a poll asking the public whether Trump's account should be restored. The poll received over 15 million votes over the span of a day. With just over a 50% majority, the poll swayed in favour of reinstating Trump's Twitter account.
The 45th US President, who once had over 88 million followers on Twitter, regained nearly the entirety of those followers within the span of two days, with his current follower count at 87 million.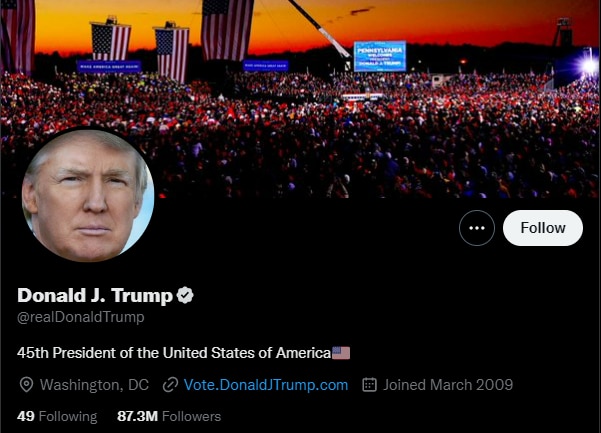 However, though Musk proudly proclaimed "Vox Populi, Vox Dei" (the voice of the people is the voice of God) after Trump's reinstatement of his platform, it seems the former President had other ideas.
But, but: At a panel at the Republican Jewish Coalition's annual leadership meeting, Trump said he "doesn't see any need for it", on being asked whether he planned to return to Twitter.
"The problems are incredible, the engagements are negative and you've got a lot of bots and you've got a lot of fake accounts,"
- Donald Trump comments on the state of Twitter
He said he would stick with his new platform Truth Social, the app developed by his Trump Media & Technology Group (TMTG) startup, which he said had better user engagement than Twitter and was doing "phenomenally well".
Musk has reassured his users that account reinstatement would be made with consideration by a content moderation council composed of people with "widely diverse viewpoints" and no account reinstatements would happen until there was a "clear process for doing so".
The worry over Truth Social: On the other hand, Trump's return to Twitter would have raised questions about his commitment to Truth Social, which was funded and created by Trump Media and Technology Group.
Proclaiming itself as a "big tent" platform without political censorship, allowing for "free expression"; the platform has been described as a competitor in the alt-tech field that includes Parler and Gab in attempting to provide an uncensored alternative to Twitter and Facebook.
Truth Social has been Trump's main source of direct communication with his followers since he began posting on the app regularly in May this year. He has used Truth Social to promote his allies, criticise opponents and defend his reputation amid legal scrutiny from state, congressional and federal investigators.
Although it comes as no surprise, research conducted by Pew Research Center on the primary topics of discussion among 200 prominent Truth Social accounts revealed that 64% posted about guns and gun rights in June 2022, 62% posted about the Jan. 6 attack on the Capitol, 55% posted about vaccines, 55% posted about LGBTQ issues and 54% posted about abortion.
Forget Trump. Here's someone else: Though Trump's no-show on Twitter may be potentially worrisome for the new CEO, he could heave a sigh of relief knowing a worthy opponent, Kanye West, finally returned after a month-long slumber...