WhatsApp rolls out a new app for businesses: Everything you need to know
It is expected to make its way to India in the coming days.
After months of speculation and extensive testing, Facebook-owned messaging service WhatsApp has finally rolled out a separate app for small businesses. Released for Android, WhatsApp Business app is aimed at helping small enterprises connect better with their customers and make it more convenient for its 1.3 billion-strong user base to chat with businesses that matter to them.
The application, for now, has been rolled out in select countries – Indonesia, Italy, Mexico, the UK and the US – but it is expected to be available in other markets and on iOS devices in the coming weeks and months.
What the app is about
As the messaging service explains, users can continue using WhatsApp as usual — there's no need to download anything new to use the latest feature. And users will continue to have full control over the messages they receive, with the ability to block any number, including businesses, as well as report spam.
If you are a small business owner, downloading the new app can be useful for you in multiple ways.
Business Profiles
With this feature, owners can create profiles for their businesses on the platform which can later be used by customers to find useful information such as the business' description, email, store addresses, website, and phone numbers all in one place.
[Photo: Pathikrit Sanyal/DailyO]
Messaging Tools
For business owners, the app can help save time with smart messaging tools that bring with them quick replies – fast answers to frequently asked questions – greeting messages that introduce customers to your business, and away messages.
[Photo: Pathikrit Sanyal/DailyO]
Messaging Statistics
There will also be added functionality of viewing statistics that will help businesses figure out what messages are working with customers and the ones that aren't.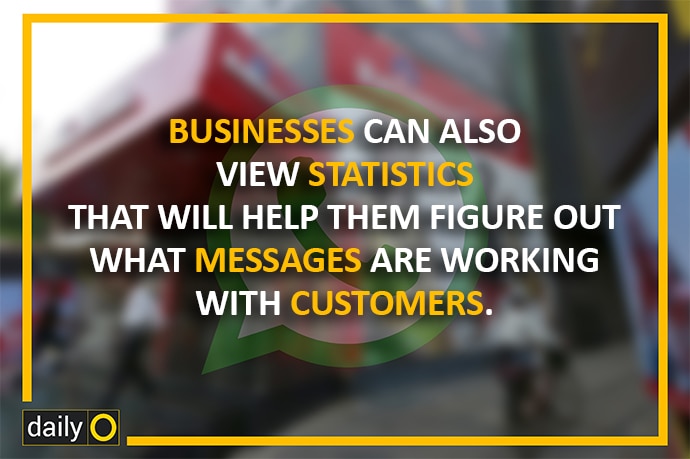 [Photo: Pathikrit Sanyal/DailyO]
Account Type
By joining the new network, businesses will be given special categorisation on WhatsApp as business accounts. Over time, they will be given confirmed accounts once it's been verified that the account phone number matches the business phone number.
[Photo: Pathikrit Sanyal/DailyO]
When it arrives in India
As per a study cited by WhatsApp, more than 80 per cent businesses in India and Brazil say that the messaging platform has helped them to not only communicate with customers but also grow their business. However, both the countries have missed out on the first round of release of the application. India, especially, has been a market that WhatsApp and its parent company Facebook have been keenly focusing on for small businesses.
Revenue stream for WhatsApp
The WhatsApp Business application also represents the messaging service's attempts at making the service paid for at least some of its users in the future. As of now, the current set of features will be free, but the messaging service does plan to introduce a freemium model in the future, a WhatsApp spokesperson told TNW.
The company could also expand the service to bigger businesses and bring on board the likes of Netflix, BookMyShow, MakeMyTrip, etc – all companies that have struck partnerships with WhatsApp to communicate with their users through the platform instead of text messages.
Also read: Our leaders behaved the worst in the Mumbai stampede aftermath
The views and opinions expressed in this article are those of the authors and do not necessarily reflect the official policy or position of DailyO.in or the India Today Group. The writers are solely responsible for any claims arising out of the contents of this article.