Who is Elizabeth Holmes of Theranos? Youngest woman billionaire to convicted fraud, rise and fall in 9 points
Elizabeth Holmes has just been convicted on charges of fraud. Once named the youngest woman billionaire in the US, the founder of Theranos, a multi-billion-dollar blood testing company, Holmes has had quite the rise and fall.
Elizabeth Holmes, 37, a chemical engineer and a Stanford dropout, was once termed USA's youngest billionaire by Forbes magazine. Today, Holmes has been convicted on fraud charges after her brainchild Theranos, a health infrastructure blood testing start-up, was accused of defrauding investors through fraud claims from 2010-15.
Holmes misled investors into believing that her blood-prick technique of collecting vast information from a small amount of blood could detect diseases. The prosecution said she knew of the veracity of her claims, yet she lied to her backers.
Holmes, once a Silicon Valley wonder, was convicted on 4 counts out of 11 federal charges by a US Jury on Monday, while the jurors couldn't reach on an agreement on three cases. The charges of fraud that have been labelled against the entrepreneur not only tarnishes the persona she created for herself but can land her behind the bars for years. Holmes can face up to 80 years in the correction centre because each conviction carries a maximum of 20 years. She was handed over the convictions by the US District Judge, Edward Davila. Experts, however, said that Holmes could be handed a lesser punishment.
Here are 9 points on Elizabeth Holmes and her company Theranos's dramatic downfall:
1. FEAR OF NEEDLES AND THE BIRTH OF A START-UP
Elizabeth Holmes. Photo: Getty Images
Inspired from Apple founder Steve Jobs, Elizabeth dressed like him in black turtlenecks. In her initial years, Holmes was not attracted towards medical infrastructure and she was much interested in computer programming, and would sell C++ compilers to Chinese companies.
In 2002, she started out as a chemical engineer in Stanford University, where for the first time, she tested for the SARS-causing coronavirus (SARS-COV) through collection of blood samples with syringes. After that, she submitted her patent application as a drug delivery patch in 2003. Subsequently, she left the Stanford School of Engineering midway and used her tuition money as seed funding for her new start-up.
Holmes said that he fear of needles led her to this invention, where drops of blood obtained from finger tips could diagnose all the diseases in the patients.
2. HESITANCE, AND THE CULMINATION
When Elizabeth pitched this idea to her professor Phyllis Gardner at Standford, he turned down the idea saying, " I don't think your idea is going to work", elaborating that it was impossible to obtain what Holmes wanted. Perhaps, had Holmes listened to what her professor said, she wouldn't have been in the mess she is in today. Other professors also advised her the same.
However, she was reluctant to let go of her idea, and also got her Dean at the School of Engneering, Channing Robertson, to back it. In 2003, Holmes named her start-up as Theranos (meaning therapy and diagnosis) and Robertson was made the first board member.
3. THERANOS SOARS IN PROFITS
Elizabeth Holmes was a booming entrepreneur at just 19, and she had convinced her investors of her ambitions and successfully gotten them on board. By December 2004, she had raised around $6 million for her start-up. By 2010, her startup had a valuation of around $92 million, AFP reported. Over the next few years, Holmes brought in illustrious people in the US corporate history. That included former secretaries of the state Henry Kissinger and George Shultz along with ex-Pentagon chief Jim Mattis.
In 2015, Forbes inducted her as the youngest self-made billionaire woman with an estimated worth of $4.5 billion, but the company revised its estimated value to Zero next year when it found that the company Theranos was misleading its investors and its operations were not as advertised. Forbes also released a statement on its update on Holmes.
4. JOURNALIST JOHN CARRYROU IN
French-American journalist John Carreyrou. Photo : Getty Images
All was going well until 2015, when Wall Street Journal's French-American journalist Jim Carreyrou got secret information from a medical expert that the devices which Holmes's start-up Theranos used seemed suspicious.
Carreyrou spoke to former employees of the company, whistleblowers, and collected information about the testing and diagnostic technique of the company. Holmes had learnt of a secret investigation on her company and Holmes used her legal representatives to stop Carreyrou from publishing his report. She also used legal and financial threats against the whistleblowers of the company.
Depsite all of this, Carreyrou published his bombshell article in 2015 revealing how the Edison devices gave inaccurate results and that the company had been using commercially available machines, also used by other manufacturers, for its testing.
He also wrote a book Bad Blood: Secrets and Lies in Silicon Valley Start-up which was released on May 21, 2018. It covers the rise and fall of Theranos.
5. FAKE DIAGNOSIS
Holmes's cover was blown by her own employees in court when they said that they had apprised her of the inaccuracy of results, but was asked to downplay it, Reuters reported. In court, the witness, who was a former employee of her company, said that he left Theranos after witnessing problems with her technology.
6. THE DOWNFALL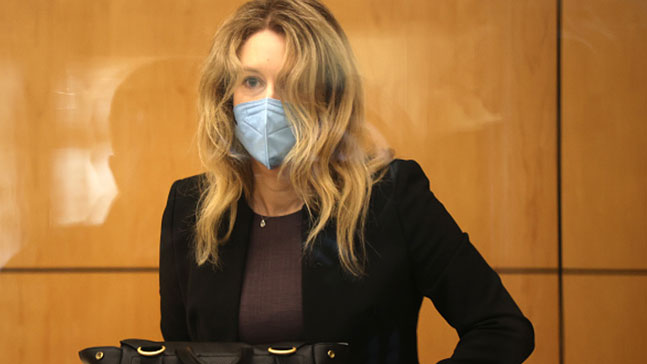 Elizabeth Holmes. Photo : Getty Images
Holmes had sensed trouble ever since the Wall Street Journal story came out. She called the journalist's article 'tabloid' reporting, saying the company would indeed publish the results. She also appeared on CNBC's show Mad Money the evening the article was published to negate the facts in the story about her company. She said, "This is what happens when you work to change things, first they think you're crazy, then they fight you, and then all of a sudden you change the world."
But the shocker by Wall Street Journal was enormous. Holmes's multi-billion dollar healthcare club was under heavy scrutiny. In 2016, Centres for Medicare and Medicaid Services (CMS) sent a warning letter to Theranos after uncovering irregularities with its equipments, testing and procedure. The department in July officially banned Elizabeth Holmes from owning, operating or directing blood testing for a period of two years.
The firm started laying off employees in batches and within two years, it was dissolved, marking the end of Holmes's entrepreneurship.
7. INDICTMENT
On June 15, 2018, US Attorney Office for Northern District of California in San Francisco indicted Elizabeth Holmes and her boyfriend and former Chief Operating Officer and President of Theranos, Ramesh 'Sunny' Balwani, on nine counts of wire fraud and two counts of conspiracy. Both pleaded not guilty in court.
8. THE SHOCKING TRIAL
In a trial that ran for nearly four months, the jury of eight men and four women came across surprising accounts that shook them. The prosecutors called around 30 witnesses and tried to prove that Holmes knew that the product she was selling was at fault and she continued despite knowing her wrongdoings, BBC reported.
At the trial, several lab experts confirmed that they did tell Holmes about the technical flaws in Theranos's technology but were told by Holmes to downplay their concerns. On top of that, Holmes told the investors that the technology was operating as per planned.
Holmes "chose fraud over business failure. She chose to be dishonest with investors and patients", said prosecutor Jeff Schenk in closing arguments. "That choice was not only callous, it was criminal."
9. SEXUAL ABUSE ALLEGATIONS
Ramesh ''Sunny'' Balwani, Elizabeth Holmes's former boyfriend and CFO and President of Theranos. Photo: Getty Images
Elizabeth Holmes in her defence accepted that there were mistakes in Theranos's operation, but she maintained that she never knowingly defradued patients or misled the investors. She also accused her former boyfriend Balwani of emotional and sexual abuse, a charge that Balwani denied.
The couple ended their relationship in 2016 when he also stepped down as the COO of the company. Balwani faces a separate trial next month.
The views and opinions expressed in this article are those of the authors and do not necessarily reflect the official policy or position of DailyO.in or the India Today Group. The writers are solely responsible for any claims arising out of the contents of this article.