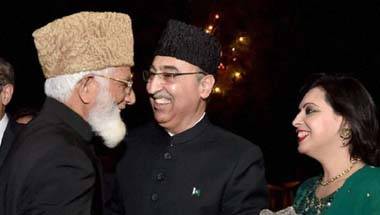 Pakistan even uses the Indus Waters Treaty, the world's most generous water-sharing pact, as a stick to beat us with. Why does India put up with this stinging rogue behaviour?
China clearly doesn't believe in equitable water sharing arrangements. But these are a must for Asia, which needs to avoid both Chinese domination and water wars.
Both India and Japan now view China without any blinkers. And both are natural democratic allies in a crucial region.
The Modi government has finally realised what was well known — that 'Pakistan will not mend its ways'.
Nepal impinges directly on India's security. As its ruling communist party leans to China, and skips the first BIMSTEC drill, India must stop treating it with kid gloves.
By making New Delhi a key target of the extraterritorial effects of its sanctions on Iran and Russia, Washington is injecting new irritants in India-US ties.
By talking directly with Kim Jong Un, the US President is causing Beijing to fear a loss of influence in Pyongyang, its only formal military ally.
Pyongyang might seek to retain its short and medium range nuclear arsenal while dismantling its long-range nuclear capability.
Today, the US is acting counterproductively to its own interest to safeguard the currency's centrality.
Following US' unilateral withdrawal from the 2015 nuclear deal with Iran, Kim Jong-un appears to have got cold feet.