India's popular Bhujia maker Bikaji Foods' is set to conduct its IPO process between November 3 and November 7, 2022, to raise about Rs 881 crore. Here's more about the IPO, its famous marketing campaign with Amitabh Bachchan and what Bikaji's financials look like.
First, the important details about the IPO:
IPO size: The IPO consists of the sale of existing shares worth Rs 881.22 crore by promoters Shiv Ratan Agarwal and Deepak Agarwal. (Both promoters will offload up to 25 lakh shares each)
IPO share price range: Rs 285 to 300 per share
Number of shares you need to buy when you subscribe for 1 lot: 50 shares 
The minimum investment for a retail investor (like you and me): 1 lot - Rs 15,000
Maximum investment for a retail investor: 13 lots - Rs 195,000. (Since retail investors can only invest up to Rs 200,000)
50% of the IPO quota is reserved for Qualified Institutional Buyers (QIB) ie banks and mutual funds, 15% is reserved for High Net-worth Individuals (HNIs) and 35% is for us; ie retail-category investors. 
Second, the IPO's important dates:
The IPO process begins on November 3, 2022 
The IPO closes on November 7, 2022
The allotment will be decided on November 11, 2022
If you are not allotted shares, your money will be refunded on November 14, 2022
If you are allotted shares, they will be credited to your Demat account by November 15, 2022
The IPO will list on the NSE and BSE on November 16, 2022.
What does Bikaji Foods do? (As if you have never had a Bikaji Bhujia EVER in your life.)
Bikaji Foods has been the most popular snack brand in India for two things: Its Aloo Bhujia and its funny marketing campaign called ''Amitji loves Bikaji''
Considering the popularity of the fabulous all-season snacks and sweets that Bikaji brings to the table, it is one of India's largest fast-moving consumer goods (FMCG) brands. From January to June 2022, Bikaji sold more than 300 products under the Bikaji brand as Bikaji's products range across six main categories:
Bhujia,
Namkeen,
Packaged sweets,
Papad,
Western snacks and
Other snacks like gift packs (assortment), frozen food, mathri range, and cookies.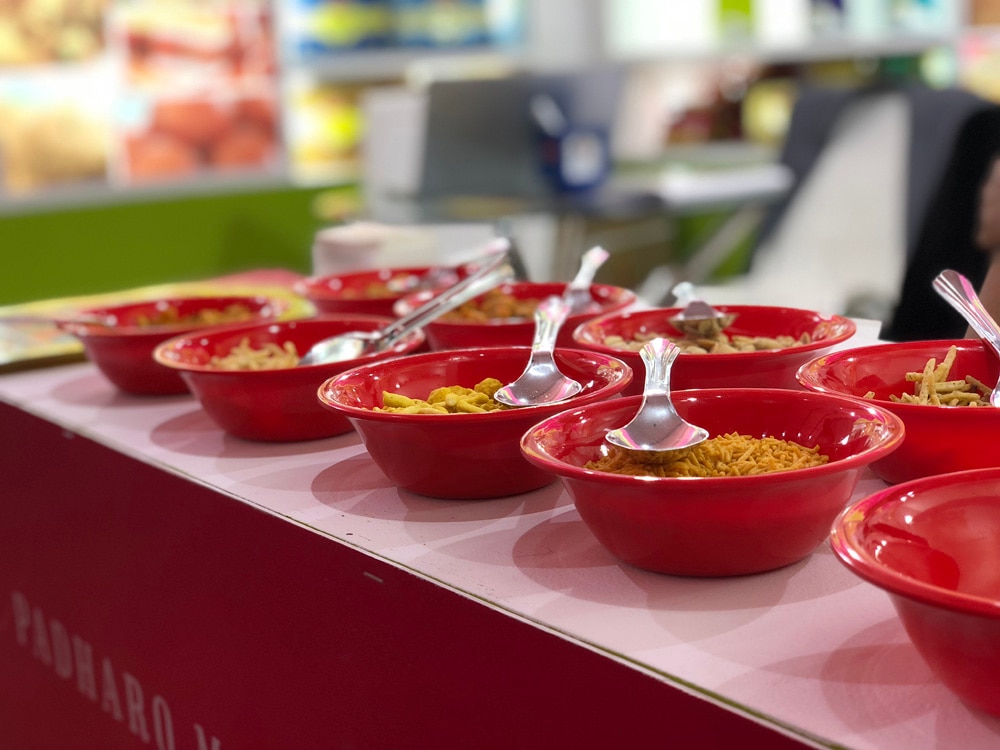 Why do Bikaji Foods need an IPO? Since the promoters are selling off their shares to the public, Bikaji Foods cannot use the funds raised in their business because the entire proceeds will go to the sellers. 
Bikaji's Finances: Bikaji has competitors like Prataap Snacks, Nestle India, and Britannia. Here's what the company's finances look like (in crores)
| | | | | |
| --- | --- | --- | --- | --- |
| Period | Revenues | Profits After Tax | Borrowing | Total Assets  |
| Mar-20 | 1083 | 56 | 52 | 677 |
| Mar-21 | 1322 | 90 | 86 | 817 |
| Mar-22 | 1621 | 76 | 141 | 1102 |
Bikaji is one of the fastest-growing companies in the FMCG sphere as the brand is well-established across India.
Bikaji enjoys strong brand recall with 44.5%, 58.1%, and 29.2% market share in the Indian organised ethnic snack category in Rajasthan, Bihar, and Assam in Fiscal 2021. Its products are known for their quality. 
Bikaji participates in the upliftment of rural women by manufacturing handmade papads and they are the second largest in this category.
It has a diversified product portfolio that focuses on various consumer segments and markets.
Its e-commerce channel is growing and so are multi-product exports. 
Bikaji has strategically located, large-scale manufacturing facilities and an extensive distribution network 
Amitji might love Bikaji to snack on, but will the investors show the same love toward the IPO?