What does one do when one realises that their husband is cheating on them? Or their wife? After the usual succession of disbelief, heartbreak, anger, resentment and acceptance, the question that pops into the mind is if the love is over? Or better still, was there ever any love, to begin with?
13 years ago, when Karan Johar's Kabhi Alvida Naa Kehna (KANK) released, after initially grabbing attention for its brilliant ensemble cast — Shah Rukh Khan, Rani Mukerji, Abhishek Bachchan, Amitabh Bachchan, Preity Zinta and Kirron Kher, it stood out for the sensitive subject it meant to deal with — the infidelity angle.
It, however, failed miserably. And we blame it on the sloppy direction and immature handling of it.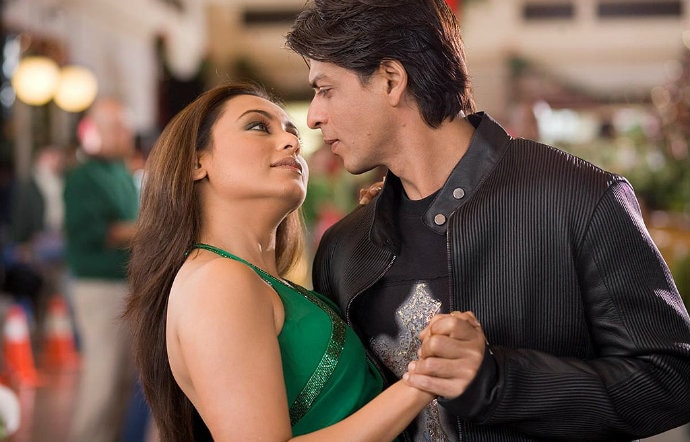 For Rishi and Riya to emerge as 'good,' Dev and Maya were portrayed as 'bad'. And that's unfair on all four of them. (Photo: YouTube screengrab)
Dev Saran (Shah Rukh) and Maya Talwar (Rani) — two people, complete as society would label them, happy because what can they possibly complain about — meet and fall in love. They see each other's incompleteness, they spot the crack that the world fails to see, and they try to mend the broken in the other.
The only catch is that they're both married to two very loving partners — Maya is Rishi Talwar's (Abhishek) wife and Dev is Riya Saran's (Preity) husband.
The dichotomy of this dysfunctional web these four find themselves trapped in is that, unlike what is socially accepted, love here happened after marriage — and with someone other than the partner. The Indian audience, that back in 1981 needed to see Chandni (Rekha) make way for Shobha Malhotra (Jaya Bachchan), the lawfully wedded wife to Amit Malhotra (Amitabh Bachchan) in Silsila, was most certainly ready to see the story take a different turn 25 years later in 2006. And the film gave us that — eventually — but not before falling prey to Bollywood's age-old trope of 'good' and 'evil.'
KANK could have been an alternate Silsila. Yet, it ended up making you feel guilty for siding with Dev and Maya. (Photo: YouTube screengrab)
Karan Johar's amateurish treatment of this sensitive topic ended up portraying both Dev and Maya as the villain, in sharp contrast to Rishi and Riya — the goodhearted perfect spouses we were rooting for by the end. Love, in all its glory and complications, ceased to be the focus and the only thing that stayed in the public psyche was infidelity — with all its stigma.
We failed to see Riya as the unapologetic career woman — and that KANK was perhaps one of the very few films that managed to etch a character like her. We failed to see the agony that Dev and Maya felt and had our eyes set only on how they seem to only keep hurting the people that love them so. We failed to see Rishi as the sensitive yet practical man that he was. We failed to see anything worthwhile in Samarjit Talwar (Amitabh) despite the potentially varied shades the character portrayed — of cloaking his broken heart in meaningless silliness. 
For Rishi and Riya to emerge as 'good,' Dev and Maya were portrayed as 'bad'. And that's unfair on all four of them.
Eventually, Dev and Maya unite. 'Love, will find a way,' as the song promised in the film. But when I had walked out of the theatre 13 years ago after watching this, that wasn't the feeling that stayed with me. I felt guilty for feeling happy about Dev and Maya ending up together. I felt uncomfortable for thinking Riya is better off without Dev — that she's doing just fine. I felt something was wrong with me for believing there is no such thing as 'ever after.'
And I blame Karan Johar for choosing a progressive story like this and handling it so regressively.