The year 1968 remains memorable for Hindi cinema due to various reasons. The most important reason is the tremendous variety of films and the actors who worked in them. Many genres of cinema can be found on the list of the hit films of this year.
This was the last year of the 1960s which would see such a vast variety of stars twinkling on celluloid before the silver screen was hit and captured by the first superstar of our cinema – the phenomenal Rajesh Khanna!
The 1960s was the decade of the Kapoors and the Kumars, as well as Dev Anand, Jeetendra and Sunil Dutt. And 1968 saw all of them at the peak of their glory. It featured Raj Kapoor in Sapno ka Saudagar which gave the industry its dreamgirl, Hema Malini.
The 1960s was the decade of the Kapoors and the Kumars, as well as Dev Anand. (Photo: Screengrab/ Youtube)
Then it had Sunghursh where the great actor Dilip Kumar and the young Sanjeev Kumar shared screen space, Ankhen, Mere Hamdam Mere Dost, and Shikaar which starred Dharmendra, Saathi and Jhhuk Gaya Aasmaan starring Jubilee Kumar (Rajendra Kumar whose films always had silver or golden jubilees) Brahmachari with Shammi Kapoor dancing and singing into every heart, Kanyadaan and Haseena Maan Jayegi with the boisterous Shashi Kapoor (in a double role in Haseena Maan Jayegi), Manoj Kumar and 'jaani' Raaj Kumar in Neel Kamal, Dilip Kumar and Manoj Kumar in the melodramatic Aadmi, Sunil Dutt, Mehmood and Kishore Kumar in the classic comedy Padosan, the popular chocolate –faced Biswajit in Kismat and Do Kaliyaan, and Duniya starring Dev Anand! Indeed, this was a colourful, musical year for Hindi cinema and gave us films that can be called classics forever.
One must remember that after 1968, the Kumars and Kapoors would be quite overshadowed by the superstar who, for the next four to five years, dominated the screen in a way that dimmed the shine of many a male star including Shashi Kapoor, Biswajit, Shammi Kapoor (who ruled the 1960s and was a heartthrob), Rajendra Kumar and Manoj Kumar.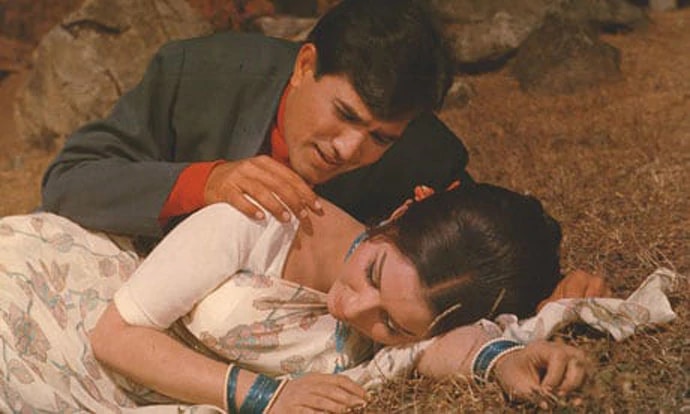 After 1968, the Kumars and Kapoors were quite overshadowed by Rajesh Khanna. (Photo: Screengrab/ Youtube)
The year 1969 brought in its wake Aradhana after which Hindi cinema changed drastically. One could not think of watching any other actor except Rajesh Khanna. So the "K" was now for Khanna and no longer for the Kapoors and Kumars. And then, 1973 brought in the 'angry, young man'  Amitabh Bachchan and again, things changed tremendously.
That is why 1968, fifty years ago, is important in the history of the Hindi film industry as it saw a scenario that would never come back again. Some of these heroes resurfaced in the 1970s but no longer were they as good looking and charming as they were in the romantic and musical films of the golden sixties.
Shashi Kapoor came back with a very different look in films like Chor Machaye Shor and Chori Mera Kaam, Shammi Kapoor came back in character roles (in fact, he played father to Saira Banu in Zameer – she had been his heroine in her debut film Junglee!), Dilip Kumar was seen in Sagina and Bairag in the 1970s and then in Kranti (1981), Rajendra Kumar was also moving to older roles. The Superstar and then the Big B would shape the destiny of our cinema for years to come!
Sharmila Tagore was one of the heroines who made 1968 special. (Photo: Screengrab/ Youtube)
Not just the amazing variety of films but also the unforgettable songs that they brought with them made 1968 a landmark year for our film industry. To recall some of them would not be out of place here. Songs that rocked audiences in 1968 and continue to do so today – 'Likhe jo khat tujhe, woh teri yaad mein' (Kanyadaan), 'Baabul ki Duaaein leti jaa' (Neel Kamal), 'Aaj Puraani Raahon se, koi mujhe aawaaz na de' (Aadmi),  'Mera Pyaar bhi tu hai, yeh bahaar bhi tu hai' (Saathi),  'Milti hai Zindagi mein mohabbat kabhi kabhi' (Ankhen), 'Aajkal Tere Mere Pyaar ki charche har zubaan par' (Brahmachari), 'Dooriyaan nazdeekiyan bann gayin' (Duniya), 'Mere saamne waali khidki mein ik chaand ka tuda rehta hai' (Padosan) and 'Kaun hai jo sapno mein aaya' (Jhuk Gaya Aasmaan).
The heroines who made 1968 so special and beautiful for our audiences were Saira Banu, Asha Parekh, Sharmila Tagore, Vyjayanthimala, Mala Sinha, Babita, Mumtaz and Rajshree. Anyone who looks at the films, songs and actors of 1968 will surely agree with me when I say "Here is God's Plenty" as John Dryden said about the characters of Chaucer in Canterbury Tales.
It seems that all these beautiful films, their stars and their songs were getting ready to welcome the historical event that was to happen in the next year – with the birth of the brightest star overnight with his film Aradhana. Surely, 1968 marked the end of an era in a glorious manner!