The Indian Space Research Organisation (ISRO) is a world-famous agency with many global researchers looking up to it in awe and veneration because of its success. It is perhaps the one institution that has no imminent threat. But still, it has reason to worry. And that reason is Bollywood.
Mission Mangal — the Akshay Kumar-starrer to be released on August 15 — is apparently loosely based on ISRO's Mars mission. We will, of course, wait for the film as it's not fair to judge the book by its cover. But the trailer of this R Balki scripted production will shake you to the core.
Meet Tara Shinde essayed by Vidya Balan.
Damsel in distress 1. (Photo: YouTube)
She is a scientist of Akshay Kumar's ISRO (yes, it's Akshay Kumar's ISRO). She comes across as an unsure person. No, not all scientists (irrespective of their gender) have to be steel-hearted. But as tremulous as Vidya Balan's Tara who has to almost moisten her eyes to 'manipulate' her boss about some scientific experiment?
Meet Eka Gandhi or Sonakshi Sinha.
Damsel in distress 2. (Photo: YouTube)
She is also a scientist but the 'ambitious-type'. She doesn't want a career in ISRO. She wants to fly — to NASA. When she says NASA, her face betrays an expression that no actual scientist who knows the prestige of ISRO will be able to imitate. Only Sonakshi Sinha can do that. She is inimitable.
Meet Kritika Aggarwal: Taapsee Pannu.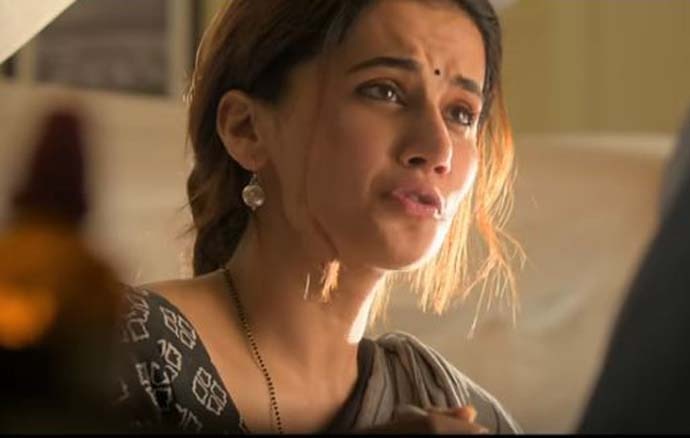 Damsel in distress 3. (Photo: Youtube)
Well, she wanted to be a space scientist but is now sandwiched between her career and personal life where she has to take care of a lot of things. Because, how can a woman who doesn't multitask, who doesn't have a sob story, be successful enough?
There are other women too. The trailer doesn't tell us too much about them. So, we too are giving them a pass. Actually, all women characters could have been given a pass. Because they are mere props to show how intelligent, how funny, how smart, how awesome Rakesh Dhawan/Akshay Kumar is.
The women scientists are all over the place: jumping, running, panicking because they don't have enough experience, etc. Also, they beat up people in the metro (because that's what empowered women do), they dance and whatnot.
Now, meet the real women scientists who apparently inspired this movie.
First of all, when they came to the limelight in 2016, many of them didn't even understand what the hullabaloo was all about. Were their male counterparts addressed as 'men scientists'? Are professions gender-specific?
Ritu Karidhal was the deputy operations director of the Mars Orbiter Mission. She has been working with ISRO for the last two decades. She was, as she has stated in many interviews, a space enthusiast from her childhood as she used to spend hours watching the moon. She is also part of the Chandrayaan 2 team. 
Ritu Karidhal is part of the Chandrayaan 2 project as well. (Photo: India Today)
Nandini Harinath was project manager, mission designer and deputy operations direction for MOM. She has been with ISRO for decades as well. 
Nandini Harinath was a Star Trek fan in her childhood. (Photo: India Today)
Anuradha TK joined ISRO in 1992. She is the senior-most female scientist there. 
Anuradha TK is ISRO's senior-most female scientist. (Photo: Wikipedia)
There were many other scientists (women) in that project and in the recently launched Chandrayaan 2 as well — alongside many other missions that ISRO is part of. Years of hard work go behind the success of one such mission. All these scientists are deeply passionate about what they are doing. And no, they don't see ISRO as a launchpad to NASA. 
Because they are real women. And real scientists.