Amala Shankar, 1919-2020: Danseuse par excellence
Better known as Uday Shankar's partner in life and on stage, Amala Shankar was also the mother of stage and film star Mamata and late musician Anand Shankar.

Ashish Mohan Khokar
Hundred-odd things goes the expression. If you live that long, then you have seen many wars — including hot and cold, many kingdoms lost and some revived. Stars being born, then faded or jaded. Four-score artistes.
In 2020, when the Prince of Saurashtra — Yog Sunder — turned 100 on July 16, the dance world wished him joyously. Now a 100-plus-year-old Amala Shankar is gone on July 24, and the dance world is mourning. Life is kabhi khushi kabhi gham.
Better known as Uday Shankar's (1900-1977) partner in life and on stage, Amala was also the mother of stage and film star Mamata and late musician Anand Shankar. Her brothers-in-law were the famed sitar maestro Ravi Shankar, artiste Rajendra Shankar and designer Debendra Shankar. Oh my God! So much talent in one house. The Shankars in Indian performance arts were truly the first family of Bengal. Like the Kapoors — Prithviraj, Shammi, Shashi, Randhir-Babita, Rishi-Neetu, Karishma, Kareena and Ranbir — in the Hindi film industry.
Amala was a beautiful 12-year-old girl dressed in her frock when Uday Shankar first saw her in Paris in 1931. Both happened to be there for professional engagements. Her features were oh-so-delicate and she was full of natural, elfin charm. This can be best seen in film Kalpana (1948) in which she was cast in a central role that was quasi-biographical. Actually, the whole film was. Amala won Instagram, oops!, instant acclaim. Shooting in Madras (now Chennai) in those days at the Gemini studios, Uday Shankar camped for many years in the city. There he discovered such talents as guru Gopinath, who brought with him the Travancore Sisters — Lalitha, Padmini and Ragini — who were first featured trio sis in dance role in Kalpana.
Uday Shankar spotted Amala while on a tour of Europe and soon she was part of his entourage. Those days, dance companies travelled with cooks, aunts and uncles. 30 or 40 of them on a ship catching fish in the wide, wide sea to eat. Humour apart, when the whole family thus stayed together, they could be out and about not for months but years. Sol Hurok was their American impresario and Haren Ghosh, their Indian impresario. It was in London though that the Russian ballerina — Anna Pavlova — had spotted talent in Uday Shankar and given him his first break. He was then learning to be a painter under master William Rothenstein. He left painting for dance.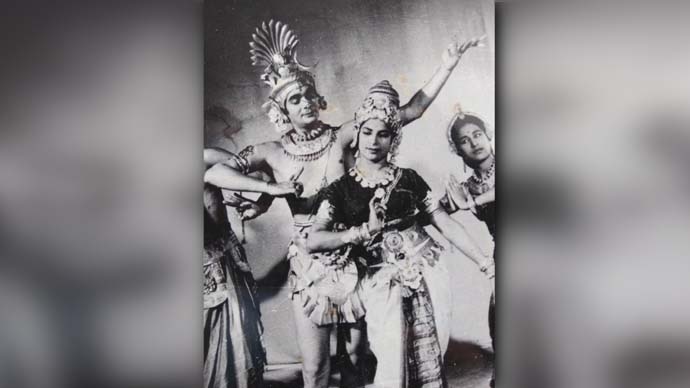 Amala and Uday's marriage was to bring Lord Shiva and Parvati to stage. (Photo: Ashish Mohan Khokar dance collection at Indira Gandhi National Centre for the Arts)
Uday Shankar was partnering with Zohra Segal and Simkie those days. We all know much about Zohra. Simone "Simkie "was a beautiful French-born dancer of great appeal and charm. Uday being a colourful man with an artistic heart, fell for a much younger Amala. He eventually married her when the tour ended and in Almora, foothills of the Himalayas, where he started India's first choreography school. The school register has two entries of marriages — Uday-Amala in 1942 and Annapurna Devi-Ravi Shankar in 1941.
Zohra was in love with her student Kameshwar, whom she could officially marry only in 1943 at Allahabad. At that time, a Hindu could marry a Muslim without converting in only three secular cities — Baroda, Allahabad and Indore (where MF Hussain hailed from and married too). This register was gifted to Mohan Khokar by Uday Shankar later. Mohan Khokar was Uday Shankar's official biographer and confidant in the latter's last years when no one cared for him and he lived with his then muse and a driver. Only KC Das Rossogolla Company supported him financially.
Amala and Uday's marriage was to bring Lord Shiva and Parvati to stage. They suited each other to the T. Bengali aesthetics, nimble gestures and music — they were a complete package. Many such productions followed. The duo gave memorable shows and two super gifted children to the art world — Anand Shankar and Mamata. Amala is the true inheritor of what is called the 'Dada Uday Shankar-style'. It is in Amala's DNA — the special movements Uday Shankar and Amala created. Remember that in the 1940s and 1950s, there was no 'modern Indian dance' (which is why Shankar is called a pioneer), as most efforts were on to revive and revitalise our classical dance traditions. The classical forms were submerged under the long colonial British rule and before that, the long rule by the Turkish and Mughals.
In addition to their biological children, the Shankar couple had many students who became leading choreographers in 1960s through 1990s. Starting with Zohra herself, a UP-based non-dancer called Narendra Sharma, Uday's cousin Sachin Shankar, Shanti Bardhan, Simkie, Yog Sunder. Of these, only Narendra Sharma carried forward the mission and vision of Dada in the 1980s. The rest deviated to theatre, films or filmi dance.
Amala may have died physically at 101 but she will live for 200. Digital memories will ensure that.
Also Read: How Bharatanatyam came to flourish in Delhi
The views and opinions expressed in this article are those of the authors and do not necessarily reflect the official policy or position of DailyO.in or the India Today Group. The writers are solely responsible for any claims arising out of the contents of this article.