Please, Priyanka Chopra in Baywatch trailer is not a blink-and-miss
YOU DID NOT MISS BRAD PITT'S PEEKABOO IN FIGHT CLUB, DID YOU????????????

DailyBite
Remember that TV show from your childhood, that your parents did not let you watch because it had a lot of skimpily-clad women running around the beach? Yep, Baywatch isback, but in a movie avatar. Gone are the days of Pamela Anderson, Carmen Electra, David Hasselhoff and Yasmine Bleeth would run around trying to save people's lives, pretending they are cops, but are actually just lifeguards.
The Baywatch movie is pretty much the same, except we have Dwayne 'The Rock' Johnson, Zac Efron and Alexandra Daddario instead. Oh, and the movie features Priyanka Chopra as well.
Look at her. She may be in the trailer for just about a second or so, but man does this woman know how to make an impact. In the movie, Chopra plays the role of Victoria Leeds, a negative character. Positive or negative, here's a women who can rock any role.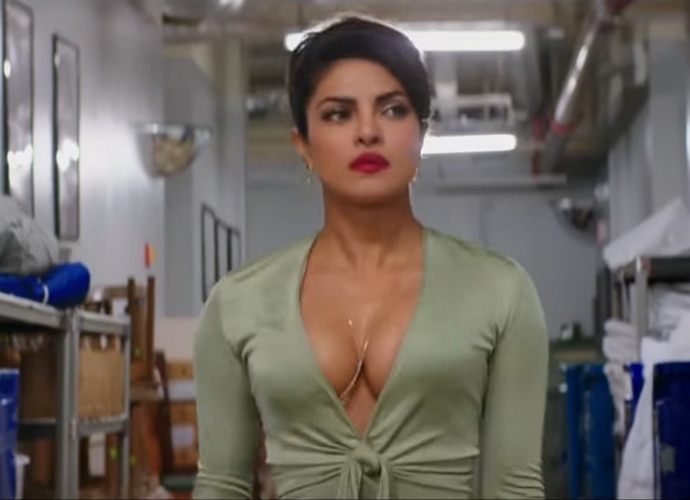 Photo: Screengrab
Sadly enough, rather than focusing on Chopra looking drop-dead gorgeous and frankly unforgettable in the one tiny second she appears on the teaser, every headline about the trailer treated her like Waldo from Where's Waldo.
Photo: Screengrab/Huffington Post
Photo: Screengrab/India Today
Photo: Screengrab/Financial Express
Photo: Screengrab/Times of India

Photo: Screengrab/NDTV
Sure, she is there for just a bit, but it's a trailer. Who cares if she is there for just about a second. Chopra not only looks ravishing, but also rather dangerous in trailer. In fact, compared to the year's worth supply of whey protein called Dwayne Johnson, the White-Ranveer-Singh, Zac Efron and the hardly there Alexandra Daddario, she seemed to have a much more impactful presence.
In any case, whether or not Chopra has a tiny role to play in the movie (which the traiker does not imply at all), let's just appreciate the fact, that an Indian woman has finally broken into the ranks of the coveted Hollywood super duper girls. That definitely deserves a cheer. Whatever criticism she may have received, Chopra did a fine job with her lead role in the television series Quantico, and it's highly unlikely that she would not live up to her standards in this case as well.
Also read - Alia Bhatt shines, even though Dear Zindagi is terribly superficial