Daily Recco, October 29: The real Beasts of No Nation
Beasts of No Nation is not for the faint of heart. It delves into the extent that war can tear lives apart and manipulate children to rape, kill and unleash unspeakable atrocities on other innocents.
Is it possible to find beauty in pain and love in the horrors of war? Is it possible for a preteen or a young teenager to be a seasoned soldier with no mercy, yet so vulnerable that he fears his schoolteacher might see him as a "beast"?
Beasts of No Nation (2015) is a war drama based on author Uzodinma Iweala's novel of the same name (published in 2005). The novel itself took the name from a 1989 album by Nigerian musician and activist Fela Anikulapo Kuti.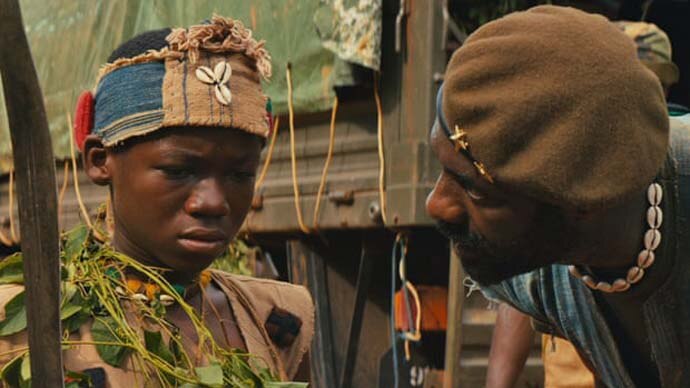 A still from Beasts of No Nation. (Courtesy: Netflix screengrab)
*The film contains violence and child sexual abuse. Viewer discretion advised.*
The film follows the life of Agu (a stellar performance by Abraham Attah), a child soldier in a West African country, narrated in the first person. Caught between the rebel and government forces, and torn away from his family, Agu finds his space as a member of the rebel militia. However, the feeling of being sheltered is short-lived as Agu is raped by his commandant (known only as "The Commandant"). And his friendship with The Commandant's other victim — Strika, another child soldier — forms some semblance to normalcy in a life that is stripping Agu of his innocence and childhood with every passing minute. Agu's induction to the battalion happens after he remorselessly bludgeons an innocent captive to death with a machete. However, the same Agu looks for his mother in a frightened victim. And then he kills her — to save her from being raped. And then he looks up and asks God if he is watching this horror.
The film has been directed and written by Cary Joji Fukunaga, who displays beauty in the horror of the war. He is a master of imaginative images and he being the cinematographer for this film makes every frame worthy of being a wallpaper in itself. He takes care of how to place people in each frame, how to position the camera, what parts to light up and essentially let the camera do most of the storytelling. Fukunaga has ensured that much of the brutality is off-camera or in brief shots if at all shown. However, the ace direction ensures that the implications and the savagery of the events are not lost on the viewer.
Beasts of No Nation is not for the faint of heart. However, it is one of those beautiful films that go beyond showing the dread and delve into how quickly and easily a child can be manipulated to kill, rape (and be raped) and shatter his conscience by men like The Commandant — all for little scraps of love (besides food, clothing, shelter and protection) as a reward. The movie is available on Netflix.
Also Read | Daily Recco, October 22: Uncut Gems, priceless
The views and opinions expressed in this article are those of the authors and do not necessarily reflect the official policy or position of DailyO.in or the India Today Group. The writers are solely responsible for any claims arising out of the contents of this article.