In the '50s and '60s what did the Indian man do when his lady-love rejected him? He would reason with her; maybe plead with her; or perhaps even threaten her. Or he would see her viewpoint and accept it gracefully; he might even become her friend. Of course, he would get hurt. He would have either taken it on the chin, or hit the bar, dived into depression, or withdrawn from society. But eventually, things would become normal and he would move on in life.
But in that era the Indian film hero did one thing more – which you and I did not get to. He would attend her engagement or wedding ceremony, or any social function where guests and her new beau were in attendance, sit at the piano, and sing out his anguish, his disappointment, his ire, his frustration. He would be wry; his words would reek of double entendre. He would remind her of their love. But he would also assure her that he bore her no ill-will and would quietly exit from her life. He would wish her a happy future with the partner she had chosen. All very dignified, no violent outburst. All this drama would ensure that the lady's special day was wrecked. A final musical good-riddance!
This PDA, or the Public Display of Angst, had attained the stature of a genre in the Hindi film music. Some memorable songs in the '50s and '60s belong to this category.
Andaz (1949)
One of the earliest such song is "Jhoom jhoom ke nacho aaj, gao khushi ke geet" from Andaz (1949) sung on screen by Dilip Kumar. This Naushad–Majrooh classic has Mukesh doing playback duty and, as was his wont, he packs the song with pathos (in fact, all the four songs of Dilip, as well as one unreleased song were sung by Mukesh). Dilip, who loves Nargis, is devastated to know that she only treats him as a friend and is engaged to Raj Kapoor. On the piano, before a large gathering of the glitterati, with Cuckoo doing her dance routine, he expresses his pain ("Kisi ko dil ka dard mila hai, kisi ko man ka meet"). Nargis squirms uncomfortably while Raj Kapoor looks quizzically at her.
Who can forget Dev Anand poignantly pointing out to Asha Parekh that "Quaid mangi thi, rihai toh nahin mangi thi" in Jab Pyar Kisi Se Hota Hai (1961)? The song "Teri zulfon se judai toh nahin mangi thi" was a classic Shankar-Jaikishan/Hasrat Jaipuri creation, sung feelingly by Rafi when he was at the peak of his career in the early '60s. Pran, in a suit and a hat, is the third angle in this song, very happy with the turn of events.
Then there is "Rang aur noor ki baraat kise pesh karoon" from Ghazal (1964) sung by Sunil Dutt, in the voice of Rafi. His lady love Meena Kumari, upstairs with other ladies, is getting ready for the wedding ceremony while Rehman, pleased as punch, is sitting downstairs with the men and the maulvi. Sunil, in his graceful style, launches into a lament ("Main un apnon mein hun jo aaj se begaane hain").
'Rang aur noor ki baraat kise pesh karoon'
A teary Meena, hands clutching her throat, leaves no one in doubt about her predicament. At the end, the song rises dramatically to a crescendo, with Meena matching the drama by rushing to her bedroom and falling on the bed. The Madan Mohan – Sahir combination gave us two more memorable ghazals from the same film with "Ishq ki garmiye jazbaat and Naghma o sher ki saugat" with the same refrain – "kise pesh karoon".
"Dil jo na kehe saka" is the gold standard in this genre. From Bheegi Raat (1965), Rafi belts out this emotion-packed humdinger of a song from the word go ("Chaliye mubaarak jashn dosti kaa, daaman to thaamaa aap ne kisi kaa").
The action takes place in Nainital. Pradeep Kumar gulps down wine to a high-octave prelude, then gets down to business while Meena Kumari can only watch mournfully and Ashok Kumar act uncomfortably dignified. He is not a villain here; just a wrong man at the wrong time, in the wrong circumstance. Majrooh penned the lyrics, and the sensational music composed by the maestro Roshan.
And just so that everybody in the surrounding hills knows the fragile state of his mind, Pradeep keeps the energy on high-octane. The echo from the hills is audible in the song. The most dramatic moment in the song comes towards the end when Pradeep looks up to see Meena gone and is stunned into silence while the music continues. A few bars later, he joins in and completes the song. A real treat!
Manoj Kumar sang "Naseeb mein jiske jo likha tha" to Asha Parekh in a restaurant in Do Badan (1966). He lets her know that "Kisi ke hisse mein pyas aayi, kisi ke hisse mein jaam aaya". Pran plays the third person in the equation. The lyrics, which won Shakeel Badayuni the Filmfare nomination, were beautifully composed by Ravi (also nominated) and sung by Rafi.
Milan (1967) had Sunil Dutt sing to Nutan on her wedding day – "Mubarak ho tumko sama yeh suhana", while Devan Verma smiles idiotically. Mukesh soulfully acknowledges - "Koi cheez apni hui hai paraai, kisi se milan hai kisi se judaai" in this Laxmikant-Pyarelal/ Anand Bakshi beauty.
The same year saw the release of Patthar ke Sanam in which Manoj Kumar sings the title song to his love interest Waheeda Rehman. He rebukes her ("Badi bhool hui, arrey humne yeh kya samjha, yeh kya jaana") while Mumtaz, who wants to marry Manoj, relishes Waheeda's discomfiture. Rafi yet again scores in this LP/Majrooh song.
Who doesn't remember Shammi Kapoor's "Dil ke jharoke mein tujh ko bitha ke" from Brahmachari (1968)? The ambience of the pain of parting created by Shankar-Jaikishan's Filmfare-winning music and Hasrat's lyrics (the orchestration, the humming, the piano, the saxophone) and the dancing ensemble was truly sensational.
Rajshree and Pran were at the receiving end of Shammi's plaintive "Meri mohabbat ko thukra de chahe, main koi tujhse na shikva karoonga". Rafi magnificent outpouring of grief secured him the Filmfare Award.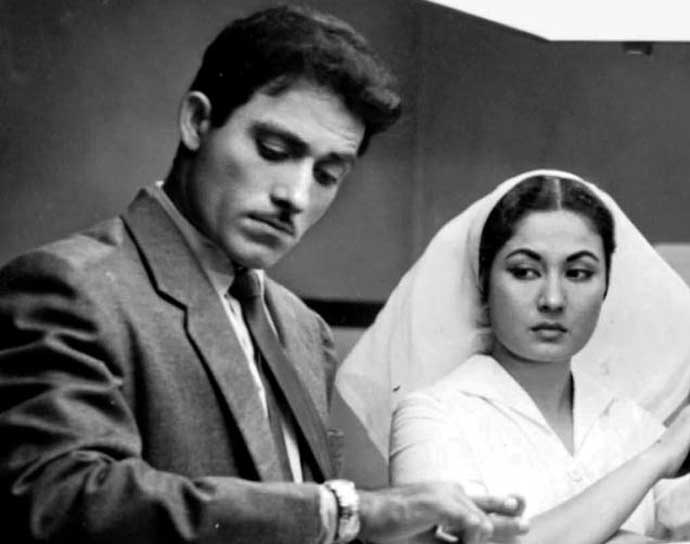 It was not only the Hindi hero who felt wronged. Women also went through the same emotions and chose the public forum to air them.
Everyone is familiar with the song "Tum bin jauun kahan" from Pyar ka Mausam (1969). Both the Rafi and Kishore versions of this RD Burman/Majrooh gem became very popular. However, there is one more version – a sad one – sung by Rafi. Shashi Kapoor is humiliated by Asha Parekh's father and mockingly asked to sing a song. Shashi sits at the piano and defiantly begins, "Meri nazar mein sirf tum ho, ke aur mujhko pata nahin hai; tumhari mehfil se uth raha hoon, magar rasta kuch nahin hai." Then he starts to sing the song.
In the same year there was "Chandi ki deewar na todi" sung by Mukesh and picturised on Jeetendra in Vishwas (1969). The object of his opprobrium ("Kal tak jisne kasme khain, dukh me sath nibhane ki, aj voh apne sukh ki khatir, ho gai ik begane ki") is Aparna Sen while, unusually, the villain Manmohan plays the piano. This Kalyanji-Ananadji/Gulsham Bawra song became very popular with rejected lovers, just as "Meri bheegi bheegi si palkon mein" (Anamika) became four years later.
"Tu auron ki kyun ho gayi" from Ek Baar Muskaraa Do(1972) is an aberration to the songs described earlier. OP Nayyar was a maverick and his iconoclastic leanings are evident in the song. The lyrics penned by Indeevar — "Tu hamari thi, jaan se pyaari thi, tere liye maine, duniya sanwari thi" — lend themselves to a sad somber song. But OP injects the song with high testosterone and gives it an energetic beat. The beauty of the song lies in this very incongruity. Deb Mukherji hams his way through with accusatory looks and gestures, while Tanuja looks shell-shocked. No subtlety, no oblique references; total bluntness.
And the list goes on — "Mere dushman tu meri dosti ko tarse" from Aaye Din Bahaar Ke (1966); "Waqt karta jo wafa" from Dil Ne Pukara (1967); "Yeh shama toh jali roshni ke liye" from Aaya Sawan Jhoom Ke (1969); "Mere naseeb mein ai dost" from Do Raaste (1970); "Khush rahe tu sada" from Khilona (1970); "Teri galiyon mein na rakhein ge kadam" from Hawas (1974); "Kya hua tera vada" from Hum Kisise Kam Nahin (1977); "O saathi re" from Muqaddar Ka Sikandar (1978), and many others. The template has changed over time but the basic concept remains the same – public declaration of hurt.
'Waqt karta jo wafa'
It was not only the Hindi hero who felt wronged. Women also went through the same emotions and chose the public forum to air them. The most memorable example is "Ajeeb dastan hai yeh, kahan shuru kahan khatam" from Dil Apna aur Preet Parai (1960) where Meena Kumari lets Raj Kumar, sitting with Nadira, have it - "Mubaarakein tumhe ke tum kisi ke noor ho gaye, kisi ke itne paas ho ke sab se door ho gaye." Also, "Dushman na kare dost ne woh kaam kiya hai" from Aakhir Kyon (1985). 
Our neighbors also exhibited their pain in public in the same manner. There are some remarkable songs in this category: "Jab koi pyaar se bulayega", "Abke ham bichhde", "Tumhe dekhoon tumhare chahane walon ki mehfil mein", and "Main khushi se kyon na gaoon"
From 1980s onwards, the magic of this genre waned off. Songs were few and far between. "Aur is dil mein kya rakha hai" from Imaandaar (1987), "Mubarak ho tumko yeh shaadi" from Haan Maine Bhi Pyaar Kiya Hai (2002) are some examples.
This is the day and age of "Mere saiyan ji se aaj maine breakup kar liya", with the hero good-naturedly wondering "Humko bin bataaye tune yeh kab kar liya?"
They failed to generate the aura and the drama of the '50s and '60s. In "Acchha sila diya tune mere pyaar ka" from Bewafa Sanam (1993), Krishan Kumar kills Shilpa Shirodkar at her wedding. This would have been bad form in the '60s but times were changing.
With more exposure, more information; unfettered inter-mingling; social networking; multiple partners; a more pragmatic approach to life, the present generation is chilled out and such a public display in films appears antediluvian. The genre now exists in the fond memories of my generation. This is the day and age of "Mere saiyan ji se aaj maine breakup kar liya", with the hero good-naturedly wondering "Humko bin bataaye tune yeh kab kar liya?"