We Indians are, inherently, a loud, noisy, boisterous lot. And we like our forms of entertainment – circus, music, game zones, water parks, weddings – to be as raucous and rambunctious. Our movies are no different. More often than not, the actors are cardboard caricatures of characters they portray – the overly maudlin Mother who sheds such copious amounts of tears that could keep our summers protected from droughts, even in arid Rajasthan.
The father is always angry and authoritative and extremely controlling of his proximal environment in an ear-shattering, booming baritone. The hero is crass and over-the-top and never composed, lacking a gentlemanly deportment. The heroine is even more so, with the outlandish dance moves, excessively expressive face with enlarged eyes, twitching brows and contorted lips and mouth, each emotion that our heroines depict are almost always exaggerated.
But the cherry on this superfluously iced cake of comic-capered celluloid characterisations have been the villains. With ludicrous costumes, ridiculously placed eye patches and that faux, big, black mole, yellow, badly formed teeth perpetually painted with tobacco juices, the omnipresent scars displaying that the man showing it off had earned them in his rough tumble, and dialogues to match; our cine villains have been comic con artistes quite far removed from the villains in our real life.
In Parinda, Nana Patekar played a psychopath with the Macbethian syndrome with such verve. 
Today, "Mogambo khush Hua", "Sara shehar mujhe 'LOIN' ke naam se janta hai", "Bad Man" "Aankhen nikaal ke gotiyan kheloonga" and so on are fodder for stand-up comics. Even back then, they garnered whistles, toss of coins and laughter from the audience instead of scaring them off their pants.
What set me thinking of a handful of men and roles that really made us hate the actors and find them utterly despicable was chance viewing, recently, of two film characters – Gokul Pandit in Dushman and Rajveer Singh in Pink.
The very talented Ashutosh Rana, who played the diabolical Gokul Pandit in Dushman and the Satan incarnate Lajja Shankar Pandey in Sangharsh, wins hands down for playing characters so close to real life and with such conviction that even as a grown-up who was fully aware that I was watching only a film, I have been shit scared.
The very talented Ashutosh Rana played the diabolical Gokul Pandit in Dushman.
Pran, one of the finest actors our film industry has gifted to us, was a great actor who performed any role with such aplomb and mastery. When Pran was good, he was avuncular and endearing, but when he was bad, he was such a badass who sent a shiver up our collective spine with his deliberately low-key tone, the big, glaring eyes and upright moustache that stood out like sword ends. He brought a sense of worship to all his performances, including the real bad ones.
Then there was MB Shetty, with dark skin, a shiny bald pate, low hung face and eyes the size of mini pools, who beat up good people, raped nubile women, trampled upon things with monstrosity and created havoc, with such finesse that each time he appeared on the screen, our hearts beat faster and threatened to leap into our gaping mouths.
Danny Denzongpa has been so convincing and has enacted his roles with such flair that he has made "bad" look good on 70 mm.
Ranjeet built his reputation as a serial rapist and was palpably real. According to one film goss, Ranjeet had gone to a friend's party and sauntered into the kitchen to get some ice. The maid of the house, upon seeing him, shrieked and ran for her life mortified that she was about to be molested by the dignified guest.
In Parinda, Nana Patekar played a psychopath with the Macbethian syndrome with such verve. A normal looking gangster, he ordered kills and harboured a dark soul but kept his hands clean with constant rinsing. He appeared troubled but had burnt his family alive with no shade of remorse. Enough to make us dread the presence of such "normal" people in our own lives!
I saw Insaaf ka Tarazu almost at the same age as Padmini Kolhapuri in the film. And Raj Babbar's viciousness and his barbarity on the two sisters was unleashed with such prowess that as a little girl I trembled each time he called Padmini to his office.
We also had Gabbar strike like lightning across the silver screen. And for years, "Yahan se pachas pachas kos door gaon mein... jab bachcha raat ko rota hai, toh maa kehti hai bete soo ja... soo ja nahi toh Gabbar Singh aa jayega," made even the naughtiest of kids find safety in sleep. Gabbar Singh, and his portrayal by the legendary Amjad Khan, was truly "badassest" of all. He made villainy an art form and went about his heinous business – from chopping off Thakur's arms to killing a young lad in cold blood to making Basanti dance barefoot on broken glass to shooting to kill Jai in the penultimate scene – with so much malicious glee complemented with his staccato laugh that it made our blood curl.
A large number of preposterously silly or labouredly sinister Reel rascals have ruled the roost; such as Ajeet (but his "Loin", even if more funny than fearsome, will always remain a class act), Jeevan, Kanhaiya Kumar, Prem Chopra (who, among a lot of hashed up acting, scored a perfect lascivious, creepy, cringe-worthy ten with his master stroke in Bobby and elicited unified public scorn each time he mouthed "Prem naam hai mera, Prem Chopra" with a lop-sided grin and lust-filled eyes), Madan Puri, Om Shivpuri, Rehman, Sadashiv Amrapurkar (though he instilled disgust both as Rama Shetty in Ardh Satya and as Maharani in Sadak), and more.
There have been cartoon sketches and jokers like Kharbanda as Shakaal, Puri as Mogambo, Kher as Dr Dang, Prem Nath as Sir Juda, Grover as Kesariya Vilayati, Mukesh Rishi, Goga Kapoor, Kader Khan, Raza Murad, Prakash Raj and a host of others who have tickled us more than terrified us.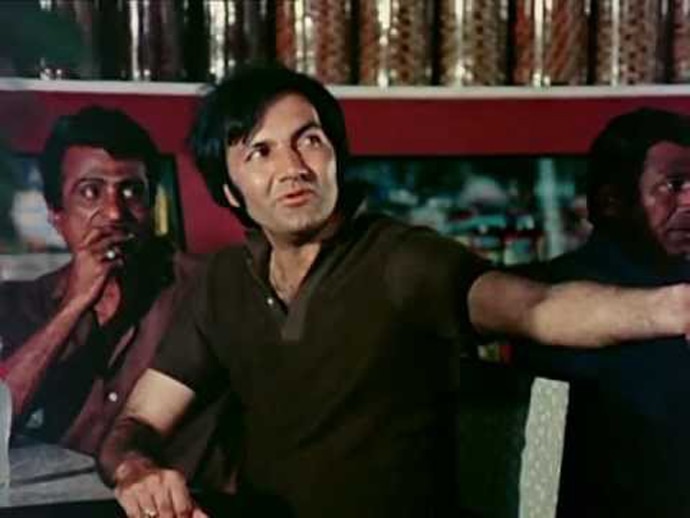 'Prem naam hai mera, Prem Chopra'
Yet, there have been the likes of Iftekhar, KN Singh, Dev Kumar, Govind Namdeo (notably as the pure evil Sri Ram in Bandit Queen), Kiran Kumar (particularly as the very vile and immoral Lotiya Pathan in Tezaab), Ronit Roy (as a strict, unrelenting, controlling patriarch in Udaan and 2 States and as a dirty, scheming, killing politician in Kaabil) and Pankaj Kapoor (as Tarneja in Jaane bhi do Yaaron and Jahangir Khan in Maqbool) who have played their parts with such relish and craftsmanship that they came out looking as tall and sometimes more impressive than the protagonist.
Danny Denzongpa is another Indian film actor who has been dangerous, dark and devilish in his villainous portrayals. As the crippled Thakur Ranjit Singh in Dhund, Kancha Cheena in Agneepath, Bakhtawar in Hum, Jangoora in Dharmatma, Katya in Ghatak, Gajendra in Lajja, Danny has been so convincing and has enacted his roles with such flair that he has made "bad" look good on 70 mm.
Ronit Roy and Pankaj Kapoor show the villain can be more impressive than the protagonist.
Two stellar actors who breathe life into any character they play – from positive to negative, hero to anti-hero, comic to serious, young to old – are Paresh Rawal and Manoj Bajpayee.
Even in their negative roles, they have been measured and mean, venomously vicious and almost stoically savage that they have been an utter pleasure to watch, bringing out the far-out, far-removed from our lives, across the screen people and placing them next to us in our buildings, on our streets, in our living room with their realistic depictions. They could, as well, be an Uncle or a cousin or a vendor amidst us with bad intentions and a nefarious bent of mind.
Langda Tyagi
I would not do justice to my ode to villains if I did not mention in bold letters Saif Ali Khan as Langda Tyagi. Completely a shocker and an antithesis to his chic and suave real and reel life persona, Saif as the limping Tyagi was the enfant terrible extraordinaire. The spitting, scheming scoundrel turned into a turncoat with ease and élan, a troublemaking trickster given to ego and jealousy he did not flinch before planning to kill anyone around him, including his mentor or his own wife, only to be knifed by her for his wicked ways.
Finally, Rajveer Singh – the main antagonist in Pink - fed on patriarchal pomposity and old school machismo was so misogynistic, beastly brute, disdainful and ruthless that he made light of any big or small crime he committed. He could have been any number of men who walk our roads and live in our hoods committing all kinds of crime against women as a matter of right by birth.
Rajveer Singh, the modern-day villain.
The actor performed his role with so much cool confidence and impressive impudence that I just had to find this new-kid-on-the-block's name and background. Incidentally, he is Bishen Singh Bedi's son and his name is Angad Bedi.
They say that the female of the species is more dangerous and capable of more harm. Perhaps, a full piece on the bad women of Bollywood is due in the next outing!