Priya Rajvansh: A hauntingly beautiful actress who met a tragic end
She acted in only seven movies, but she was convincing despite her anglicised accent and western look.
One can easily say that this actress was different from others. She was indeed special — in looks, in acting and in carrying herself in an aristocratic manner.
Yes, Priya Rajvansh was unique in all she did.
Nineteen years ago, she met a tragic death (March 27, 2000) which brought to a close the dignified life she had led, first with her mentor and partner, Chetan Anand, and then, alone, after he passed away in 1997.
Chetan Anand, the renowned director, brought her into the industry after seeing her photographs.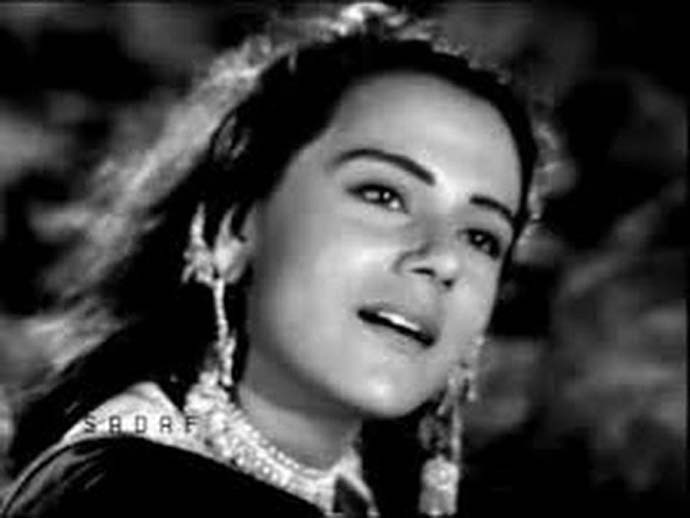 Priya Rajvansh was unique in everything she did. (Photo: YouTube)
With the 1964 war film Haqeeqat, made by Anand, she made her debut in the film industry. Anand gave her the screen name 'Priya Rajvansh'. That she acted in only seven films in her entire life was due to the fact that she took the decision to not venture out of her mentor's camp — she remained in that ivory tower and excelled in the few films she was part of.
She was born as Vera Sunder Singh, daughter of a forest officer, and studied in St Bede's College, Shimla. Later, she went to study at the Royal Academy of Dramatic Art (RADA) in London. In fact, she was the only Indian actress to have trained there.
In Haqeeqat, the black-and-white classic, Priya played the role of a young girl, Angmo — half Kashmiri and half Ladakhi. She truly looked exquisite and suited the role every bit.
"Zara si aahat hoti hai toh dil sochta hai, kahin yeh woh toh nahin" the Lata Mangeshkar song picturised on her in this film is an evergreen number hummed by people even now.
Next, we saw Priya as Heer in Heer Ranjha (1970), the screen version of Waris Shah's classic work Heer.
Chetan Anand was sure that Priya would prove perfect for this role as she had a royal demeanour and a "classic" look.
He was right.
In Haqeeqat, Priya looked exquisite as a half-Kashmiri, half-Ladakhi girl. (Photo: YouTube)
Ranjha was played by Raaj Kumar. They breathed the roles and brought alive this tragic legend of Punjab beautifully. The screenplay was written by Kaifi Azmi and the film is delivered in poetical verse.
It would be of interest to know that Anand did not use the colour yellow at all in this film before the famous song "Milo na tum toh ham ghabraaein, milo toh aankh churaayein" (picturised on Priya). The song marks the advent of the spring season and shows Priya, dressed in vibrant yellow, dancing in the sarson fields. Enchanting indeed.
Who would have thought that Priya would herself have a tragic end like the doomed Heer?
The other films in which Priya acted were Hanste Zakhm (1973) and Hindustan Ki Kasam (1973), Saheb Bahadur (1977), Kudrat (1981) and Haathon Ki Lakeeren (1986).
Hindustan Ki Kasam saw her in a double role while Kudrat had her playing the role of Karuna, a defence lawyer pitted against superstar Rajesh Khanna in court scenes which took up 45 minutes of this film.
Interestingly, in this film, Raaj Kumar, who was her hero in Heer Ranjha and Hindustan Ki Kasam, played her father in Kudrat!
She held her own quite well in this film, based on a reincarnation theme.
Priya Rajvansh brought to life the tremendous tragic tale of the doomed Heer. (Photo: YouTube)
Though she was 43 years old by this time, she was given the role of Rajesh Khanna's fiancée in this film. Khanna was five years her junior.
Priya's presence on the screen created an old-world charm as she mostly wore traditional Indian dresses.
In Hanste Zakhm, she plays Chanda, who is kidnapped and forced into prostitution. Even in that role, her innate elegance, grace and dignity can be felt. The memorable songs of this films — "Aaj socha toh aansoo bhar aaye, tum jo mil gaye ho toh yeh lagta hai ke jahaan mil gaya" (picturised on Navin Nischol and Priya) and "Yeh maana meri jaa'n mohabbat sazaa hai" were great hits and showed Priya in all her glory. They have actually immortalised her.
Priya wrote scripts and dialogues too. She was well-versed with many aspects of film making. Her love for art, culture and literature is well known too. All this could be felt in the personality we saw on the screen.
There was a depth to her which brought an added dimension to all her roles.
Though her accent was slightly anglicised, and her look a bit westernised, she was convincing in all the films she did.
Actually, she was a pleasant change for the audiences who were used to seeing a stereotyped heroine in those days of our cinema. She was exclusive and elegant. Her charisma was palpable.
Though her end was tragic, her life was an example of believing in one's emotions — and taking a stand against the conventions of society. The dedication that she and Chetan Anand had for each other was admirable.
The seven films Priya acted in are more than enough for her name to always shine in the annals of Indian cinema.
Also Read: Navin Nischol: A star who brightened our cinema in the 1970s
The views and opinions expressed in this article are those of the authors and do not necessarily reflect the official policy or position of DailyO.in or the India Today Group. The writers are solely responsible for any claims arising out of the contents of this article.