Re-watching a hit movie, which you watched in pieces as a child, takes your excitement to another level. One of Bollywood's much-loved movies, Bunty Aur Babli, is a film that you can watch any day.
It has everything that a typical Bollywood masala movie has (or used to have): Dhinchak music, an over-emotional actress, smalltown boy and girl with big dreams, a policeman, and glamorous clothes.
But everything good is followed by something bad. In this case, it is the sequel to Bunty Aur Babli. Quite ingeniously, it is titled, you guessed it right, drumroll, Bunty Aur Babli 2.
(Par ye Bunty keh raha hai ya Rakesh?)
Bunty Aur Babli 2 fails to recreate the magic of the original. Honestly, it was a waste of money, time, resources and anything and everything used in the movie.
If you are wondering why, here are 5 points that will explain everything. 
1. WHAT IS SAIF EVEN DOING IN THIS FILM?
Saif Ali Khan has made some major mistakes in his career. He rejected some good roles like DDLJ's Raj, Arjun Kapoor's role in 2 States, Fawad Khan's role in Kapoor and Sons and even more.
Instead, he opted for the role opposite to Rani in Bunty Aur Babli 2.
Bunty Aur Babli was one of the rare good works of Abhishek Bachchan. Replacing him with Saif was not a good idea. (but tbh, we get the awkward exes problem in getting Abhishek and Rani together on screen)
The character Rakesh belonged to Abhishek and no one on earth will deny that.
Bunty Aur Babli was released in 2005 when everyone wore clothes inspired by their favourite superstars' looks in movies. And Bunty Aur Babli created a buzz in the fashion industry.
Rani Mukerji, who played the role of Vimmi or Babli, wore short kurtis with a patiala salwars. And that style was all the rage in 2005.
The look became so popular that every young girl owned at least one pair, complete with all the glitters and shimmers.
In the sequel, Rani is wearing ace designer Sabyasachi's clothes.
Part of the reason behind the popularity of Rani's clothes in Part One was because it resembled the wardrobe of a small-town girl with big dreams.
A basic kurta and patiala were over-embellished in an attempt to fit the glamorous world.
But in Part 2, she is already wearing designerwear and Babli's charisma is lost.
Rani Mukerji as Babli in Bunty aur Babli Vs Bunty aur Babli 2
3. WE MISSED DASHRATH TOO
Amitabh Bachchan and Abhishek Bachchan were together on screen for the first time in Bunty Aur Babli.
We love Pankaj Tripathi, of course, but we missed Amitabh's cool-cop role; you know, that guy who got drunk along with the thief.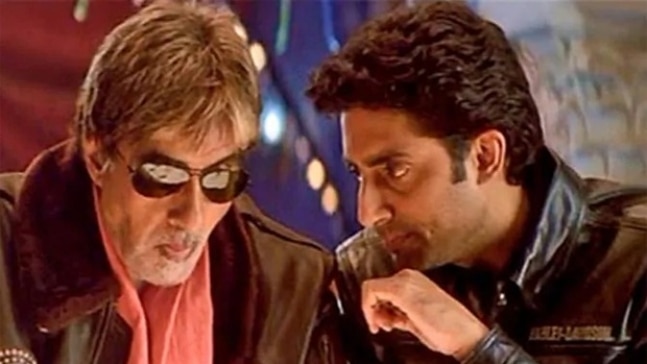 Amitabh Bachchan in Bunty Aur Babli
4. THE WHOLE CONCEPT DIED A TIRESOME DEATH IN PART 2
The whole theme of the original Bunty Aur Babli was naam and paisa kamana. They then started conning people to earn money and fell in love with the profession.
But the sequel took the boring road. The young Bunty and Babli (Siddhant Chaturvedi and Sharvari), are all about stealing from the rich and corrupt and donating the money. Bollywood Robin Hoods, if you will. They even found space to squeeze in some Clean Ganga mission. What is going on here?
The original idea of a girl who wants to be a model and a guy who wants to be the next Ambani or Tata rocked and was all entertainment, entertainment and entertainment.
But this good-deed concept is overdone and invokes hardly any reaction. In the process, Bunty Aur Babli 2 sacrificed the fun, which was central to the original movie.
5. WHERE IS NACH BALIYE PART 2?
Every 90s kid can still dance to this track (in the shower maybe). The soundtrack of Bunty Aur Babli was top notch.
The theme song, Dhadak Dhadak, Chup Chup Ke, Kajra Re and Nach Baliye are all those songs that every 90s kid remembers by heart. Even in 2022!
The new version failed to impress the audience here too.
Unimpressive music, poor casting, bad humour, bad plot and zero charm: this is all the sequel is all about. 
The original Bunty Aur Babli is entertaining enough, and doesn't really have any loose ends that required a Part 2. Aur ye Vimmi, Rakesh, Bunty aur Babli sab keh rahe hai.
What do you think? Was this 30-crore investment in Bunty Aur Babli 2 necessary?
(By the way, Bunty Aur Babli is streaming on Amazon Prime Video, in case you want to watch it once again.)