Fashion designer Manish Arora reveals why he goes to the famous Burning Man festival
Burning Man is a way of life. It teaches you to live with no intentions or expectations
Imagine a community of 75,000 people living together in the middle of the desert, without money, without access to the internet or any connection to what we call the "default world". Imagine a place of belonging, of incredibly special energy and power. Imagine a place where whatever you believe in comes true. That's "Burning Man", the annual gathering held in the Nevada desert in the US, and I live for the time I spend there every year. It refuels me and inspires the way I practise living in the "real world".
In the five years of my visiting the festival, it is my experience that if you truly believe in something, it comes true. The ground at Burning Man is called the playa, and there is a saying that "the playa provides" — the site is filled with so much positivity and is very spiritually elevated. It cleanses you and lifts you up. A lot of people do come to Burning Man to party but speaking for myself, and the people I meet there who are now friends for life, we go there to learn, live, and share our experiences. To give of ourselves, to look after one another, to take care of one another.
Photo: Reuters
Photo: Reuters
Photo: Reuters
Photo: Reuters
My meeting Scott London, a San Francisco-based photographer, was also serendipitous. I was first introduced to him by Jennifer Raiser, a journalist for the San Francisco Chronicle and a good friend of mine. The two of them had collaborated on a coffee-table book called Burning Man: Art on Fire, which she gifted me during an interview. She also happened to be one of the treasurers for Burning Man and invited me for the Founders' Cocktails, which is where I met Scott. He shortlists a hundred of his favourite images at Burning Man every year.
Scott liked the way I dressed and he suggested to me, "Let's play a game at Burning Man. Why don't you point out people that you think are cool and I'll take their pictures?" He wanted to bring in a different point of view to his work. He asked me to meet him on the right side of Robot Heart's performance and the first year, it was a bit chaotic because I was facing the spot and he was on the other side, but we eventually found one another.
Photo: Reuters
Photo: DailyO
Photo: Reuters
It has now been three years since we've been collaborating and, from last year, I dress people for Scott to photograph. For me, fashion has the power to influence how you feel. What you wear is what you become. And it holds true for each person who is part of the unique community at Burning Man. I plan the outfits in advance — it's what I do, and it's become a part of my identity. I believe that out there in the desert, you dress the way you think you should every day but unfortunately cannot in the real world because there are too many judgments, too many people around. A lot of people that I pointed out to Scott have made it into his top hundred, which is kind of a big deal.
Photo: Reuters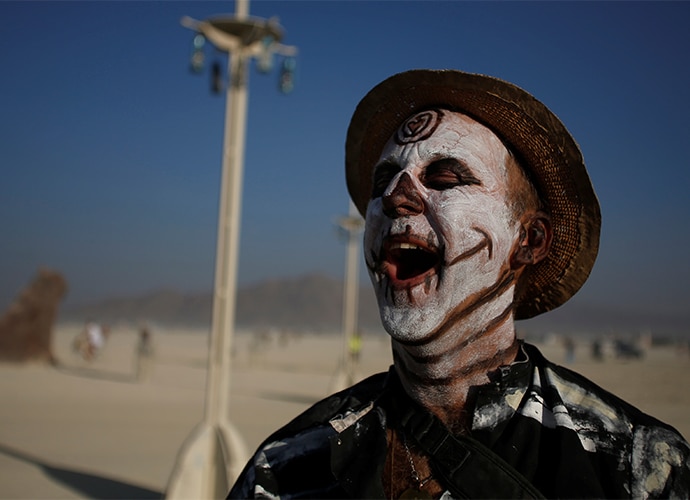 Photo: Reuters
Photo: Reuters
Burning Man is a way of life. I would say that what you do when you are out there in the desert is what you become. You find soul-mates with whom you can be your most honest and pure self and build bonds that are not possible anywhere else. The experience makes you a better person.
You learn to live with no intentions or expectations. No one wears a watch so you learn to live in the moment. Every tent is home to everyone so you learn to be generous. And you learn that none of us needs as much as we think we do to live — all we need is the bare minimum and we will be the happiest we can ever hope to be.
(Courtesy of Harper's Bazaar India.)
Also read: Student suicides are our collective shame. Education mustn't be a battle unto death
The views and opinions expressed in this article are those of the authors and do not necessarily reflect the official policy or position of DailyO.in or the India Today Group. The writers are solely responsible for any claims arising out of the contents of this article.