If there is anything Sanju has done more than perpetuating the myth of Sanjay Dutt's innocence, it is perpetuating the myth of Ranbir Kapoor's acting ability.
When the film's teaser released two months ago, his gushing fans (many of whom double up as film critics) engaged in their favourite annual exercise: declaring that his latest film will prove beyond doubt that he is supremely talented.
In a country where actual analysis of the craft of acting is virtually non-existent, this is bound to happen.
Acting is an art but, like all art, it rests upon a craft. Writing is an art, but without understanding the craft of language, one cannot be a writer. Similarly, acting requires mastery of a few things because without it, one cannot be a good actor.
Actors are effectively required to become other people. This requires an actor to have a wide range of expressions because different people express different emotions, and in different ways.
In Wake Up Sid, Siddharth Mehra, an extremely privileged boy, learns how things work in the real world. He had a wide character arc and experienced a range of emotions.
When Ranbir as Sid in Wake Up Sid woke up to the real world
The situations in each of these images are varied. Sid is annoyed at his domestic helper for not waking him up; he's daydreaming in the middle of an exam; he's announcing his decision to leave home; he's being asked to join his father's business; he's frustrated at always being called a child by Aisha (Konkona Sen Sharma); he's angry because his friend passed an exam and he didn't.
And yet, in each of these scenes, what we see from Ranbir Kapoor is his trademark Frown.
Ranbir Kapoor's Frown wasn't restricted to Wake Up Sid. Even in Rocket Singh, Harpreet Singh Bedi — a middle-class salesman — also expressed every negative emotion with the Frown.
Rocket in his pocket? Not only rocket, Ranbir had the Filmfare Critics Award for Best Actor in his pocket for his Rocket Singh
In these images, Harpreet is: arguing with a friend over his choice of career, humiliated for being labelled a "zero" and "gadha", shocked at being viciously scolded for complaining about a client who solicited a bribe, being blamed and threatened by his colleagues for his 'mistake', explaining his business philosophy to his erstwhile boss in the climactic scene, and learning how much companies mark up computer prices.
Can you identify which is which? (Fun fact: this role won Kapoor the Filmfare Critics Award for Best Actor)
In Raajneeti, Kapoor played Samar Pratap, the youngest member of a state's most powerful political family. Samar had a massive character arc, going from a good-natured man to a ruthless, conniving politician who kills in the name of family.
Slapped? Girlfriend pregnant? Ranbir's Samar had same expressions in Rajneeti
Being slapped by a police officer, being told that there is darkness inside him, being told by his pregnant girlfriend that she wants to leave him, and being proposed to by a woman he doesn't love all seem to evoke the same Frown from Samar.
Rockstar was labelled as Ranbir Kapoor's arrival, the film that established him in the big leagues. However, in the first 20 minutes of the film, there is virtually no expression on his face other than the Frown.
Finally Ranbir Kapoor arrived in Rockstar and how? With the same "Frown", of course
Comparing his situation to Jim Morrison's: Frown. Learning that art comes from pain: Frown. Being frustrated about not being able to get pain: Frown. Being thrown out of his house: Frown. Meeting Heer again: Frown. Heer breaking up with him: Frown. Giving an angsty speech in the middle of a concert: Frown. Telling Heer they're meant to be: Frown. Heer dying: Frown.
Bombay Velvet: The second-best Frowns of Ranbir The above images are from Bombay Velvet. In one of them, Johnny Balraj is just enjoying a chuski with his girlfriend. Can you identify which one that is? Kapoor delivered his best performance till date in Tamasha, but in Jagga Jasoos, he was back to using the trademark frown.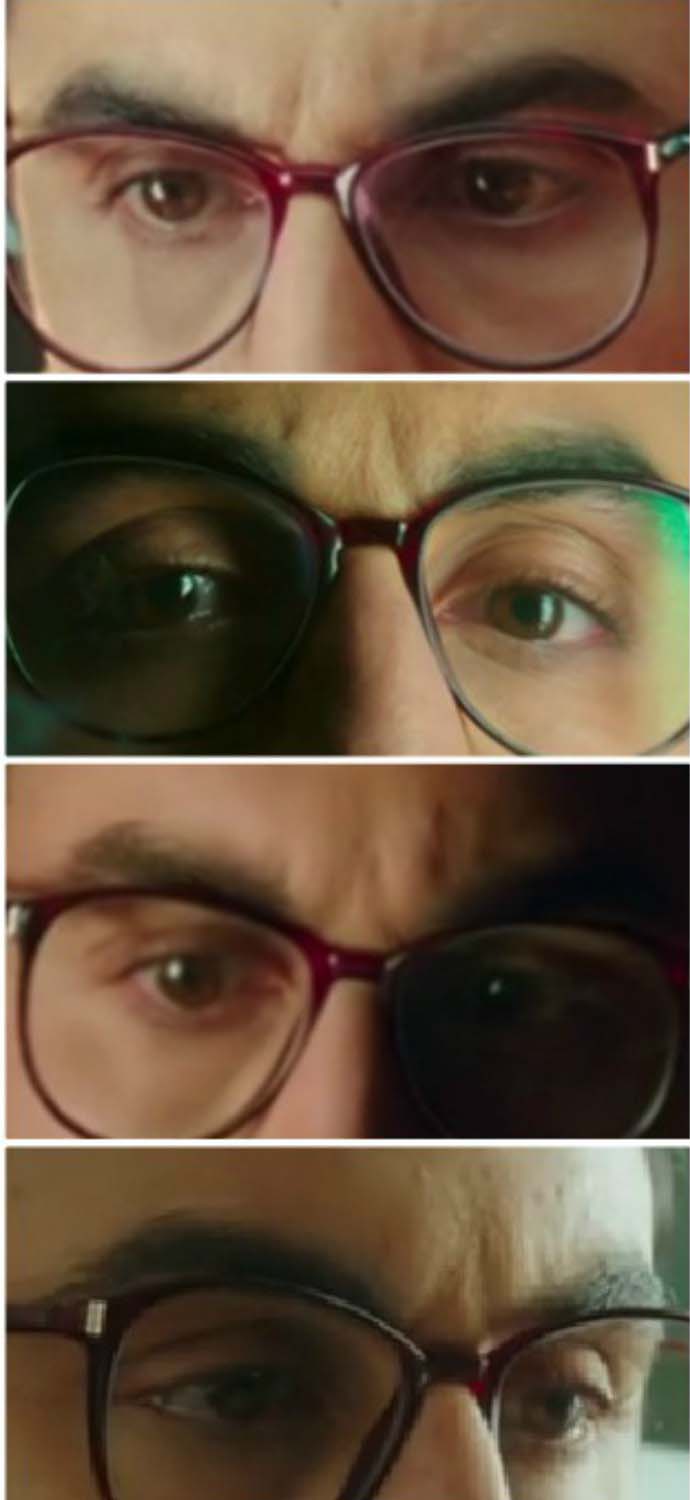 Jagga Jasoos: The best "Frowns"
Sanju, which is earning Kapoor mountains of praise, is also not a bad performance, but the Frown is even more noticeable here because you really have to wonder: does Sanjay Dutt frown this much for virtually every emotion?
One has to ask: if a single person uses more expressions for different emotions they feel in real life, how is it that a spoilt boy, a salesman (both from Mumbai), a politician's son from the Hindi heartland, a rockstar from Pitampura, a do-gooder in 70s Darjeeling, a gangster in 60s Bombay, a schoolboy in Northeast India, and Sanjay Dutt all seem to frown in a mildly perturbed manner for varying degrees of emotions?
Actors are required to modulate their voices based on their characters as well as the emotions experienced by them. Heath Ledger's voice was a high-pitched, manic cackle in The Dark Knight while almost a deep baritone in Lords of Dogtown.
What is most noticeable about Ranbir Kapoor besides his Frown is his inability to modulate his voice. Raj Sharma in Bachna Ae Haseeno speaks in the same manner when he's frolicking around Switzerland with a girl at age 18 and when he's apologising to her 12 years later. Ayan Sanger experiences a tumult of emotions in Ae Dil Hai Mushkil, but the pitch of his voice remains constant throughout; the only thing that changes is volume.
The most glaring example of this deficiency is Raajneeti, where Kapoor channels Salman Khan from Baghban. His voice is just a touch above a whisper in the film and stubbornly refuses to rise in pitch. Whether he's speaking lovingly to his brother or father, fighting with his girlfriend, threatening his cousin, or talking about campaign strategy, his voice remains a flat drawl.
After Sanju, many would point to the great job Kapoor did of getting Sanjay Dutt's voice right. However, this isn't so much modulation as it is clever casting. Kapoor's natural voice is a very deep drawl, much like Dutt's. Aping Dutt's voice required very little modulation on Kapoor's part.
Not as vital as being expressive or modulating one's voice, good diction is still an important part of acting because when one is playing different characters, mastery of language and pronunciation is essential.
In Bachna Ae Haseeno, Raj Sharma asks for Pepsi at cinema halls with "shtyle" and thinks that DDLJ is a "shtupid" film. In Anjaana Anjaani, Akash has no "interesht" in looking at Kiara in a sexual manner. In Rockstar, Jordan was singing for people on the bus "shtand" and later becomes a "shtar." In Ae Dil Hai Mushkil, Ayan Sanger checks with Alizeh Khan whether she only thinks of him as her "besht" friend. In Sanju, Sanjay Dutt says he's not a "terrorisht" and wants to tell his side of the "shtory."
Raj and Jordan are Delhi boys, so it is perhaps excusable for them to have a similar idiolect. But why do the rest of these vastly different characters, one of whom is a real person, have the same weakness in diction? The answer is that they don't, but the actor playing them does, and this bleeds into their personalities and "shticks" out like a sore thumb.
It must be noted that this is not a speech impediment, as Kapoor has been able to correctly pronounce similar words in several other films. As an extremely privileged person with access to the best education, Kapoor also cannot escape criticism for mispronouncing simple English words.
Ranbir Kapoor's acting prowess is possibly the biggest myth Bollywood has perpetuated in the last decade. It has been able to do so using a few clever tactics. Nearly all of Kapoor's most acclaimed performances have one or more of four aspects.
Ranbir Kapoor's acting prowess is possibly the biggest myth Bollywood has perpetuated in the last decade
Powerful music that evokes emotion
An ability attributed to Kapoor is the way he emotes while lip-synching to songs. This barely qualifies as a skill, since emoting to Arijit Singh's beautiful voice and Amitabh Bhattacharya's poignant lyrics hardly makes one a great actor, or most vocalists would've received accolades for acting in music videos.
Moreover, the viewer tends to forget that the music itself plays a huge role in evoking the desired emotions, rather than the image of the actor lip-synching (try watching these music videos on mute). It was this that managed to turn even Emraan Hashmi into a star in the mid-2000s, when great songs picturised on him were marketed in albums with names like "Emraan Rocks."
Make-up and costume design that gives the appearance of an authentic character
Rocket Singh saw Kapoor playing a Sikh character, which meant that he was seen with a beard and a turban. Bombay Velvet had him in 60s attire with a new hairstyle and moustache. Barfi also saw him wearing a flat cap and with a moustache. Rockstar showed him as a North Delhi boy with a dorky hairstyle and then in very "hip" attire that seems to be what a tortured artist would wear. In Jagga Jasoos, he had a subtly different hairstyle, wore glasses and a school uniform.
And of course, in Sanju, Kapoor has been made to look exactly like Sanjay Dutt. These things are entirely the work of hair-stylists, make-up artists, and costume designers, but give the appearance of a well-thought out character. The viewer tends to associate that authenticity with the actor playing the character, regardless of the performance.
A single-minded focus on one emotion or manner of speaking or behaving
In Rockstar, Jordan's defining trait is angst, angst, and more angst. This provided Kapoor with a single, overtly visible thing to focus on. In Barfi, this was miming as the character was speech- and hearing-impaired. This led to several Charlie Chaplin-esque scenes, which may have been great 90 years ago, but certainly don't qualify as great acting today.
The "Mumbaiyya" accent in Bombay Velvet, the stammer in Jagga Jasoos, and out-and-out mimicry in Sanju are all examples of a monolithic show being put up by Ranbir Kapoor that makes viewers think: a lot of acting is being done, ergo it must be good.
A character designed to be deeply sympathetic
There is no denying that Ranbir Kapoor is conventionally attractive. His soft-spoken nature, sincere face, and puppy-dog eyes make him the perfect fit for extremely sympathetic characters. Empathetic protagonists are an important part of classical storytelling but, too often, Kapoor plays characters that one genuinely feels bad for.
Harpreet Singh Bedi is a man whose honesty and idealism make you love him, but the fact that the world is so harsh on him for these things makes you feel really bad. Even in Raajneeti, Kapoor's character starts out as an innocent young man who doesn't want anything to do with politics, but his father's death evokes a lot of sympathy.
Barfi was a disabled person and naturally elicited sympathy. But the fact that he goes out of his way to help everyone and is rejected by a woman he loves because he's not of the same "status" makes one feel even worse. Jagga too, had a disability, and absolutely no flaws in his character. On top of that, he was an orphaned schoolboy looking for his adoptive father.
Even Sanjay Dutt has been portrayed as traumatised by his mother's illness and death; as a sympathetic victim of drug addiction, political tensions, and media sensationalism.
Perhaps if Bollywood were more like Hollywood, the industry it always seeks to ape, there could've been space for Ranbir Kapoor as a B-list star who was somewhat believable in certain roles.
However, to confuse the talent of writers, musicians, and make-up artists as his and to call him a great actor is a ludicrous idea that stems from systematic propaganda and brainwashing by Bollywood, and perhaps something that makes a viewer even less objective: sexual attraction.