His father wanted him to be an ICS officer. He worked at the famous Doon School as a teacher for four years. However, his destiny was to fulfill his greatest desire — that of being in the fine arts.
He gave up teaching and settled in Bombay to try his hand at writing scripts and making films.
Chetan Anand was a born artist, and made many meaningful films, apart from acting in his own and other directors' ventures. However, it is as a writer and filmmaker that he will always be remembered and admired.
January 3 is his birth anniversary. On this day in 1921, he was born in Lahore.
Chetan's Navketan Films gave us some truly path-breaking movies. (Photo: Twitter)
The Doon School was an important part of this filmmaker's life in the early 1940s, when he was teaching history, English, tennis and dramatics there. While he taught young Doscos, he also kept working on film scripts.
Chetan had his first tryst with writing and directing plays during his college days at Lahore Government College. After that, he left for London for the Indian Civil Service examinations. Instead of qualifying the exam, however, Chetan studied theatre, watched films, visited museums and galleries there and participated in the Indian programmes of the British Broadcasting Corporation (BBC).
Once he was back in India, he worked briefly with the All India Radio (AIR), and then joined The Doon School in 1940. During his tenure here, he was visited by his younger brother — a certain someone called Dev Anand.
This was in 1943, and the country was under the British Raj.
When Dev Anand visited his brother, he was not an actor yet — he had just ventured out to Bombay from Lahore.
In his autobiography Romancing With Life, Dev Anand fondly recalls the times he visited Chetan at Doon School. It was here, the acting legend wrote, that he came to learn "the manners of a proper Englishman". He writes that Chetan taught him table manners as "he put me amongst the affluent, pick-of-the-upper class students at Doon School, with their spick-and-span manners, breakfasting and dining on tables laid out for them by uniformed  khansamas."(Raj Days!)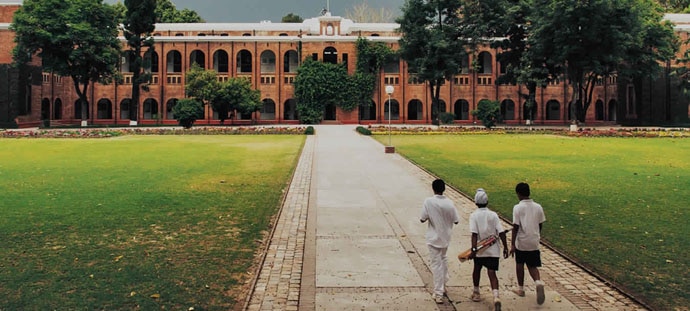 While working at The Doon School, Chetan was visited by his brother Dev Anand, who picked up a lot of his legendary style from here. (Photo: www.doonschool.com)
His fascination for English manners and education can be clearly felt while reading his autobiography. Other conversations Dev remembers from the dining table at the school were about the latest happenings at Lord's and at Wimbledon.
While Dev picked up a lot from young Doscos during the time he spent there, he kept learning how to be stylish from his brother too. Dev Anand admits that it was Chetan who inspired a style in him. The Doon School and Chetan together taught him many a thing about being in vogue.
Chetan Anand's dream took him to Mumbai (then Bombay) during the school's winter break in the year 1943. There he met Khwaja Ahmad Abbas, Phani Majumdar, Kishore Sahu and some other filmmakers. He sold a film script to Kishore Sahu. Majumdar cast the young Chetan as the hero opposite Nargis in Rajkumar, which was not a success. In 1944, he gave up his job at The Doon School.
Two years later, he made Neecha Nagar, based on Maxim Gorky's play The Lower Depths. The film starred Kamini Kaushal and the famous radio artist Rafi Peer. The film won him accolades and bagged the Palme d'Or (Best Film) award at the Cannes Film Festival. 
The rise of Dev Anand to stardom synchronised with the desire in the two brothers to tell a different kind of story and create a different kind of cinema.
Thus was born the Navketan banner in 1949.
The 1954 Navketan movie Taxi Driver was a phenomenal hit. (Photo: YouTube/screengrab)
The 1954 Navketan film Taxi Driver saw unprecedented success. The film was directed by Chetan Anand and starred Dev, Dev's wife-to-be Kalpana Kartik, and Johny Walker.
The film Haqeeqat (1964) won Chetan the 1965 National Film Award. It was a tribute to Indian soldiers after the 1962 Sino-Indian war. Its poignance and pathos were expressed best through its songs like Kar Chaley Ham Fidaa Jaan-O Tan Saathiyon and Main Yeh Soch Kar Uske Dar Se Uthha Thha Ke Woh Rok Legi. It was the first Hindi film to be shot in Ladakh, and is regarded as the best war film of Hindi cinema.
Anand's range as a filmmaker was stunning.
We can see this from the austerity of Haqeeqat, the breath-taking visual beauty of Heer Ranjha, the poignance of Aakhri Khat and the complexity of Kudrat, which won him the Filmfare Award for best story.    
Haqeeqat (1964) is counted among Bollywood's best war movies. (Photo: YouTube/screengrab)
Anand's Heer Ranjha remains the quintessential interpretation of Waris Shah's classic work. The screenplay was written by Kaifi Azmi and the film is delivered in poetical verse, making it one of the most unique and original pieces of cinematic work. It is a beautiful poem on celluloid.
It would be of interest here to know that Anand did not use the colour yellow at all in the film before the famous song Milo Na Tum Toh Ham Ghabraaein (picturised on Heer, played by Priya Rajvansh).
Chetan's brilliant use of the colour yellow in 'Milo Na Tum To' in Heer Ranjha brought spring alive for the viewers. (Photo: YouTube/screengrab)
It is with this melodious song that there is a burst of yellow that takes away one's breath! The yellow dresses, the yellow flowers all around, the sarson fields in their golden yellow glory — all create a magic nobody can escape. The song marks the advent of the spring season.
Chetan Anand will always be remembered as one of the most sensitive writers and directors in the history of Indian cinema. Those who can see the rare beauty of his work will never forget him and his cinema.  
His was a poet's vision — delicate and subtle.