Dhaakad is a colloquialism for something that is beyond fabulous, something that inspires awe and is surpassingly fantabulous. Dhaakad is a high order superlative. The word has an eponymous foot-tapping song in Dangal and is used to describe the female protagonists in the film. They couldn't have chosen a better word to describe the gutsy, spunky daughters and their single-minded, zealous and overambitious patriarch of a father.
Thug is a cheat and a conman. And that is what Thugs of Hindostan (TOH) has ended up doing. The film cheated us, despite being headlined by two of the brightest stars of our world of cinema. It has conned us with hype and hyperbole, failing to deliver what it promised.
Dangal was all meat — from intent to story to characterisation to performances. TOH is just masala, and with such an overdose that it has spoiled the main dish itself.
Dangal has turned out to be a juicy steak, leaving a delightfully lasting aftertaste. (Source: YouTube screen grab)
Even if the genres are totally different, TOH, with so much going on should have offered some meat on the bone for the cine-goers to chew on. But, all it offered was stale and limp candy floss.
On the other hand, Dangal has turned out to be the juiciest steak, not just in India but also abroad, leaving a delightfully lasting aftertaste, even two years after its release.
TOH was visualised on a big canvas, with a larger-than-life, borderline majestic storyline. But, the phantasmagorical piece of history presented before us, fails to enchant us, or even tease our senses. It swings out of our mind just like the aerial acts its protagonists are seen performing.
Dangal was all grounded. It was largely set in the muddy akharas of a dusty village and captured our collective hearts.
TOH is being panned by inveterate movie lovers and critics alike and is being considered as a poorly executed and completely forgettable outing. Whereas, Dangal has imprinted itself in our minds by virtue of the sheer delicateness with which it handled social issues.
TOH, sadly, has just been one mega-ambitious project. Dangal has presented to us a story of ambition from the lowest common denominator — a story about women, about one of the most patriarchal corners of the country, about India's often ignored hinterland.
I caught Dangal, one of India's most successful films, just before it was getting ready to disappear from the theatres. I just had to see it on the 'bada parda.'
I may see TOH as and when it is released on television, provided there is nothing better at hand. And that is saying a lot about the pull each of the films has.
I knew I would love Dangal from the first time I heard and read about it. After all, I am an Aamir Khan fan and usually endorse the kind of cinema he does. With TOH, "usually" has become the operative word.
Stars vs. Star performers
TOH has been an overload of Bollywood's biggest and brightest. You cannot go bigger than Aamir Khan and Amitabh Bachchan. Then there is Katrina Kaif – India's shiniest star and the new star-on-the-bloc, Fatima Sana Sheikh.
But in Dangal, everything and everyone was a star performer — including the chicken shop owner, or the guy at the first public dangal who was left scandalized by the idea of a girl being pitted against boys in a wrestling match. Even the homemade mud akhara (wrestling practising patch) was a star in its own right.
The four new girls – Suhani Bhatnagar, Zaira Wasim, Sanya Malhotra and Fatima Sana Shaikh — playing the Phogat sisters at different ages are actors of such high calibre!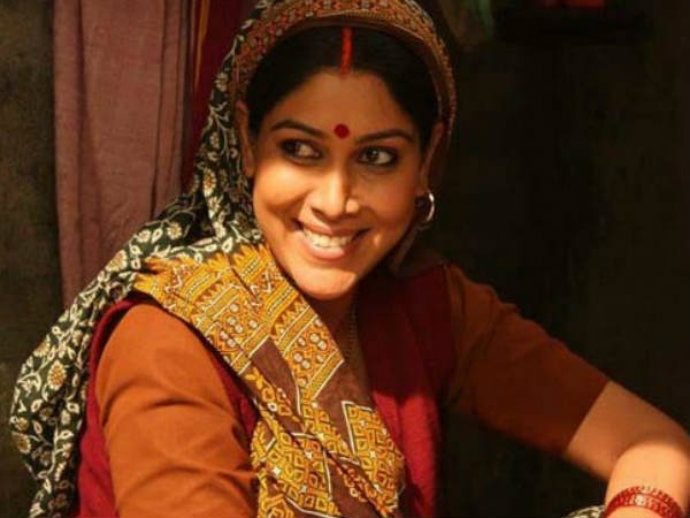 Sakshi is no Katrina. Thank god, for that! (Source: YouTube screen grab)
A big hand for Sakshi Tanwar, who packed more than a handsome punch with her measured, muted and magnificent performance. Sakshi is no Katrina, but in the acting department, she wins over the wood-faced female star just by raising her left eyebrow and uttering a monosyllabic dialogue in a small scene.
Unfortunately, in TOH even Fatima Sana Shaikh was not the Fatima we have seen light up the screen in Dangal, having been reduced to a caricature of a warrior woman with constipated expressions.
TOH can boast of names like Ila Arun, Sharat Saxena and Ronit Roy. In Dangal, the mostly unknown (until now, that is) actors such as Mahesh Balraj, Anurag Arora, Badrul Islam, Girish Kulkarni, Ritwik Sahore and Aparshakti Khurrana have delivered such nuanced, memorable performances that you just did not mind the lack of big names. Where were these gems hiding all this time?
Even Fatima Sana Shaikh was not the Fatima we saw light up the screen in Dangal. (Source: YouTube screen grab)
And what can I say about Aamir? In Dangal he has his heart and mind in the right place. He is shrewd and stunning, astute and astounding, energetic and enigmatic, knows his craft well and has a finger on the collective pulse of the movie-going masses. He appeals to the critics and caters to the masses in a single masterstroke. He keeps you riveted in the absence of a mainstream female lead or item numbers by gyrating sexy sirens to mind-numbing music. He keeps you hooked even as an overweight, ageing, village-hailed ex-wrestler.
In TOH, in spite of being all jazzed-up, he loses his acumen, vision and the Midas touch so miserably, and puts up more of a buffoonery than a noteworthy piece of sincere acting.
And he gets Katrina Kaif only to do what Helen used to do in all those yesteryear films. One unforgiving critic states that the "donkey in the film has more screen time than Kaif." Perhaps, screen presence too!
Dangal shined under the cinematic brilliance of Nitesh Tiwari, who handled the film with dexterity and craftsmanship. Given that he has a National Award in his basket for the very fine Chillar Party, and demands credit for the dialogue, screenplay and story of films like Nil Battey Sannata and Bareilly Ki Barfi, we expected nothing less.
A donkey in the film had more screen time than Kaif, said a critic. (Source: Instagram)
On the other hand, Vijay Krishna Acharya has a very lacklustre filmography. Though he has done a remarkable job with the screenplays of Dhoom and Dhoom 2, he also has non-film like Tashan and Dhoom 3 to his credit.
In Dhoom 3, Acharya made Aamir look like an idiot, and Abhishek and Uday look even more deadpan and torpid, that what they appeared in the previous two instalments. He singlehandedly took away all the good work, style, sizzle and sensuousness that Sanjay Gadhvi had infused into the Dhoom franchise.
I know Dhoom 3 made lots of money for Aditya Chopra, and perhaps that is why he entrusted such a large-scale, magnificent project into the unready hands of Acharya. I guess the vapid, run-of-the-mill and far less rewarding turn TOH has had — that was touted to be the biggest blockbuster — will be a lesson for all involved.
More like Doom 3! (Source: YouTube screen grab)
Dangal made me cry from the first frame itself, and I wept copiously through the movie. It also made me smile and laugh. It inspired me to believe in my own talent. It reprimanded me to put in my best and work bloody hard. And it once again instilled a sense of pride for my country and a belief in the inherent goodness of mankind. It gave me a million reasons to have faith in self, in one's parents, in one's children and in one's country.
I am glad I added my bit into making it one of India's No. 1 films thus far.
TOH fails to stir anything in me. And from what I hear and read in the media, it has had the same non-effect on many others. Most critics are giving it anything from 1 to 2.5 stars and that is abysmally low for an Aamir Khan film.
Rotten Tomatoes has called it a "sinking ship." Elsewhere it is being called the "Bugs of Hindostan." Another critic calls it a "Solid Case of Great Boast, Little Roast." Yet another labels it a "joyless slog."
In good hands, all that money, planning and strategy, and a dream star cast would have created magic on celluloid. Look at what S.S. Rajamouli did with the budget he was given for Baahubali!
Baahubali: When planning, casting and budgeting goes right. (Source: YouTube screen grab)
Advertisers and marketers have learned the tough lesson, often after biting the dust and losing a neat pile of money, that promotion is ineffective in the absence of a good product. Promotion can help enhance and accentuate. It cannot create what is not there.
Thugs of Hindostan is a classic example. This fantastic, Disney-like saga from the past, twisted and turned with immense room creative liberty, falls short of its grand plan, even with all the months of promotion that went into it.
Aamir Khan did not feel the need to promote Dangal on India's the-then best-known comedy show, even as the show had become a huge promotional vehicle for most upcoming films and actors.
Aamir didn't get into any gimmickry to promote Dangal, other than giving straight-cut interviews and news bytes.
Yet, Dangal's flight is there for everyone to marvel at. I went to see it on a weekday, in its sixth week, catching the last show of the day in a theatre located in a mall that is home to only two shops and no real F&B outlets (therefore less incentive for customers), but, it still went houseful.
In its second week itself, TOH is recording a decline in the footfalls and a dip in its earnings. The PR machinery that was put into operation long before the movie was set to release — with juicy bits being leaked into the media for mass consumption — clearly didn't manage to give this ship much thrust.
Does it not, yet again, prove that product is king and will fare well if it brings good value to the end user? That no amount of marketing and propaganda will translate to business if the product itself has less or no merit?
So, Bollywood, hard-selling and hamming will get you through only a short distance. Content, creativity and fine acting alone will make you set newer milestones, whatever be the genre of the film.
Spend your bucks wisely the next time around.