Feroz Khan: From a shy young hero to self-styled cowboy star
Everyone remembers him as the Clint Eastwood of Indian cinema, but there was so much more to him.
He would have turned 79 on September 25. However, actor, director and producer Feroz Khan – one of his kind in the Hindi film industry – passed away at the age of seventy in 2009. His journey as an actor was unique, as was his evolution into a cowboy figure on the silver screen – which was something that no other actor underwent.
Everyone remembers him as the Clint Eastwood of Indian cinema – classy, suave, sporting a swagger, flamboyant, inspired totally by the West. His passion for horses and dressing up stylishly was only a part of his desire to live life kingsize. And this he always did.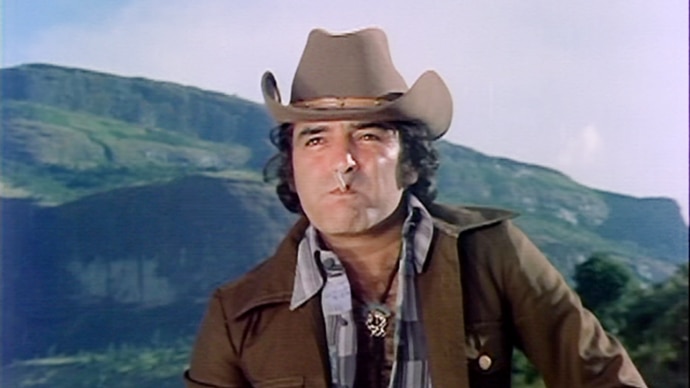 For many, Feroz Khan was the Clint Eastwood of Indian cinema. (Photo: Facebook)
However, today when I am remembering this actor on his birth anniversary, it is not so much as the cowboy star. Instead, the melodious songs picturised on Feroz Khan in the 1960s and 1970s come to mind. In his role as the wayward younger brother of Raj Kumar in the black and white film Oonche Log (1965), Feroz Khan comes across as a young, vulnerable and charming youth in Mohammed Rafi numbers "Haye re tere chanchal nainwa , kuchh baat karein ruk jaayein" and "Jaag Dil-e-Deewana, Rut jaagi wasl-e-yaar ki".
Watching Khan in these songs makes us realise that he would also have surely done well as a soft, romantic hero had he not charted out a different path for himself in his later years in the film industry. Other songs that strengthen this view include."Jo tumko ho pasand, wahi baat kahenge, tum din ko agar raat kaho, raat kahenge" from the film Safar (1970) in which Khan played a complex role of the heroine Sharmila Tagore's husband.
The expressions of Khan in this beautiful song (picturised in Mahabaleshwar) are worth admiring. In his first directorial venture Apradh (1972), there was this song "Tum milay, pyaar se, mujhe jeena gawaara hua" that boosted his romantic image. Dharmatma (1975) again had two lovely numbers –"Kya khoob lagti ho, badi sundar dikhti ho" and "Tere chehre mein woh jaadu hai, bin dor khhincha jaata hun".
However, in Apradh and Dharmatma, the extremely stylish avatar of Khan was quite well-established. It was no longer that of Safar's Shekhar. Dharmatma, also directed by Khan, was based on The Godfather and was the first Indian film to be shot in the exotic locations of Afghanistan.
His passion for horses and dressing up stylishly was only a part of his desire to live life kingsize. (Photo: Facebook)
In his role as a romantic hero in the film Upasana (1971) along with Mumtaz and his younger brother Sanjay, Feroz Khan gave a very sensitive and fine performance. However, after the film Apradh in 1972, one hardly saw Feroz Khan in roles other than those of a westernised persona – in such roles he found his comfort zone.
Feroz Khan, I believe, has not been given his due as an actor. The flamboyance was all over the screen when he appeared and attention was distracted from his acting towards his swagger, his dramatic dialogue delivery and sometimes outlandish costumes.
In one of his early films Arzoo (1965) we saw Feroz as the young Ramesh – the best friend and neighbor of Rajendra Kumar (Dr Gopal) who is the hero of the film. It was the role of a bubbly and mischievous young man who later matures and becomes deeply emotional when the story takes a serious turn.
It was a chunky role in which one could see Feroz Khan at his romantic and emotional best. He had some beautiful scenes in Kashmir opposite the exceptionally pretty heroine, Sadhana. It is always a great joy to watch Khan in Arzoo!
In many of his films including Qurbaani, Feroz was called Rajesh. It seems that he was very fond of this name and considered it a lucky charm. As a director, he brought a new look to Hindi cinema. Exotic locations, mystery thrillers, westernised plots and characters along with slick direction in these films gave him a strong fan following as a director.
Feroz Khan was a real charmer and the king of style. (Photo: Facebook)
The music of his films was also quite different from that of other films. Qurbaani, Jaanbaaz and Janasheen are such films. The song "Laila O Laila" from Qurbani made great waves and is still being remixed and recreated. The exquisite song "Ham tumhein chaahte hain aise, marne wala koi zindagi chahta ho jaise" filmed in Qurbani on Vinod Khanna and Zeenat Aman is a timeless classic too.
Whether we remember Feroz Khan (originally named Zulfikar Ali Shah Khan), the "Bangalore Boy", as a soft, shy romantic hero or as the true blue cowboy star he later became, the memories are all precious and sweet.
A royal personality ( a Pathan father and an Iranian mother ensured the remarkable looks), a real charmer, the king of style, an ignored lover in many roles – all these images create a collage of a fascinating man and artist. The fresh, colorful picture of Ramesh in Arzoo has stayed with me for years.
And will always.
Also read: Amitabh Bachchan's silence on Tanushree Dutta's allegations has let all women down
The views and opinions expressed in this article are those of the authors and do not necessarily reflect the official policy or position of DailyO.in or the India Today Group. The writers are solely responsible for any claims arising out of the contents of this article.