We were walking out of the general manager's office after the morning excom meeting, when Bruno our executive chef nudged me. He asked me to look towards my right. Standing in the centre of a small group, just outside the Club Bar in The Oberoi Lobby, was an Hollywood A-lister we have all adored.
I strode towards her, introduced myself and shook her hand. But, I was somewhat taken aback on seeing her at such close quarters. The heavily freckled and pigmented face, the skin folds around the neck, the wrinkled hands, huge bags under the eyes and the shabby-chic cotton, maxi dress in white worn over Roman sandals presented a terribly far removed visage of the luscious Hollywood heartthrob.
The only thing closely identifiable of the celluloid Goddess were the deep, blue eyes and the glinting twinkle in them that has always come across even through the screen. And yes, those lovely, silken blonde tresses have stayed emblematic of Goldie Hawn. I requested her for a photo-op for our in-house newsletter. She graciously granted me time and we went our separate ways for the day, leaving me with the overriding thought about how people would react to the way she looked now.
When I finally got to meet Shashi Kapoor, he was a far cry from his tinsel town days.
If you have time to kill and you wish to really squander away precious moments, then get onto YouTube and you will chance upon these extremely unkind compilations of stars – then and now, both sides of the Atlantic. There are scores and scores of such badly produced and bad-blood videos uploaded on the site.
It seems that these clips address the inherent lack of values in us and it gives us cheap thrills to see that our cine gods and goddesses not only have feet of clay but also move around as plasticky, make-up slathered versions of their ghoulish selves. We seem to get some sort of devilish satisfaction or perhaps a sense of relief in noting that these untouchables too age and wither.
The only exceptions that come to mind are Waheeda Rehman from Bollywood and Audrey Hepburn from Hollywood, who we may not have judged harshly. We have let them be, allowing them to look as per their age. They have escaped our harsh judging, maybe because both women have been naturally beautiful, have aged gracefully and have looked gorgeous even in their twilight years.
God forbid what torment we may have unleashed upon lesser beauties. As a matter of fact, we do, on a regular basis. We look at Rekha without make up and go tsk-tsking at the unappetising sight. We comment on Oprah's rugged face and pounds she easily piles up. And this, after the Queen of the media had the courage to put up her sans make-up videos several times for all to see. How many of us would have the guts to do that even in the tiny corners of the world we inhabit, I wonder.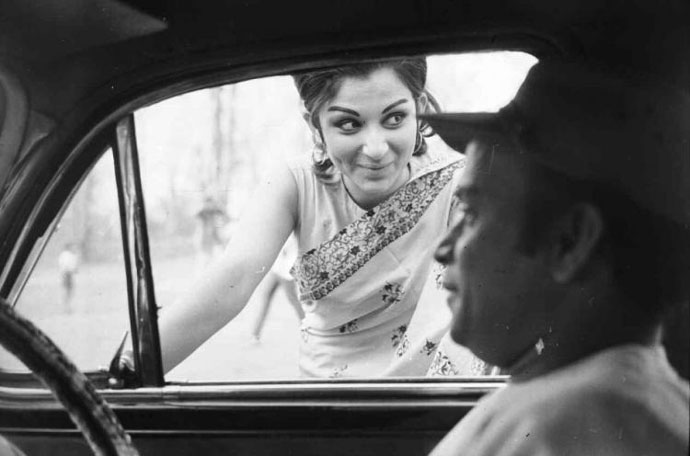 Sharmila ji came across as a genuinely nice and down-to-earth person. Photo: Tumblr
Again, at The Oberoi, I had stepped into Silhouette, the Salon and come face to face with the Begum of Bollywood. She had her head covered and was about to put on her giant-sized glares. I noticed the dullness around her eyes that were tired with age, her sallow skin and mouth that opened to show a set of dentures that seemed to have been neglected for long.
A couple of years later, I met the same actress at The Imperial, again at a close range. She was dressed to the nines. Her face had been perfectly made up and she looked as ravishing as she does in one of those delightful Ahujasons Shawls advertisements she appears in.
Gita ji, our common friend, introduced me to Sharmila Tagore and the actress was so warm and benignly friendly that nothing else seemed important. Sharmila ji came across as a genuinely nice and down-to-earth person and my lasting impression of her has been this rather than the one from the Salon.
It set me thinking about the amount of pressure we put on our celebrities to look a certain way, even when age and arthritis, gray hairs and gout, general degradation and partial dementia begin to kick in.
Aging of our body, waning of our vanity-enriched beauty, a complete change in our looks – in the shape of our body, in the functioning of our limbs and internal organs – it is all a natural phenomenon, something that we just cannot turn the clock back on, regardless of scientific advancement and our increasingly misguided trust in cosmetic/plastic surgery.
When I finally got to meet Shashi Kapoor, he was a far cry from his tinsel town days, his Greek God looks and his characteristic gait which was always an enthusiastic sprint, full of life and spright. He was in a wheelchair, his hands trembled somewhat, the eyes were sunken and fatigued, the famous Kapoor peaches and cream complexion was no longer as smooth and sparkling. Yet, he was centered on me and not fleeting in his approach when we spoke.
His greeting of "How are you, Darling?" was as sexy, the handshake was firm, the half-hug was warm and the overall persona was as gentlemanly and swashbuckling as we would expect Shashi Kapoor to be.And that is what really mattered.
We have swooned and sighed over the magnificence of Clint Eastwood, the original Hollywood Blondie. We have had our heartbeats momentarily stop at the sight of the raw goodness of the Italian Stallion Stallone or the finely chiselled Van Damme. We have elevated Madonna to the level of a Goddess just on the basis of her sheer beauty, often not accounting for her tremendous talent – but all this when they were drinking from the fountain of youth. Come advancement of age, and we have turned turncoats and reversed our adulation.
Let's get over the looks.
We have replaced our love with mockery, our awe with aspersion, our devotion with disdain. We have deplored Eastwood's age lines; we have been callous and cruel about Stallone or Cruise or Pitt's plasticity and their personal struggles to survive the onslaught of age. We have laughed at Madonna and the way her physical appearance has hit a downward spiral, making fun of everything about her, from sagging boobs to the widening gaps between her teeth. We have spent useless hours investigating whether Bachchan wears a wig instead of getting inspired by his discipline and energy and the fact that he is far busier than we could be at that remarkable age of 75.
And this is so unfair. Isn't it C'est la vie? Are we all not going to age? Is it not how it is meant to be? Isn't this harsh fact part of the natural cycle of life?
Do we, ourselves, look, feel, think, walk, work, play, lead our lives like we did five years back or ten or twenty? Has advancing age not strapped us with the unwanted gifts of thinned hair, more weight stored in all the wrong places, weak limbs, weaker constitution, mental debility, feeble reflexes?
The craziness we have woven around celebrities and our undue expectation of them; have cost these mortal beings dearly. We must understand that they are also like us. That they too are of the same body, mind and flesh. That, even they get hurt – physically, psychologically, emotionally. It really does not take much to be empathetic and compassionate, to view others under the same sensitive and considerate light that we like ourselves to be viewed under; even when they are rich and famous.
Otherwise, we will have splashes of blood on our hands too. Then, we could go on and spin any amount of conspiracy theories but we will make tombs out of bathtubs and see Sridevis and Smithas, Houstons and Monroes, Williams and Winehouses meet an untimely end!