Tales of legendary wrestlers from Lahore in the British Raj
[Book extract] The earth of the akhara continued to be considered sacred by the wrestlers, and every Thursday they light up the akhara with earthen lamps.
Ian Talbot and Tahir Kamran
Indian wrestling has two primary antecedents, the indigenous form of the art and the one brought from Iran during Mughal rule.
The indigenous form dates back to at least the eleven century AD. Modern wrestling is a blend of these two traditions. Wrestlers' expensive milk product diets and hours of conditioning and practice (zor) required the financial support of wealthy patrons.
From Mughal times, nobles patronised wrestlers to increase their prestige. They also donated the land on which the wrestling pit and its adjacent buildings were laid out, if it was not attached to a Sufi shrine or Hindu temple. Elite patronage continued into the colonial era with wealthy merchants joining the traditional aristocratic supporters of wrestling. Indian princes were amongst the keenest patrons, especially the Gaikwar of Baroda, and the Rajas of Kolhapur, Indor, Patiala, Jodhpur and Datia.
The Lahore Gazetteer of 1893–94 reveals that some of the wrestlers were receiving handsome pensions, amounting to Rs 200 a month or even more, from their wealthy patrons.
The two most renowned wrestlers of that period were Buta Pehalwan, who was designated the champion of India, and Karim Baksh, who had defeated a celebrated English wrestler Tom Cannon in 1892 in Calcutta.
The Great Gama
Rich patrons competed for the best wrestlers in some ways reminiscent of the modern football transfer market. Ghulam Muhammad (1878–1960), the great Kashmiri world champion wrestler who fought under the name of Gama, was patronised initially by the ruler of Datia (Madhya Pradesh) and later by the Maharajah of Patiala.
At a less elevated social level, the Indian Army also patronised wrestling, which throughout the British period was thriving as a popular sport; indeed, early post-independence India was ranked as one of the top ten countries in the field of wrestling.
The princes organised contests for their favourites. The young Gama, for example, was invited to fight in Baroda in 1899. Two years later he was rewarded with a jewelled necklace, by the Maharajah of Gwalior when he defeated Lala Agrawala.
He was similarly rewarded by the Maharajah of Patiala after defeating the Polish champion Stanislaus Zbyszko in a contest in Patiala in 1928 which drew an audience of over 40,000 spectators.
By this stage Gama was internationally famous. During a visit by the Prince of Wales to India, he gave Gama a silver mace as a reward for being world champion. Wrestling (kushti) had developed from its roots in rural festivals and fairs into a commercial sport with promoters and match makers. The contests were followed by avid spectators who would cast wagers on the outcomes.
Kushti in modern-day Lahore. Photo: Reuters
Gama was undefeated throughout his career. His legacy in contemporary Lahore is the akhara on the western bank of the River Ravi that bears his name. He allied strength, based on a prodigious exercise regime and copious amounts of food, with technical expertise.
He would engage in practice bouts with seventy to eighty wrestlers. A young healthy wrestler can do more than 1,000 dands and 1,500 bethaks a day. Gama when he reached twenty-five years of age used to do four times this amount of exercises. By this stage, he had already defeated all the prominent Indian wrestlers and fought out a draw with the Indian champion.
He would also perform the exercise known as chakki from 2pm until 7pm each day to strengthen his upper body. All told, he was reported to have exercised for fifteen hours daily.
Even when he was in middle age, in the late 1920s, his body was described as being carved like a block of granite.
Wrestlers traditionally follow specific diets. At the age of fifty, Gama's daily diet involved eating the meat extract of either three chickens or five pounds of mutton into which a quarter pound of ghi was mixed.
Wrestlers would typically practise moves and counter moves for up to two hours under the vigilant eye of an ustad/khalifa. Gama once divulged to his biographer that the total number of wrestling moves was 365 to his reckoning. However, he recalled that he only used twenty-eight in actual wrestling matches.
Improved travel along with print culture commercialised wrestling. By the late nineteenth century, tournaments were being organised across North India. Gama took part in bouts as far afield as Allahabad, Calcutta and Lucknow.
These were held in parks and other open spaces where a rectangular pit could be ceremonially laid out. Events were publicised in hand-bills and pamphlets, some of which survive in the galleries set up in buildings beside the wrestling pits.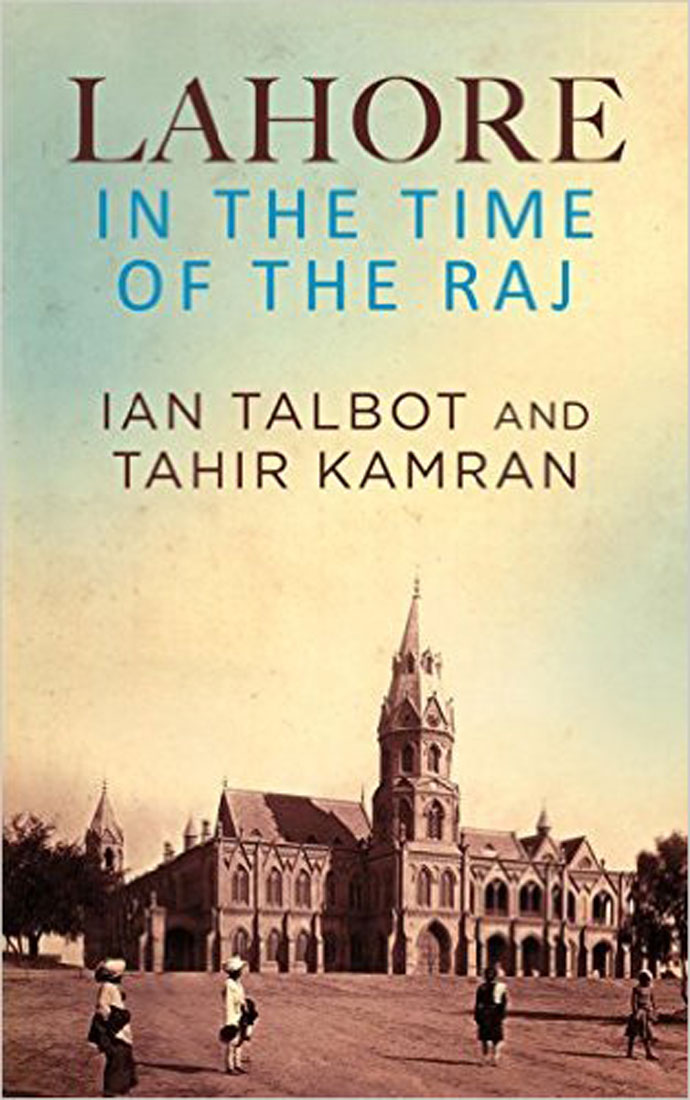 Lahore in the time of the Raj; Penguin Random House India; Rs 419
Wrestling competitions took Lahore's most famous wrestlers across the world. In 1910 a troupe of Indian wrestlers, including Gama, went to London to fight European champions as part of a commercial undertaking supported by John Bull magazine.
Gama became known as Rustam-i-Zamana (World Champion) after he defeated Stanislaus Zbyszko in England in 1910. In the same visit to London, his younger brother, Imam Baksh (1883–1977), defeated the English champion Tom Cannon. Alongside these professional developments, wrestling continued as a rural Punjabi popular pastime.
There were also matches at melas associated with Sufi saints. The bouts at the Sakhi Sarwar fairs were designed to entertain the large crowds which flocked there. The matches were stage managed and included comic interludes.
Lahore, was the wrestling capital of the Punjab, although such cities as Multan and Amritsar also had important traditions. Indeed, there were intercity competitions, especially between Amritsar and its neighbour. Colonial Lahore boasted numerous akharas, each with its own patrons, khalifas, ustads and star wrestlers who drew followings of fans (dafdar).
The akhara was controlled by the khalifa, a retired champion wrestler. The key relationship was that between the junior wrestlers and master wrestler (ustad) which had elements of the wider gurudisciple and Pir-Murid relationship.
The ustad being an ideal figure and teacher of the akhara had the authority to prescribe each wrestler's individual regimen by delineating the number and sequence of exercises, the types and number of moves to be practiced, the content and quantity of diet, and the time and amount of rest.
Junior wrestlers were called pathas, and they could only take part in practice bouts after receiving the ustad's permission.
There were three main groups of wrestlers in colonial Lahore, each of which had akharas attached to them. These were the Kalu Waley, a group founded by Ustad Kalu, the Noorey Waley, founded by Ustad Noora, and Kot Waley, founded by Ilahi Baksh.
Kalu Waley's important akharas were Akhara Khalifa Buta, Akhara Takiya Tajey Shah, Akhara Chanan Kasai, Akhara Ustad Sheesh Gar and Akhara Nazd Pul Misri Shah. Akhara Khalifa Buta, also known as Khai wala Akhara, was the most prominent.
It produced wrestlers such as Buta Pehalwan and Goonga Pehalwan who won All-India awards (Rustam-i-Hind) although none could match Gama's reputation.
Buta Pehalwan, like Gama, never lost a contest. The State of Baroda awarded him a Jagir and quite a generous stipend. Similarly, Feroze ud Din alias Goonga (so called because he was deaf and dumb) Pehalwan was a personification of physical power and wrestling ability. He was the only wrestler who defeated the legendary Imam Baksh in the 1930s.
The contest between them was witnessed by thousands of spectators who gathered in Lahore from all corners of India. Besides these two nationally famed wrestlers, Mithi Reni wala and Chuha Pehalwan (brother of Buta) were the pride of Akhara Khalifa Buta.
Akhara Channan Kasai was situated in the Landa Bazaar quite close to the railway station. This location made it of easy access for out of town spectators who came to watch the daily wrestling exercise. It also assisted its recruitment of talent from outside the city.
The akhara was thus well placed to nurture a formidable group of wrestlers. These included such star names as Chanan Pehalwan Kasai, Natha Changar and Jamal Changar. Chanan Pehalwan Kasai was such a remarkable wrestler that he was in fact given the title of Sitara-i-Hind (Star of India).
Kot Waley had several akharas functioning under its aegis, Akhara Ghodu Shah being the most prominent. It was situated between Lahori Gate and Mori Gate at the Circular Road in close proximity to Takiya Godhu Shah. It boasted such prominent wrestlers as Hakim Bhai Gulab Singh and Hakim Madho Singh as its khalifas.
In the first half of the twentieth century, world-renowned wrestlers like Gama, his younger brother Imam Baksh and former prominent pathas like Jeeja Gheeye wala, Phajee Tondi, Bala Jhevar, Ghulam Moheyudin, Jani Pehalwan, Khuda Bakhsh Hathi wala and Ashiq Pehalwan were produced and nurtured by the akhara.
Vayam Shala was another akhara associated with Kot Waley group. It was located outside Taxali Gate on Mohni Road. The akhara was specifically meant for Hindu wrestlers. After Partition, it was taken over by Gama. Imam Bakhsh and later such leading wrestlers from his family as the former Indian champion Bholu Pehalwan (1922–1985), used to practice there.
Akhara Bhorey Shah was another important akhara of Kot Waley. It was situated slightly outside Taxali Gate near Takiya Bhorey Shah. Yousaf Pehalwan Panan wala, Lal Pehalwan Painja and Ashiq Pehalwan Booti wala exercised in the akhara.
They were joined by Karim Bakhsh Popli wala, who was the court wrestler of the Maharaja of Jodhpur — yet further evidence that wrestling by the late colonial era had developed transregional linkages. Akhara Takiya Sher Ali, Akhara Peer Maki and Akhara Takiya Peer az Ghaib were other akharas associated with the Kot Waley group.
The Noorey Waley group also had a number of akharas associated with it. Akhara Bander Shah was one of them, located just outside Mochi Gate. Chiragh Pehalwan was its most famous wrestler. Akhara Khalifa Hussaina was on Dil Muhammad Road and it produced Khalifa Miraj Din Pehalwan and Khalifa Ghulam Mohiuddin Pehalwan.
The latter, almost as formidable as the great Gama and Imam Bakhsh, was another wrestler who practised and performed in Lahore while being patronised by a princely state.
He was associated with Kohlapur State for 52 years. Akhara Nathey Shah, Akhara Khotian Wala, Akhara Chowk Baraf Khana and Akhara Balmikian were other important akharas linked with the Noorey Waley group.
While the wrestlers from these akharas fought all over India and in some cases beyond, their home city was an important venue for tournaments because of its large crowds. Imam Baksh was involved in an epic contest, early in January 1919, with Ghulam Mohiuddin in Serai Data Ganj Baksh, Bhati Darwaza, which is still remembered today.
It was not just the skill and excitement of the contests, but the ceremonial trappings surrounding them that drew large crowds to the tournaments in Lahore.
This was orchestrated by the judge of the show and its promoter (thekedar). The wrestlers would be taken out in ornate and attractive horse-drawn carts. They wore turbans made of beautiful cloth and colourful metallic threads.
They were dressed in fine white muslin tunics, wearing golden amulets and lockets around their necks, and would wear dhotis and lungis with broad borders as well as shoes with ornate patterns that glimmered in the light. Scarves were draped across their shoulders to complete their glamorous appearance. A musical group such as Master Sohni's Band would lead the procession and the carts would slowly follow behind.
The wrestling match also had its unique traditions which helped generate popular interest. Drumming, as in modern day football matches, built up the crowd's expectations.
Wrestlers made a theatrical grand entrance into the arena, slapping their arms and chests and shouting out slogans.
The crowd was by this time at fever pitch and roared its approval. The wrestlers then breathed a silent prayer, touched the sand three times and lifted some of it to their brow, after which they leaped up and down in the open, slapping their thighs with a resounding smack.
This was followed by further preliminaries, after a formal handshake, including press-ups and a squat or two to relax their legs. Finally the opponents smacked their biceps before facing each other in a crouching position.
At first, the wrestlers from Kalu Waley and Kot Waley did not wrestle between themselves. They instead used to fight against the wrestlers from the Noorey Waley group. It was not to the 1930s that a thekedar arranged for a match between Imam Bakhsh (from the Kot Waley group) and Goonga Pehalwan (Kalu Waley group) at Minto Park, Lahore.
Before this event, the dangal between Kikar Singh and Kalu Pehalwan, fought on March 14, 1904, and the contest between Gama and Rahim Sultaniwala in 1910 were the most important in public memory.
Before this event, the dangal between Kikar Singh and Kalu Pehalwan, fought on March 14, 1904, and the contest between Gama and Rahim Sultaniwala in 1910 were the most important in public memory inhabitants. One should not, however, equate commercialisation with an inevitable decline in the values and ethics of the practice of wrestling.
The earth of the akhara continued to be considered sacred by the wrestlers, and every Thursday they light up the akhara with earthen lamps. Even at the end of the colonial era, wrestlers would visit the Data shrine to seek blessings before an official competition.
(Excerpted with permission from Penguin Random House India.)
The views and opinions expressed in this article are those of the authors and do not necessarily reflect the official policy or position of DailyO.in or the India Today Group. The writers are solely responsible for any claims arising out of the contents of this article.