It's heartbreaking that we don't honour Bollywood music enough
The film industry has made India proud.
I recently received an invitation to attend a talk on Hindi film music at the Ellisbridge Gymkhana in Ahmedabad. I must confess that I am a big fan of Bollywood music, particularly 1960s and 1970s, considered as the golden age of Hindi film music. This is a period when I was a student and had enough time to watch films and listen to film songs. Now, I am almost retired and have ample time to attend such talks. So I decided that I must go and attend it.
To my surprise, I came to know that the speaker, KL Pandey, a musicologist and retired bureaucrat, has compiled an encyclopedia of Hindi film songs from 1931-2017. He came up with some amazing statistics. There are roughly 78,000 Hindi film songs in the above-mentioned period and roughly 8,000 films. About 15,000 films songs (from 1931 onwards) have been lost. Pandey has classified the remaining 63,000 songs as per the classical ragas used in the songs. I was amazed at his passion and energy. He has a team of five people helping him and they have come out with an encyclopedia.
I must confess that I have no knowledge of classical music. But here are the numbers for those who love classical music. The maximum number of songs have been sung in Pahadi raag followed by Bhairavi raag. Female singers outnumber their male counterparts having sung more than 60 per cent of the songs. Maximum songs have been sung by Asha Bhonsle - 8,000 - as compared with Lata Mangeshkar, who has sung 5,900 songs.
This was news to me since I thought Lataji has sung more songs than anybody else. The numbers for male singers were along the expected lines - Mohammed Rafi Saheb leading with 4,500 songs followed by Kishore Kumar at 2,600 songs.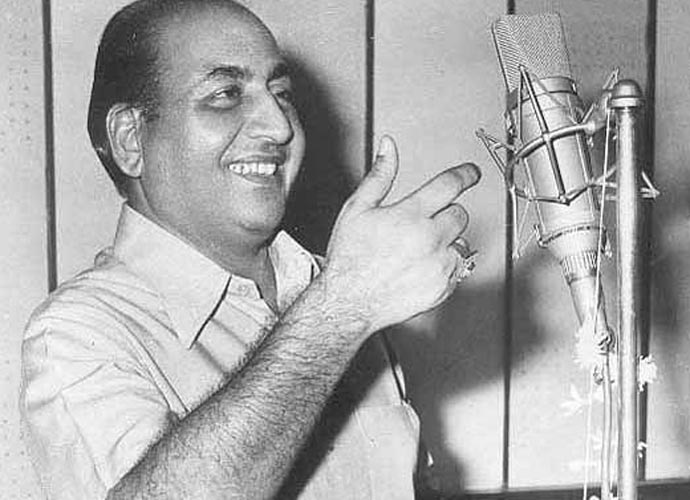 Pandeyji also told us interesting stories about KL Saigal and GM Durrani. He showed us a song clip sung by Durrani in 1952. A member of the audience told me that Durrani later fell on hard days and it was Rafi who went to his house late at night once and gave Rs 50,000 to help him out. Such stories show the human side of these great artists.
It was a wonderful evening and very enriching. I went home thinking about the artists and their creativity besides their struggles to establish themselves. I regularly listen to Annu Kapoor's musical programmes along with anecdotes about the artists. One such story is of music director Ravi, who came to Bombay with no money and slept on the railway platforms for six months till he established himself. Another story is that of the great Naushad, who slept on the footpath opposite Shanmukhananda Hall for a year until he found acceptance in film industry. What risks these people took and what confidence they must have had in their talent.
But it's sad that we often forget their struggles and the risks which they took. Moreover, this is back-breaking work that involves working at odd hours. Playback singers of the yore, when computer technology was not there, had to give multiple retakes or recordings. It was understandably very tiring.
While Bollywood celebrities are always in the news, we focus only on the glamour part of the industry without realising the hard work and their limited career span. We should not grudge the amount of money they earn and their lifestyle.
If only we are a bit understanding it's not difficult to see the hard work and passion that goes behind the glitzy world. We will be less critical if we realise this fact.
Bollywood has contributed more towards spreading Hindi in India than any government programme. It managed to reach every nook and cranny of India, including the south and Northeast. Their contribution in unifying the country cannot be brushed aside. It is also one of the most secular places in India. A person of any religion, region or colour can find work here if he/she has the talent coupled with the creative urge and capacity to put in hard work.
We must applaud the film industry and its artists. They have made India proud.
Also read: How Bollywood's 'club songs' once swayed India and faded away
The views and opinions expressed in this article are those of the authors and do not necessarily reflect the official policy or position of DailyO.in or the India Today Group. The writers are solely responsible for any claims arising out of the contents of this article.