There's a clear demarcation when it comes to films, especially in the Indian context. You get a general sense of what "type" of film someone's talking about the moment say "Bollywood" and "Indian cinema". And then there are some films which carve a middle path and create their own audience.
Hrishikesh Mukherjee was one of the torchbearers of this path: India's "middle class" cinema, if we can call it that. That he got popular mainstream Bollywood stars to act in his films and extracted characters out of them gave him an advantage over his peers.
Hrishikesh Mukerjee created a believable, wholesome world within his films. Picture courtesy: IMDb
Who can forget stories that had protagonists like the lively cancer patient Anand (in Rajesh Khanna's Anand), professor Parimal Tripathi (played by Dharmendra in Chupke Chupke), the insecure singer Subir Kumar in Abhimaan (with Amitabh Bachchan in the lead) or the naïve movie-buff Guddi (Jaya Bhaduri in Guddi).
These films are still remembered for striking a fine balance with their perceptive storylines, supported by powerful performances, and box-office potential.
A still from Hrishikesh Mukherjee's Chupke Chupke.
"Middle class cinema" was still in its nascent stage when Hrishida, as he was fondly called, came to the forefront. He believed that it was a phenomenon with boundless possibilities of "dis-indentification" and "re-identification", two themes which went on to become an evident feature in his films. The National Award-winning director's work was a reflection of the developing, educated urban society and his classics were spun around heart-warming stories that promised a cine-goer different shades of entertainment with emotion, drama, comedy, satire, sarcasm, et al. He created a believable, wholesome world within his films.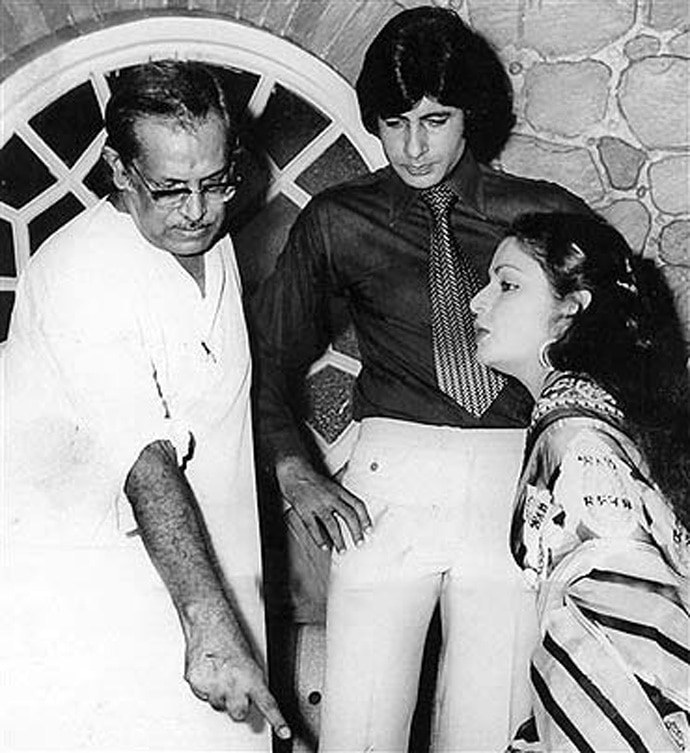 Hrishikesh Mukherjee with Amitabh Bachchan and Rakhee on the sets of Bemisal. Picture courtesy: Kavita Chhibber/Internet
As veteran actor Amitabh Bachchan remembers working with the legend: "They (characters) were all exceptionally well-etched... He told us to stand there, walk here, speak like this - that's how he used to direct all of us. So our input was nothing at all. All that you see in his films is entirely him."
Five decades on, Hrishida's 1959 Raj Kapoor-Nutan starrer, Anari stands relevant even today, holding a mirror to contemporary India:
1. Unemployment and poverty: What's ironic about the protagonist is his name, Raj (played by Raj Kapoor). A painter by profession, Raj is the epitome of scruples and unsurprisingly, poor. A perfect anari: inarticulate and way too honest for the big, bad world. He has been fired from a string of jobs. With his sarcasm, Raj vents out his bitterness. Only when he learns from Aarti (played by the inimitable Nutan) that the potential buyer of a painting is well-off, does he accept her offer, "Phir toh main lambe paise maangoonga, ameeron se koi humdardi nahi."
Films like Anari will continue to remind us that it is not okay to look away.
2. Superstition: Aarti's uncle Ramnath is a business magnate who runs a pharmaceutical company. It's difficult to miss the air of condescension that he carries. But even he bows down to superstition to stay relevant in his business, relying on the predictions of a greedy astrologer, who promises him better fortune: "Bhagwaan toh door nahi hain... Unhone flu Singapore se aadmiyon ke saath Madras bhej diya... Bambai aane mein kya der lagti hai?"
3. Pretence: The song "1956" is almost a scary epiphany for the audience. The lines, "Zulfein jhataao, naakhoon badhaao, chehre pe nakli chehra chadhaao" sharply hit out at the need to bury originality and blindly embrace change that is in vogue.
4. Power of wealth: In his first meeting with Raj, Ramnath forgets his wallet. Raj goes to the hotel where Ramnath is staying. Here the guard sizes him up and refuses to let him in. When Raj persists, the guard doesn't budge. A nervous Raj fumbles with Ramnath's wallet and a thick wad of notes is seen bulging out. This is one of my favourite scenes from the film. Here, Hrishida silently asserts his clarity of thought with his directorial skills and sound editing. The camera captures the look on the guard's face in a mid-shot, when he takes a step back on sees the money, smiles and salutes Raj, ushering him inside the hotel. 
5. Unaccountability and the blame game: Doesn't this echo of today's India? Hrishida gave us a glimpse into this five decades back. When Raj's landlady Mrs D'sa dies after consuming medicines manufactured by Ramnath's company, the businessman uses all his might to get Raj framed for her "murder".
Our films are often passed off as an easy gateway into escapism, because for some, "there is enough going on already" and they would rather watch the leave-your-brain-at-home movies. In such a milieu, films like Anari will continue to remind us that it is not okay to look away - they are evergreen and appeal to audiences beyond space, time and age.