Till a few days ago, not many people knew about Polan Sarkar. There's nothing wrong in that either. He was a Bangladeshi book-lover. Thanks to the Internet, we have come to know about him — the father of all Internet book challenges — after he passed away on March 1.
In an age of stress and anxiety, many people are talking about self-care, the need to go off the Internet as well as social media — and to pick up a book instead. Indeed, reading has come across as the most soothing — and liberating — form of self-care.
Bangladesh's Polan Sarkar realised this long ago.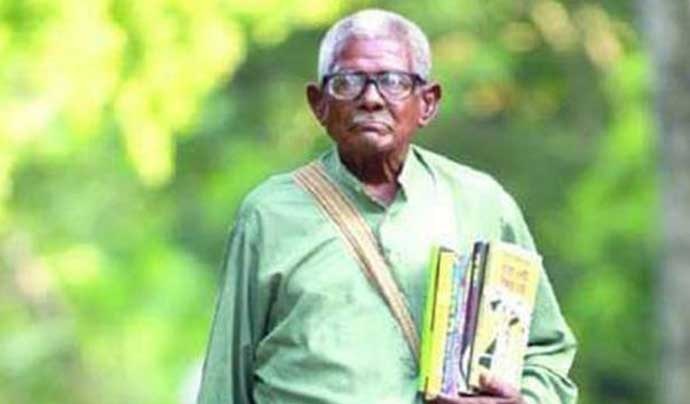 The walking library has stopped walking. But the journey never stops. (Photo: Twitter)
From his childhood, Polan Sarkar, born in 1921, was a voracious reader. Though he had to drop out of formal education, he never left reading. As he was fighting the vagaries of life, he found himself immersed in love for books and regional literature.  
Meanwhile, he got a job as committee chowkidar, for which he had to walk across villages to collect taxes. Often, people's profession consumes their passion. But in his case, it never became so. He started distributing free books to children in all the villages he used to visit, so that they never stop reading — even if they have to stop formal education for economic constraints.
In 1965, he set up Harun-ar-Rashid High School with the little fortune he inherited from his grandfather. The annual prizes were books. Words spread. Local people started borrowing from him. There was only one condition — the books would have to be returned.
In 1992, he was diagnosed with diabetes and was recommended walking. What better opportunity to walk from door to door with a heap of books? He did just that. He visited village families and asked them to pick any book and return it within a few weeks. Then, he used to visit them, like a doctor, to enquire how they are liking the books, etc. 
At a time when we are sharing the covers of the books we are apparently reading — on Twitter, Facebook, Instagram — to influence others, Polan Sarkar did the same silently; far from any limelight. And his service was to those who actually needed it; those who could not afford to buy books.
It was not for nothing that he was popularly called 'Alor ferry-wala' — the torchbearer. One who brought others light. Between the covers of a book.