Siberian Cranes may be reluctant to migrate to Delhi in larger numbers during the winter, but culture vultures returned in hordes to pay homage to the mecca of art aficionados that Delhi welcomes at the close of January every year.
The India Art Fair opened to its usual enthusiasm but was greeted by a rather sombre tone; a much wilted, watered-down rendition from last year.
From the flowing wine that usually paints the mood to the march of Jimmy Choos and Louboutins, even the air kissing seemed more utilitarian somehow.
The scale of the galleries and the number participating is definitely Spartan compared to last time. More focused, less sprawling but still engaging, a treat for art lovers nonetheless with tons to gawp squiffily at.
Here is our list of five must-sees:
The first, and possibly most engaging, stop should be at the DAG Modern's (formerly Delhi Art Gallery) booth G1. Two of India's greatest masters (of a total nine whose works cannot be exported), enjoy a rare outing at the Art Fair this year with Amrita Sher-Gil and Raja Ravi Varma. 
M F Hussain; masterpiece collection; DAG Modern.
Apart from the masterpieces, DAG Modern traces the dynamic journey of Indian modernism across ten sections with a particularly engaging one on nudes; worth every controversial nugget.
From the sensuous nudes, dive in to the Buddha's spiritualism with KS Radhakrishnan's sculptural Installation "Shunya Buddha" (Booth E 12).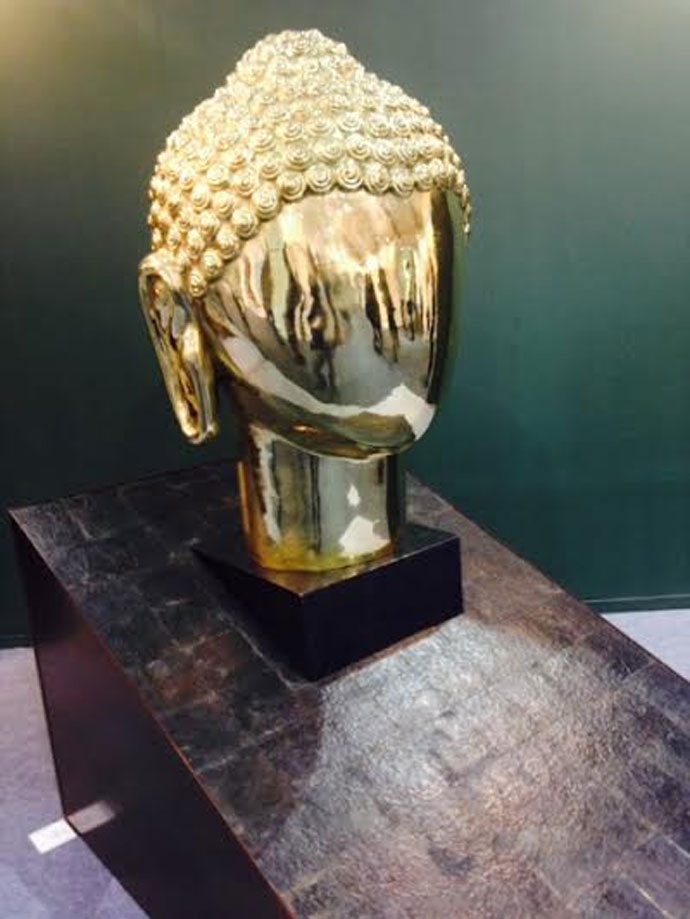 K S Radhakrishnan; Shunya Buddha.
Faceless Buddha heads in shiny bronze and the other in a dark patina finish. Surreal, evocative, brooding; the facelessness reflects as much as it resists reflection. It is riveting to say the least.
Open the doors to sheer artistry with Syaiful Rachman's painting (acrylic on canvas) of Jim Morrison; the entire face and hair has been crafted with images of people. He has done another one of John Lennon, but frankly Morrison seems to leap out of the canvas much more.
Red Sea Gallery; Syaiful Rachman,Singapore, Jim Morrison.
For photography freaks, Tasveer has curated a resplendent collection of black and white photographs of the erstwhile princesses. Ethereal beauty that sparkles more than the exquisite jewellery; each photograph, whether it rewrites the narrative of beauty with Indira Devi of Cooch Behar or retells Maharani Gayatri Devi's legendary charm, is a work of art and definitely worth a dekko.
Tasveer, The Maharani Collection.
Another deserving look-in: Swaraj Art Archive (Booth A9). The company school – Indo British paintings in colonial India hosts the most detailed collection of water colours, mica paintings, terracotta figurines, postcards, digital media and photographs from the colonial period.
Company School; Swaraj Art Archive, Noida.
The details bespeak an intimacy typical of this genre of stylisation. Intense historical mapping in the most aesthetic representation will absorb even those who abhor the tedium of history.