How Kamasutra inspired my book to be more about love than sex
Depravity and sensuality are two sides of the coin of sex.
When I first encountered the Kamasutra, at an old dusty book store in Lucknow I was 18 years old. As I ogled at the Rajasthani miniature paintings, depicting the sexual positions, I thought woahhh ancient India was on serious drugs! Later on in life, I read many translations, and realised that the Rajasthani miniatures, though majestic, were just the cock tease one needed to sell this great piece of art.
Kamasutra, is sadly the most misunderstood book ever written! Sexual positions is just a part of the book the rest is all about how to be a real gentleman. (Something that men in the current times, could most certainly, learn from!).
What struck me as I researched, for Kama, was the fact that while Kamasutra seems like a handbook for the debonair man about town, a manual for the hedonist... It is actually in totality about how to be a sophisticated sensual man, who can woo and please your partner in more than just sexual ways.
Despite the fact, that Kamasutra is perhaps, one of the most googled words today, nothing is known about the man who compiled seven ancient erotic books into this one great one, the content of which has survived 2,000 years! Vatsayana seems to me, to be India's very first feminist! In an environment post the Vedic period, where the learned men refused to acknowledge, that women could orgasm, that what could not be ejaculated, did not exist — here was a man with his pulse on the female desire.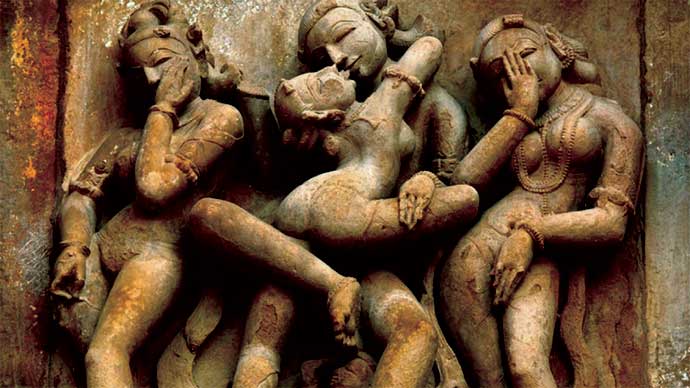 Kamasutra, is sadly the most misunderstood book ever written!
Almost nothing is known about Vatsayana historically, who he was, when he lived and what motivated him to create the Kamasutra. This left the creative canvas open to imagine his life and times. As I researched, I became besotted and consumed by this man and I imagined him to be very fascinating. Kama is purely fiction, each and every character is a figment of imagination.
I wanted to base it in what I imagine was the dark period of the Gupta dynasty, in 273 AD, about a good 100 years before the golden period of the Guptas came. When they were massively written about and had a rock star cult status. The Age of the Golden Guptas. I imagine that before they reached this position, they must have had small fiefdoms that they grew by grabbing land and expanding their kingdom in those dark debauched times. Between them and the Mauryas who existed some 400 years before, not much has been chronicled. That was all one needed a blank spot in history, to draw on!
Kama, too, is about how to keep enchanted this fickle bird called love.
To research the Kamasutra I poured through many translations, falling madly in love with the translator of the very first English version, Sir Richard Burton. Very swashbuckling but unfortunately also very dead. Alas! I was finding all my objects of desire and fascination rather deceased. (Tinder me please, if you are either from ancient India or demised not less then 200 years ago!). All roads of research were leading to Varanasi. Here is where he lived and wrote his Kamasutra as a celibate. Wait. A man who wrote so keenly about women and sex, wasn't gettin any? Not possible. My imagination was by now soaring. I would most certainly place him in a courtesan's palace in his childhood, I decided.
On researching ancient Varanasi, visiting various ancient India heritage sites, talking to professors, pouring over many interesting ancient books and plays, a picture of the background was beginning to form. As I began writing, Kama became more about love than sex. The characters are mostly driven by love. A eunuch who finds her purpose of life by becoming a mother.
Nayantara, the serpent loving courtesan, finds herself driven to murder for the sake of love. Ratnavati, the moon princess, betrays the only man she loves because she wants him to live and write his great book. Then, there is Vatsayana whose entire destiny is determined by the women he loves and leaves. The women are extremely powerful and yet they are all flawed. Like all of us really. But they are true to themselves. Just as are the men. Some sensitive some barbaric.
Depravity and sensuality are two sides of the coin of sex. In this book the bestial king Narsimhagupt, his kinky brother Manngupt and the cunning right hand man Ajyut, push all boundaries of power. I have tried my hand at writing what I call lyrical violence, very inspired by the ancient Chinese warriors!
Ultimately, like the Kamasutra, Kama too is about how to keep enchanted, this fickle bird called love.
Also read: 3 hard solutions for Modi to curb oil price hike
The views and opinions expressed in this article are those of the authors and do not necessarily reflect the official policy or position of DailyO.in or the India Today Group. The writers are solely responsible for any claims arising out of the contents of this article.