What's common among a tea seller, sex worker, thief and more?
Six books that are a source of inspiration for one and all.
This is the age of "quickies". Authors are earning acclaim and mega bucks by churning out novels, biographies and even hagiographies by the year out of a comfortable life. But Indian publishers are also opening their doors to subalterns to tell their stories as there is a growing demand in the market for profiles of ordinary, unknown people, forgotten by society which is better off around them.
A thief, a homeless boy, a tea seller, a sex worker, an untouchable and many others who live on the fringes of society have pushed the frontiers to craft a narrative vastly different from highbrow literature. What is more is that their autobiographies or life writings have become bestsellers in regional publishing and online selling platforms are eager to sell their books. The sheer popularity of such books is also drawing the interest of big names in English publishing thereby creating a wider readership for authors who are still struggling to be accepted in the vast world of publishing.
1. Laxman Rao (age 63): A chaiwala
A farmer's son from a village in Maharashtra, Laxman wanted to be a writer and came to Delhi in 1975. (Photo credit: Arusha Sharma)
A footpath tea seller feels that literature is not the domain of only a few people and hawks his books on a bicycle outside Delhi's schools and colleges. Laxman has 24 essays and novels in Hindi to his credit - all published by himself as no publisher wanted to take on the work of a roadside tea seller and writer. "Publishers would derisively dismiss my work or simply ask me to get out of their offices or ask money to publish the books. Their rejection only hardened my resolve to carve out an identity as a writer," said Laxman as he hurried to cover his books neatly stacked on the pavement with a tarpaulin from the drizzle. Laxman's open air tea stall is under a pilhan (white fig)tree outside Hindi Bhavan in central Delhi and is registered with the municipality.
A farmer's son from a village in Maharashtra, Laxman wanted to be a writer and came to Delhi in 1975 as it is the hub of Hindi language publishing in India. He washed dishes at a restaurant, worked at a construction site and finally managed a paan, beedi and cigarette shop few yards away from his current tea stall, for rupees 35 a month. After few years he decided to sell tea as it was more profitable. Laxman has a bachelor's degree in Hindi and has appeared for MA exam through a distance learning programme. He reads five newspapers a day, cycles 12km every day to come to his tea stall and writes at night.
Laxman's books are powerful narratives of turbulent lives, the intensity of struggle to rise above the crushing poverty and the ordinary pleasures of life. His best-selling novel Ramdas published in 1992, now in its third edition, has sold over 4,000 copies. His books are now available on online selling platforms like Amazon and Flipkart and on mobile commerce platform, Paytm." His books are doing very well on our site. We are happy that authors like Rao have found a platform such as ours to sell his books", said a spokesperson of Amazon India.
The late Prime Minister, Indira Gandhi invited Laxman to meet her and appreciated his books .He also presented some of his books to the former President Pratibha Patil and received many awards and recognitions from several literary forums and is often invited by colleges and universities across the country as a guest lecturer. Yet he has not been invited to participate in any literature festivals in India. On being asked what he thought of Narendra Modi's pet theme "chai pe charcha", Laxman dismissed it as mere gimmickry to be in the news everyday and even doubted whether the prime minister had ever been a tea seller, as he had claimed. The doughty chaiwala author lives in a rented two-room flat and his discussions over tea with his customers don't make headlines. But when he writes, it comes straight from the heart and from a life lived with courage and dignity.
2. Prof Sheoraj Singh 'Bechain' (age 55): Carcass remover, shoeshine boy, daily wage labourer, well digger and professor of Hindi
Prof Sheoraj Singh 'Bechain' has been nominated for the prestigious Subramanyam Bharti Award to be presented by the president in September.
Removing carcass of animals and helping an ailing father to process their skin, the five-year-old Sheoraj Singh's life was a constant nightmare. With the burden of being an "untouchable", Sheoraj had to grow up fast after his father died and his mother remarried. His abusive stepfather refused to take charge of him and his two siblings and was left behind to fend for himself, his siblings and a blind grandfather.
When children of his age played, went to school and listened to fairy tales, Sheoraj had dropped out of school after class three and was working in the fields of other people in the village of Nandroli, Uttar Pradesh. To make ends meet, he doubled up as a servant in households where his one-time schoolmates would gape at him as he washed the utensils and swept the floor.
His aunt from Delhi offered some reprieve and perhaps another chance at education but could not stretch her modest budget to feed an extra mouth. So to pay for his upkeep, Sheoraj would buy lemons and eggs from the wholesale market in Azadpur and hawk them from one door to another. He washed utensils at a dhaba, worked as a shoeshine boy on trains and platforms, newspaper boy and also as a wage labourer wherever he got an opportunity to earn extra money. Once he was home, he would read up his cousins' text books and make up for not going to a regular school.
In a few years he had to come back to his village as his sister was married off at the age of 11 and his blind and sick grandfather needed help. With little hope of resuming regular studies, Sheoraj went back to doing what he knew best was work as a labourer in the village school and dig wells. He somehow managed to pay his school fees and take exams till he passed out of high school. One of his teachers heard him sing and was so impressed with his voice and the lyrics of the song that he invited him to sing at the village's Holi celebration. His performance so impressed another senior teacher of the school that he offered to take Sheoraj in on condition that he works in his fields. In return Sheoraj was offered an opportunity to complete higher secondary school if he could impress dignitaries from the district administration with his poetry and singing skills at the Independence Day function in the school.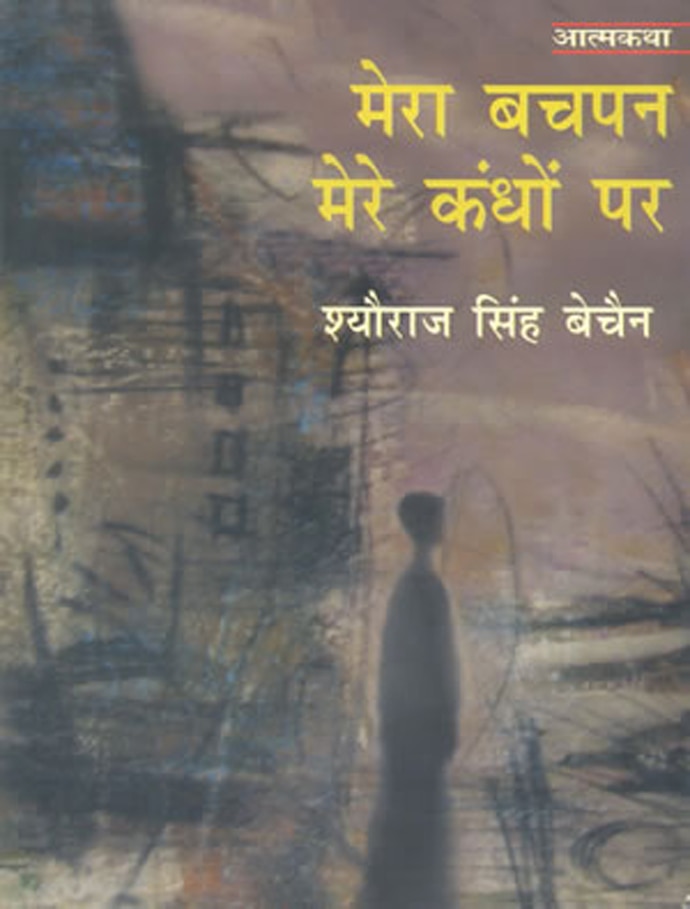 Sheoraj never looked back after that performance. He finished his master's in Hindi, topped it with a PhD in the language and also got a BEd degree. He is now a professor of Hindi with Delhi University and has carved out a name for himself as a well-known Dalit writer. He decided to write about the unbelievable and often dehumanising experiences of being a poor, untouchable Indian in an autobiographical work titled Mera Bachpan Mere Kandhon Par published by Vani Prakshan and already translated in Punjabi is available in bookstores. The much awaited English translation by Oxford University Press is scheduled to be released later this year. "English translations of Dalit writings in regional languages has familiarised people to the sufferings of the community and has drawn the attention of many to work for their upliftment. The voices of the trodden and the exploited though jarring must be heard and figure prominently in the discourse on development", said Sheoraj who uses the pen name "Bechain". Prof Bechain has been nominated for the prestigious Subramanyam Bharti Award to be presented by the president in September.
3. Basu Rai (age 26): Runaway, street child, ragpicker and pickpocket:
His meeting with child rights activist Kailash Satyarthi in Manila was so inspirational that Basu Rai decided to seek his fortune in India where his father was born.
At four and half years, an introvert boy wandered onto a busy street of Kathmandu and sat down gingerly next to a beggar. Hunger was gnawing at his stomach and he had run away from his beautiful home. Abandoned by a Bangladeshi mother when he was only six months old and raised by an Indian father, the child was unsure of his place in his house, shied away from people but loved his father. Some years later, when his father died, the house was overrun with people arranging furniture, cleaning up, taking down pictures from the wall as the child watched things unfold from the spy hole of his room. When the house was quiet in the afternoon, the child quietly slipped out and ran as fast as his legs could carry him far away from the house he grew up in, from the memory of his father, his last link to his identity and joined hundreds of nameless street children in Kathmandu.
"Basu Rai" had a nice ring to itand sounded important so the child gave himself this name as he did not remember his real name anymore. Basu begged, picked rags, snatched chains, became an expert pickpocket and was good at knifing those who resisted being robbed, washed dishes at roadside eateries, worked as a servant in people's homes and in a slaughterhouse and learnt to survive on the streets. He picked up best moves of street fighting and moved in large gangs in Thamel and Kathmandu. He was rescued by an activist of Child Workers in Nepal and taken to its shelter home.
Basu found love, warmth and acceptance here and learnt to read and write. He led the team from Nepal in the Global March Against Child Labour in 1998 and travelled to different countries of the world. His meeting with child rights activist Kailash Satyarthi in Manila was so inspirational that Basu decided to seek his fortune in India where his father was born.
After selling his bike in Kathmandu, Basu bought a ticket to Gorakhpur and then to Delhi. With no prior information, Basu's arrival in Delhi took Kailash and his team members by surprise. "I never knew my mother and only had my father for few years which was too little to understand my relationship with him. I craved love, attention and acceptance. Kailashji nurtured me like his own son and took me in to live with him. But I was so used to living and battling on my own that I wanted to move to his children's home Mukti Ashram and live with others like me", said Basu with a confident smile. The child has grown into a man, battle scarred but yet a wide-eyed wanderer.
Basu taught karate to children of schools nearby the ashram and funded his own education in a private school and passed tenth standard. He was keen to start earning and tried his luck with a call centre and to his surprise was selected. He then started an institute to teach spoken English, gave up the call centre job and moved out of the ashram to live on rent in Burari, north Delhi. Once again on his own, Basu found himself more confident of taking on what life had to offer. He put down his experiences as a violent street child in Kathmandu, the failure of the state to nurture those who are vulnerable and his quest for his identity in an autobiographical work called From the streets of Kathmandu. From being a street child to authoring a book, Basu has slowly but surely carved out a place for himself. Alert to the dehumanising experiences that street children go through, he has started his own NGO called the Child Friendly Movement which works to educate children of slums to the dangers of living on the street through street plays, door-to-door campaign against child labour and the need to put children back in schools and also addresses issues of child trafficking and abuse. "I need volunteers to join my movement. I have no money and sponsorships are difficult to come by. I have fought my way out of the streets to get here. I am here to fight for those who cannot. The state is responsible for failing to curb the problem of homeless children who are strewn on the streets like garbage. I want to tell all those who will listen that there is hope for people who have been given up by the society and by the state," said Basu intently. The street-child-turned-author-and-activist is now dreaming of becoming an actor.
For nearly a decade the biggest success stories in Malayalam publishing have come from a genre called "life writing". These are autobiographies of unknown Indians - of a sex worker, a thief, a body double in adult movies - narrated as first-person accounts and transcribed by professional writers.
4. Maniyan Pillai (age 65): A reformed thief
Hunger drove Maniyan Pillai to commit petty thefts.
Maniyan Pillai is somewhat of a hero in Kollam, Kerala, one of the oldest port towns on the Arabian Sea. His life as a thief was turned into a best-selling book with over 10,000 copies sold when Maniyani decided to write his autobiography with the help of journalist GR Indugopan. Thaskaran: Maniyan Pillayude Athmakatha or Thief: The autobiography of Maniyan Pillai traces the thrilling life story of a smart, interstate thief who almost became an MLA in Karnataka before he got arrested in the '80s. Poverty and hunger drove Maniyan to commit petty thefts and soon he was operating in a big gang to pull off major heists. From 1969 to 1994, Maniyan served a total of 18 years in jail on several counts of thefts.
The much-read book published by DC Books was made into a movie by writer-director Babu Janardhanan, a big name in the Malayalam film industry. Maniyan has a job as a junior artist in several TV serials running on Asia Net, lives in Trivandrum with his daughter, an auto driver and likes the quiet life of dignity. "From being a thief to being accepted as a TV artist and a writer, my life never ceases to surprise me. It has been an incredible journey", said Maniyan.
5. Surayya Banu (age 40): A body double
Surayya Banu ended up earning her livelihood as a body double for Shakeela, the undisputed queen of soft porn in Malayalam movies.
Surayya Banu, wanted to be a star and came to Kodambakkam, Chennai to try her luck in Tamil movies. Shedding her inhibitions and reservations of an orthodox Muslim family, Surayya ended up earning her livelihood as a body double for Shakeela, the undisputed queen of soft porn in Malayalam movies. Dupe is Surayya's riveting narrative of struggle in a fickle industry as a woman body double for a porn star. Published by DC Books, Surayya's autobiography in Malayalam is a big money churner. It has already done three editions and is used as a reference book for students of Malayalam literature in Calicut University and MG University, Kottayam. Surraya now lives in Chennai and works as a school teacher. Her husband has no idea about her work as a body double and her agreement with the publisher says that her book should not be translated into Tamil.
6. Mrinalkanti Dutta (age 51): Son of a sex worker
Mrinalkanti Dutta's book Pakkhi Hijrer Biye.
A sex worker's son drops out of college unable to bear the taunts of friends but does not give up education. He lives in the sex workers' colony in the famous temple neighbourhood of Kalighat in Kolkata and dreams of making something of his life. Having grown up with transgenders, he was a witnesses to their deep emotional turbulence, their less-known world and prejudices they encountered and put his experiences into a moving, gripping novel in Bengali called Pakhi Hijrer Biye (Wedding of Pakhi - a eunuch). Published by Patrabharati, one of Kolkata's well-known name in the publishing business, Mrinalkanti Dutta's novel has done good sales in a fiercely competitive market of Bengali literature. For a college dropout, Mrinal doggedly pursued his goal to make a name for himself. He wrote several journals and books on the life of sex workers and eunuchs and even got a job as a junior technical assistant for Durbar Mahila Samanwaya Committee (DMSC) an exclusive forum of female, male and transgender sex workers in West Bengal. Mrinal had finalised a manuscript for another novel and was in touch with his publisher but committed suicide in early June this year. A promising writer, social activist and a humanist, Mrinal's turbulent marriage and his live-in relationship with a sex worker finally drove him over the edge.
Grinding poverty has not crushed the spirit of these authors nor did the collective meanness of society diminish their zeal to be heard. Their stories have touched a chord with readers. As the battle to bring dignity to their lives and keep poverty at bay rages on, it remains to be seen whether more subalterns will come forward to tell their stories to the world.
The views and opinions expressed in this article are those of the authors and do not necessarily reflect the official policy or position of DailyO.in or the India Today Group. The writers are solely responsible for any claims arising out of the contents of this article.