Think Madhubala and images of her as Anarkali from the epic Mughal-e-Azam (K Asif, 1960) engulf the mind much like the iconic Sheesh Mahal scene from the film. The name "Meena Kumari" immediately brings to mind the sights and sounds of Pakeezah (Kamal Amrohi, 1972).
By the time both Madhubala and Meena Kumari died in their late 30s, they had come to be considered legends of their field. Yet, in spite of careers that ranged nearly two decades and a body of work that consists of some of the best-known films of their times, both ended up being forever associated with just the last big release before their deaths.
While their roles in Mughal-e-Azam and Pakeezah are perhaps the perfect examples of the commingling of all things that contribute to making the performance of a lifetime, it would still be unfair to limit both Madhubala and Meena Kumari to just one particular film. Perhaps the circumstances in which the two films released, and more importantly what followed in the course of their off-screen reality, somewhere rubbed on the reel image of the two ladies and led to a creation of an everlasting parable.
In Madhubala's case, Mughal-e-Azam took years to get made and bore witness to the entire trajectory of her real life romance with her most famous co-star, Dilip Kumar. Legend has it that the thespian and the diva were in love and wanted to marry but it was her father who opposed the match and saw to it that the two rarely got a moment on their own. In fact, Madhubala's father even forced her to walk out of BR Chopra's Naya Daur (1957) as it was to be shot on real locations fearing that the outdoor schedule would see the romance blossom further.
Mughal-e-Azam took years to get made and bore witness to the entire trajectory of Madhubala's real life romance with her most famous co-star, Dilip Kumar.
Madhubala's reel image of the ethereal beauty doomed to suffer in love got entwined with her real-life scenario. The drama fanned the legend of her being "Anarkali", the kaneez condemned to live without the one true love of her life, and perhaps this is the reason that a film that released a decade before her death still continues to be attached to her memory.
Films like Amar (Mehboob Khan, 1954), Mr & Mrs '55 (Guru Dutt, 1955), Howrah Bridge (Shakti Samanta, 1958), Chalti Ka Naam Gaadi (Satyen Bose, 1958) and one of her most memorable performances, Kala Pani (Raj Khosla, 1958), remained eclipsed by that one film, which defines her memory — Mughal-e-Azam.
In Meena Kumari's case, her death a few weeks after the release of Pakeezah contributed immensely to transforming the film into a pilgrimage of sorts. One of the most sought-after actors in the 1950s, she was undoubtedly far more accomplished than her more illustrious contemporary, Nargis.
Much like Madhubala, Meena Kumari's reel and real life collided when her onscreen image of the silent suffering kind got juxtaposed with her off-screen turbulent marriage to Kamal Amrohi. She had begun drinking to escape the burdens of reality — a failing marriage, an extended family that lived off her, etc — and developed serious health issues.
In the mid-1960s she got herself treated in London and returned to work. Even though her doctor had warned her that she would die if she ever drank again, Meena Kumari could not stop herself. She completed Pakeezah and the film was declared a flop when it released in February 1972, but when she passed away a month later in March, the film attracted thousands of fans and ended up becoming one of her bigger hits.
The two genres where Madhubala outrivalled most of her contemporaries, Meena Kumari included, were comedy and romance. When it comes to the former, a few scenes from Kala Pani, Chalti Ka Naam Gaadi and Half-Ticket (Kalidas, 1962) are more than enough to settle the argument and even though Mughale-Azam is essentially a love story packaged as a historical drama, Kala Pani offered her far greater moments when it came to romance.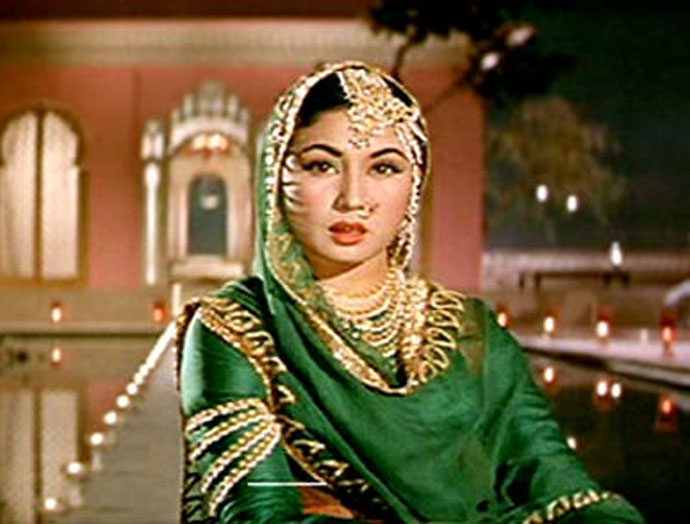 Meena Kumari in Pakeezah.
The fact that Anarkali mirrored her real life and with the film's aura growing with the passage of time and also that her fragile health did not permit her to be as prolific in the 1960s as she was a decade earlier — all added in making her immortal as Anarkali.
Similarly, Meena Kumari may have had far more hits than both Madhubala and Nargis but what truly made her peerless was the fact that she was unequivocally the first choice for almost every filmmaker when it came to thinking of a leading lady. To put things in perspective, Meena Kumari is today considered the female equivalent of Dilip Kumar when it came to the craft of acting but in reality, it might have been other way around.
In 1963, Meena Kumari was the only one nominated for a Filmfare in the Best Actress in a Leading Role category for three of her performances in three different films — and this is an achievement yet to be matched by any other actor. The immense afterlife of Pakeezah also undermines that unlike any of her peers Meena Kumari had managed to make a transition into being the strong supporting character. In the year before Pakeezah, Meena Kumari had featured in Mere Apne (Gulzar, 1971) and Dushman (Dulal Guha, 1971) and both the films were huge box office hits.
Perhaps the constant association with just one film is a tad unfair to any actor but it could have been worse. Thankfully, both Mughal-e-Azam and Pakeezah are two of the greatest cinematic experiences that not only make revisiting the film but also reliving Madhubala and Meena Kumari a pure joy.
(Courtesy of Mail Today.)