Directors and writers of the films that sizzled on the silver screen this year speak on the movie that made an impact on them.
Director and co-writer: Andhadhun
A problem with working on your own film is that you miss out on many good ones — as was the case with me this year.
I hope to catch up on Vada Chennai, Naal, Ani... Dr. Kashinath Ghanekar, and Ee. Ma. Yau.
Raazi — based on Harinder Sikka's bestselling novel 'Calling Sehmat'. (Still from Raazi)
Of the ones I saw this year, I loved Raazi. Sometimes you look at a film and you wish you had thought of that story — Raazi was one such film. It reminded me of Alfred Hitchcock's Notorious which is one of my all-time favourites. I thoroughly enjoyed Mahanati — I love films about the film industry. I was happy that Stree did so well that it broke all notions of star appeal. Sanju I liked as a Raju Hirani film. Sanjay Dutt as a subject is open to so many interpretations. Raju has given it his own spin which is enjoyable in its own way.
2) Raj Nidimoru and Krishna DK
Krishna: 2018 was a special year for content in Indian cinema. Movies with compelling and experimental content like Stree, Andhadhun and Tumbbad — which would have been considered too 'niche' earlier — have been lapped up at the box office.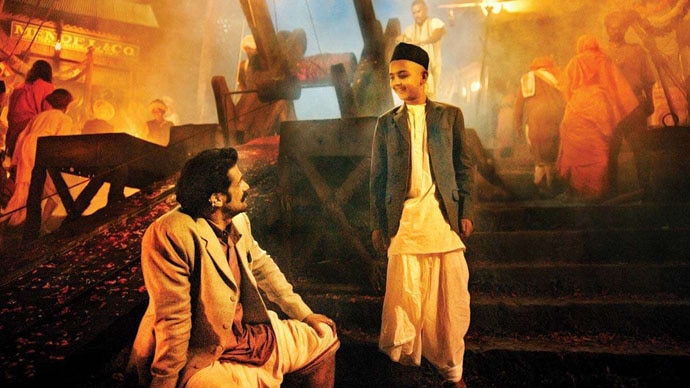 Tumbbad — the labour of love for everyone involved in making the film. (Still from Tumbbad)
Tumbbad is my pick for 2018 — it is admirable that such a film has been even made. It is a very brave attempt — stunning visual experiences and an atmospheric thriller like none before. A big kudos to the makers and everyone who backed the film — knowing all the risks.
Raj: I would like to focus on regional cinema.
96 — A simple story minus heavy commercial trappings. (Still from 96)
I really liked the Tamil film 96. It is a very simple story, minus the commercial trappings. It is an exploration of the relationship between two adults who used to be deeply in love in high school and are now meeting after two decades. It is a story most people can identify with.
Writer: Manmarziyaan and Kedarnath
With Andhadhun, Sriram Raghavan has reinvented thrillers. When I was watching the movie, I wanted to clap and whistle at the sequences in a theatre after a long time.
Andhadhun — the thriller genre reinvented and how! (Still from Andhadhun)
The sheer audacity of the telling made me fall in love with it! Raghavan has always been one of my favourite directors and along with his writers Pooja, Yogesh, Arijit and Hemant, he spun a tale that kept us gleefully hooked.
Director and writer: Love Per Sq Foot
This year, everything that was good found an audience. Everything that was formulaic failed.
I really hope this trend continues.
Stree — the film that reversed the depiction of women in horror movies. (Poster of Stree)
I thoroughly enjoyed Stree and Andhadhun. They spun their respective genres completely.
Raj & DK are so good at exploiting a horror comedy — as we saw in Go Goa Gone (GGG) — and it was wonderful to see Amar Kaushik (who was a chief AD on GGG) — handle Stree with such responsibility. The social commentary was done in a non-preachy way. As far as Andhadhun is concerned, I have always enjoyed Sriram Sir's work — but this was icing on the cake. It really showed how far the thriller genre can be taken. The casting was brilliant. 
As for other formats — the digital space has seen quite a revolution.
I love biopics and I am a big fan of period pieces that allow you glimpses of history, and movies set in the world of cinema are my Kryptonite. Mahanati — the biopic of the legendary actress Savithri — ticked all my boxes. It is a delicately recreated saga of a brilliant actress, and her incredible story is told with tremendous affection. While I know of the yesteryear actress, I haven't watched any of her movies and I am not familiar with her story.
Mahanati, the biopic based on the life of legendary actress Savithri, was one of the most eagerly awaited movies of 2018. (Still from Mahanati)
I watched the movie as a complete outsider and found myself enthralled by the life of this complex, strong, beautiful woman and the people that inhabited it. Keerthy Suresh and Dulquer Salman — who I am personally fond of — were sparklingly honest and yet contemporary in their rendition of the much-loved characters they had to portray. The narrative structure chosen is not new, but the present-day story of a journalist digging into the life of a forgotten superstar spoke some home-truths that were unexpected and captured interest. I could not get Savithri out of my head for a few days after I watched the film, and that's a clear triumph for writer-director Nag Ashwin.
Director and co-writer: Karwaan
I am checking out a lot of year-end lists, and it has been a good year for Indian cinema. I am yet to watch Manto and Stree.
I am also a bit embarrassed to say that the only Indian web-series I watched was the one I was also in — Yeh Meri Family. While I thoroughly enjoyed it, I'm not going to include it in this list.
T For Taj Mahal — the journey of a man wanting to bring literacy to his village. (Poster of T For Taj Mahal)
I am going with T for Taj Mahal directed by Kireet Khurana. It has been making waves on the festival circuit, and I hope it gets a wider audience soon. It deals with the important issue of rural education but in the loveliest and feel-good way possible.