Manikarnika is a feisty woman — she can take three sword-wielding men down with ease, smiling gracefully, but she cannot take misogyny down. 
Ladkiyon ki tarha talwar chala rahe ho, says Tatiya Tope (Atul Kulkarni) as he teaches young boys how to swing a sword, but the very next second, he is heaping praises on young Manikarnika — Kangana Ranaut. He knows she's the best.  
A group of British soldiers mock Manikarnika, now the queen of Jhansi — she is married to Gangadhar Rao (Jisshu Sengupta) — by reminding her that everyone in that kingdom is 'namard' and they should wear 'chudiya'. 
The final blow, according to me, would be the moment where Gangadhar Rao justifies actually wearing a bangle saying that he does consider himself to be a 'namard'. 
Yes, the film could have reached greater heights. (Photo: Twitter)
Clearly, the whole agenda behind making a film on the Rani of Jhansi, a historical figure we have all read about and loved, was a feminist one — but I wonder if mocking the 'kalai', the 'chudiya' of a woman, over and over again, was a good way to start. 
Feminist, the film is. And this point they drive home several times, hard, until you can hear it no more. The makers have literally made sure they write no other strong characters into the script, lest it takes away from Kangy. She is good, but she is boring, perhaps because we see too much of her through the 148-minute film.  
Ankita Lokhande's debut gave her an ill-timed item number — where she starts jiving seductively after her beloved calf is returned to her, some dialogues that were actually cues for Kangana to deliver the punch line, and a 'shaheed' title when she dies fighting for her Rani. Sushant Singh Rajput would not be jealous.
Jisshu Sengupta's brief role — that too with Sanjay Suri's voice — was heartbreaking. (Photo: Twitter)
The most disappointing of the lot was Jisshu, the Bengali actor I'm personally a fan of. His voice was dubbed by Sanjay Suri, which made me wonder why Sanjay wasn't cast in the first place. He looks like a debauched zamindar, which, I'm guessing, was not the look the makers were going for and was restricted both by the script and the ridiculous dialogues he was asked to mouth. 
Both Barfi and Piku were better deals for him.  
Several other good actors made the cut — Danny Denzongpa, Kulbhushan Kharbanda, Suresh Oberoi, Mohammed Zeeshan Ayyub — but they were not given a role to play.  
The side actors — a Daario-esque daku to Kangana's Daenerys Targaryen, Ankita's childish husband — were so expendable that my eyes hurt.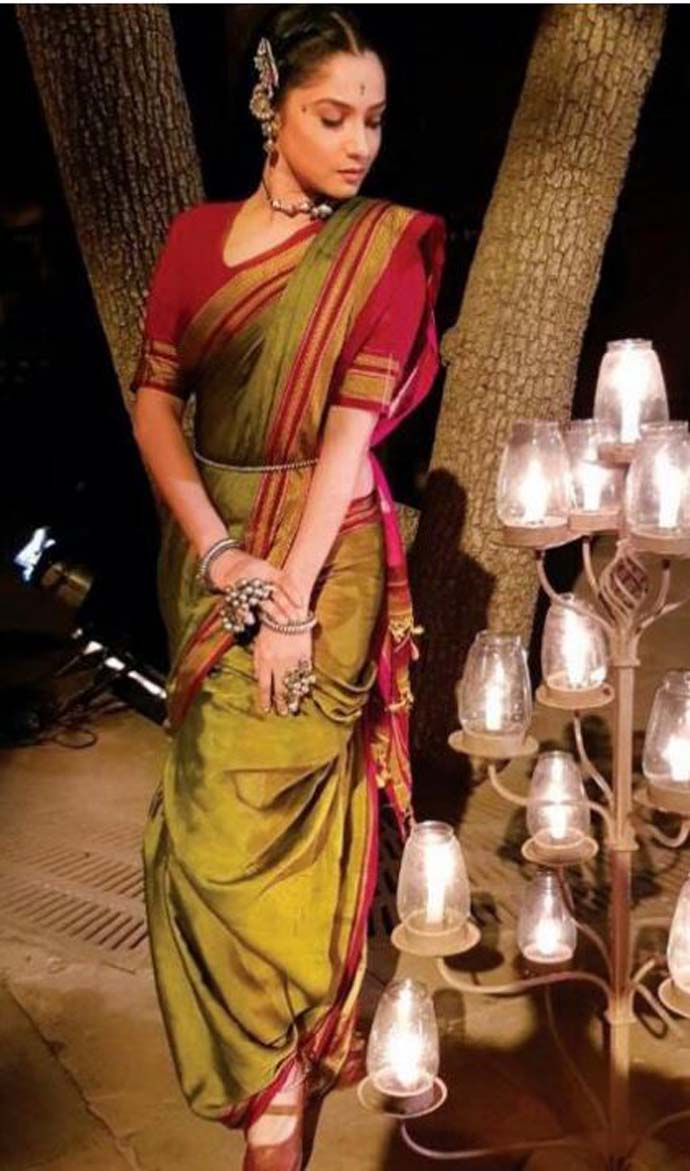 Ankita may have to 'debut' again. (Photo: Twitter)
The menacing British general Hugh Ross, who is literally introduced as the most ruthless man in the army — he kills a little girl just because her name was Laxmi — is so scared of Manikarnika's grit that he has nightmares — of goddess Kali popping out of the darkness like the ghost of Grudge.
But there's hardly any trajectory that leads the man up to that point.
With Sonu Sood's exit, a last-minute change of the director, and finally Kangana taking over the reins of the project herself, the film has gone through a fair share of upheavals, the scars of which are visible through the disjointed narrative. 
The CGI is incoherent — good in parts, cartoonish in others. The final fight scene is shown in slow motion, Mission Impossible style, while the previous ones were basic.  It could have been a good film. But it ends up being one forced sequence after another just so nationalism-inducing dialogues and monologues could be delivered.