'Manikarnika' Trailer: Kangana Ranaut's Manikarnika stuns visually but remains inconsistent
From choppy editing to glaring dubbing errors, 'Manikarnika' is marred by the curse of the 'magnum opi'
What do you say about a film on the life of Rani Laxmibai of Jhansi that starts off giving you major Disney's Brave vibes? Of course, a bow and arrow and those voluminous curls were too tempting for the cinematographer to ignore. But that's where the parallel stops, for Manikarnika is no Disney film.
Blood, gore, swords cutting into skulls like a loaf of freshly baked bread and spine-chilling threats sprinkled atop like thyme, the trailer of Kangana Ranaut's Manikarnika has truly lived up to the hype created around the film, even as the teaser miserably failed to do so.
But then, the credit probably goes to the edit team who, quite smartly, left out the Amitabh Bachchan voiceover that made the teaser sound and feel like Thugs Of Hindostan. After those abysmal numbers, who'd want to sail in that sinking ship?
Manikarnika was Brave, indeed. (Source: YouTube screengrab)
The 3-minute-19-second trailer gives you good, awe-inspiring action, and plenty of patriotic lines to repeat on Republic Day. The ones where Kangana seems to be on Redbull are the ones I have a problem with, though. However unparallel a warrior Manikarnika may be, is it possible for her to use three standing men as stepping stones to climb an elephant? But we must not question — we must believe. And since 'matribhoomi' is our 'pehla pyaar,' we must believe more so.
That dialogue is Jissu SenGupta's only contribution to the film, at least, so it seems from the trailer, who leaves us wondering how uncharacteristically non-Maratha he looks and leaves Manikarnika with the burden to protect Jhansi.
After this point, the brilliant edit team went off on their chai break and things went all over the place.
The deceased Maharaja Gangadhar Rao, played by Jissu, kept reappearing in three more scenes in the montage that was meant to inform us of Manikarnika's struggles and angst. Surely they got the emotional scenes jumbled up.
The same was the case with the dubbing.
At the start of the trailer, the Brave-inspired soft-but-resolute Manikarnika had the shrill voice we associate with Kangana. By the time she shouldered the responsibility of all of Jhansi, her vocal cords seem to have flattened a little under pressure too. Of course it was dubbed, but not consistently, which makes Kangana's Marathi accent inconsistent, too.
Equally out of place was Danny Denzongpa as Ghulam Ghaus Khan, not in his acting, we're pretty sure he will pull it through, but more geographically. And Manikarnika's flowy trails borrowed from Yash Chopra. Is this Jhansi or Juhu?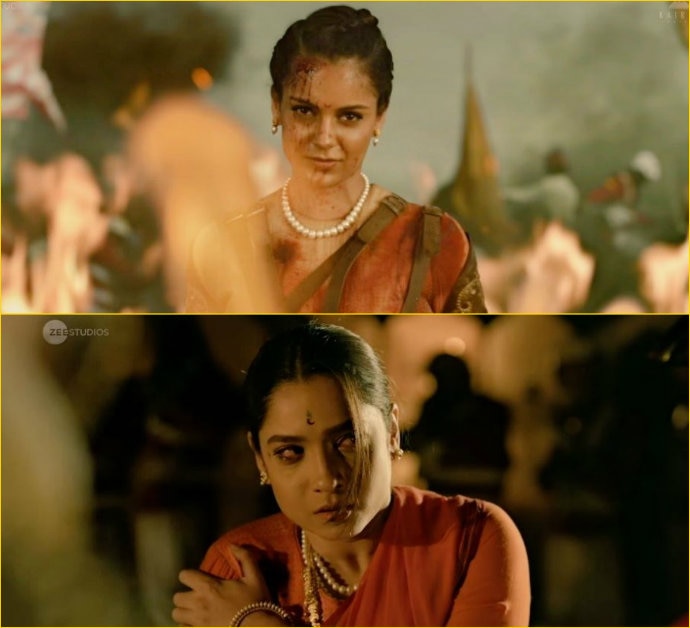 When eyes do the talking. (Source: YouTube screengrab)
The visuals, however, are stunning. Two shots that particularly stand out in my mind is one where Kangana's evil, yet content stare sends a chill down one's spine, and the other is of Ankita Lokhande's bloody red eyes, fighting to hold back her tears. Wish everything else was as subtle and stunning as these.
At the end of it all, you simply wonder if Manikarnika has fallen prey to the curse of the magnum opi — you know the ones which are made on mammoth budgets, boast of brilliant techniques and CGI, but in the process, lose touch with reality.
Also read: Manikarnika: When Jhansi ki Rani met Matrix ka Neo
The views and opinions expressed in this article are those of the authors and do not necessarily reflect the official policy or position of DailyO.in or the India Today Group. The writers are solely responsible for any claims arising out of the contents of this article.