It was late in the night in Kolkata two years ago at Bakul Bagan and the artist sat looking at the idol of the goddess he created. An old woman, who had been working at the pandal, came up to him and said in Bengali.
"Khoob Bhaalo," she said.
Then, she said the goddess without the weapons that stood in front of her looked like a mother.
"I want to worship her," she said and walked away.
For the artist, that was perhaps a moment of extreme satisfaction. A point where nothing else mattered but the gaze of an old woman and her faith and the goddess' benevolent stare into oblivion, splitting it with those fierce eyes.
Manu Parekh, whose exhibition spanning 60 years of his retrospective work at the National Gallery of Modern Arts in Delhi is ongoing, had lived in Kolkata, a city he painted, a city he loved and the city that made him confront darkness of poverty in its streets, from 1965 to 1974 when Parekh made Kolkata his home before returning to Delhi. At the time, he worked as a textile consultant for Pupul Jayakar and travelled across rural areas to work with weavers, who despite their poverty, wove patterns in rich colours. Everything was about faith.
He saw sadness around him and then he understood that faith was what common people held close to themselves in order to survive. He says he came from the middle class and had been a god-fearing man. He had always been interested in other cultures having been born in Ahmedabad in 1939 and then travelling the world.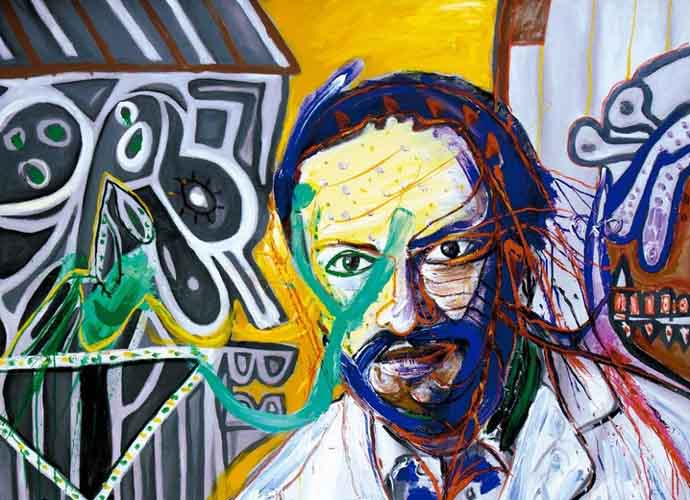 As we sat in the gallery on a quiet afternoon looking at his paintings, the one titled Ritual Oblation is the goddess in her fury with bold-red brush strokes. It is a tribute to the goddess with about 17 ceramic eyes and a bold middle one to signify Kali, is what stands out. He says he painted it in 1998 as he listened to the dhakis playing the drums during Durga Puja. It was almost a trance-like phase where the upward and aggressive beats of the dhak manifested themselves in the bold and chaotic strokes in red. An almost theatrical element, which is manifest in most of his work as he had once been part of theatre. The performance of the rage and fury is what it is about. It is an abstract manifestation of the force of Durga.
The 78-year-old artist did his diploma in painting and drawing at the Sir JJ School of Art in 1962 and then went to Santiniketan and Kala Bhavan.
Although he is known for his rendition of Banaras, the City of Lights, which has long been the muse for many painters, including MF Hussein, his sculpture of the goddess, which he says was a collaboration with a local artisan, is perhaps an insight into how an artist absorbs the stories and myths of a culture he wasn't born into.
"I had seen dark and tall and fierce Bengali women when we lived there," he says. "Some of them were friends. In Bengal, there is a fear of the Durga. The woman is feared as an avatar of the goddess. That fascinated me."
As he approached the task of making the idol, he remembered a story from long ago in Kolkata where his artist friend, a tall and dark woman of about 6 feet, had come down in rage and pushed the three men who had come to kidnap a young girl. She had held the young girl close to herself and stood in front of the men, who then left.
The artist always captures the moment, he says.
It was that moment when a Bengali woman transformed into the goddess, who is feared and worshipped. "I wanted my Durga to look like that. I wanted no weapons," he says.
His argument was that one must always remember faith. The artist can be an abstractionist, contemporary or an expressionist. Parekh, who espouses Indian modernity, says his work is a mix of everything. It is the idea of faith, his own struggles with it and his life and times in Kolkata where the goddess comes home every year to bless her people, who love her despite the arguments of science and logic and recession of faith. It is that faith from which springs hope.
And as he showed the idol images on his phone, you knew the artist had worked with the faith of others like the old woman who had come to him and smiled.
The idol wasn't part of the retrospective but an artist sitting in the middle surrounded by the legacy of his own works always remembers the stories in absentia of those works that aren't here. And especially at a time when the goddess has come home again in a different city.