Met Gala 2022 theme: What was the Gilded Age?
Met Gala 2022 is all set to take place on May 2. Here is what you should know about this year's theme, Gilded Glamour
The biggest fashion event of the year, the Met Gala is all set to take place on May 2 in New York's Metropolitan Museum of Art. This year, the exhibit is titled "In America: An Anthology of Fashion," and the dress theme is Gilded Glamour and white tie. (we will get back to that in a moment)
This year's Met Gala is being hosted by Regina King, Blake Lively, Ryan Reynolds and Lin-Manuel Miranda; Anna Wintour, Tom Ford, Instagram's Adam Mosseri will be honourary co-chairs. The Met Gala is known to host about 600 people and is attended by celebrities, creatives, and 'industry paragons'.
The Met Gala has been an annual celebration of fashion and a charity event to raise money for the Metropolitan Museum of Art's Costume Institute. The event is known to raise billions of dollars every year.
Vogue's Anna Wintour at the Met Gala. Photo: Reuters
Held on the first Monday of May (Tuesday for Indian viewers), for this year's theme, Vogue has asked "attendees to embody the grandeur and perhaps the dichotomy of Gilded Age New York".
The Gilded Age, a term coined by Mark Twain, spanned 1870 to 1900. New York's Gilded Age was a time of great invention and progress but also for exclusivity. Think Gossip Girl-level exclusivity and just like Dan Humphrey said, "membership in this community was so elite, you couldn't even buy your way in. It was a birth right." (unless you're the Vanderbilts and can throw one of the most lavish celebrations of the era)
HBO's show, The Gilded Age is a great example of the era's fashion. The show is available to watch on Disney+Hotstar in India.
The Gilded Age. Photo: HBO
The 30 years that Mark Twain describes as the 'Gilded Age' was a time of great technological advancement for the US. Some notable inventions were:
1. Alexander Graham Bell patented the telephone in 1876
2. Thomas Edison's light bulb in 1880
3. George Eastman invented the Kodak camera in 1888
4. The Statue of Liberty was unveiled in 1886
But technological advancement wasn't the only highlight of this era. One of the most elitist and glamorous societies to ever exist in US history was the one that thrived in Mark Twain's Gilded Age.
Bustles, head-to-toe diamonds (a reason why the jewellery brand Tiffany and Co. became iconic for future generations), long dresses with full skirts, corsets, upstanding collars, top hats, sportswear, mutton-chop side-burns and moustaches dominated Gilded Age fashion.
In shorter words, opulence is how Gilded Age fashion would be described or as how Vogue would put it, "the most extravagant style the US has ever seen".
And opulence is what viewers are expecting to see at the Met Gala 2022. Elbow-length gloves, fur-lined cloaks, tulle dresses, rich jewel tones and tuxedos are what starry-eyed viewers are hoping to see at the Met Gala carpet. While some guests are known to not follow the theme, high expectations are set for season regulars.
We in India will be rooting for Priyanka Chopra, who is expected to attend.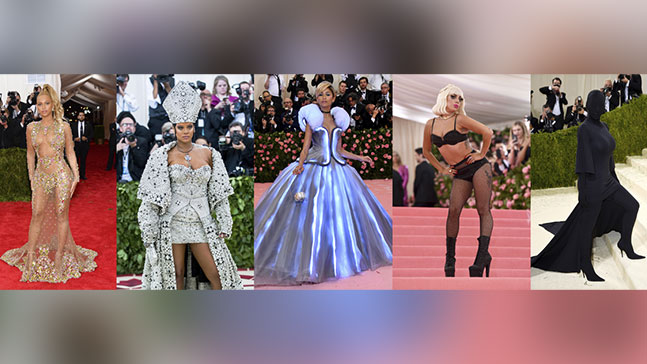 Some memorable outfits in recent years at the Met Gala. Photo: AP
MOMA's Costume Institute head curator, Andrew Bolton told Vogue, "The stories really reflect the evolution of American style, but they also explore the work of individual tailors, dress-makers, and designers."
Bolton said, "What's exciting for me is that some of the names will be very familiar to students of fashion, like Charles James, Halston, and Oscar de la Renta, but a lot of the other names really have been forgotten, overlooked, or relegated into the footnotes of fashion history. So one of the main intentions of the exhibition is to spotlight the talents and contributions of these individuals, and many of them are women."
Priyanka Chopra, Nick Jonas and Deepika Padukone at the Met Gala in 2019. Photo: Reuters (L) and Getty Images (R)
To watch this year's Met Gala live, tune into Vogue's digital platforms at 6 pm EST (3.30 am IST)
See you there!
The views and opinions expressed in this article are those of the authors and do not necessarily reflect the official policy or position of DailyO.in or the India Today Group. The writers are solely responsible for any claims arising out of the contents of this article.